Located in Oslo, Norway, Autostrada Sport sells and services Ferrari and Maserati cars. The company also operates Autostrada, with locations in Oslo and Skien, which imports, sells and services select high end model BMW, Mercedes Benz, Porsche, Aston Martin, Land Rover, Audi and Lamborghini, in addition to Ferrari and Maserati. Known for their prowess on the racetrack, unmatched designs and extreme attention to detail, these luxury sports cars appeal to a select group of affluent clientele. Autostrada Sport, in cooperation with Autoropa, imports new Ferrari and Maserati models to the Norwegian and Swedish markets. Autostrada Sport is also an authorized service center for these brands.
The Scope:
When exclusive car dealer Autostrada Sport wanted to improve the luxury car buying experience, the company turned to digital signage to enhance their dealerships. Autostrada Sport realized that they had a great opportunity to use technology in their showroom and service center to improve the customer experience and reinforce the brands they represent.
Autostrada Sport is a multi-level dealer, with a grand showroom and a fully viewable specialty workshop for the repair and maintenance of Ferrari and Maserati cars. "We had seen digital screens in other retail environments and thought it could really add some visual interest to our facilities," said Olav Medhus. "We wanted to do something really unique and futuristic that would complement the luxury brands we represent, while appealing to the level of clientele we are dealing with," continued Medhus. For this audience, appearance is everything, so the signage throughout the facility needed to be polished, professional and eye-catching.
Autostrada Sport caters to their elite clients through various events, such as exclusive launch parties for new car models coming to market; race days, where car owners can take their automobiles out on the track; and vehicle customization and modification. The addition of digital signage to the dealerships is a great example of the commitment of Autostrada Sport and Autostrada to attaining their goal of providing the ultimate experience for their customers. "We at Autostrada Sport are proud to give our customers an experience, by delivering and maintaining Ferrari, Maserati and other exclusive cars, so it is natural for us to strengthen this experience with screens in our shops," said Olav Medhus, Managing Director, Autostrada Sport.
The Solution:
Systems integrator, Hatteland Vision, was contacted to consult on and later implement the digital signage. "We have been in the digital signage industry for many years and have evaluated and worked with numerous hardware and software manufacturers. We listened to the vision of the Autostrada Sport management and provided them with a solution to meet their goals," said Geir Ove Finstad, Managing Director of Hatteland Vision AS.
At the Autostrada Sport dealership in Oslo, there are two 52-inch NEC screens in the sales area and one in the service area. These screens supplement the main draw of the digital signage system - a video wall comprised of nine 42-inch NEC screens in the showroom. A 17-inch touch screen located near the video wall features all of the different car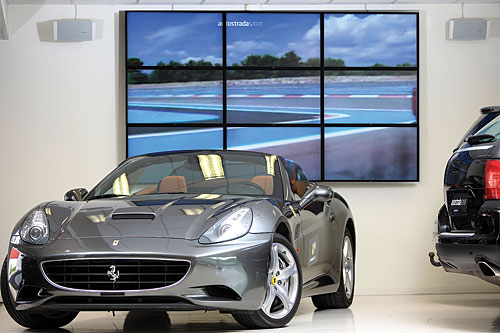 models available. Customers can view the model they are interested in on the video wall, when the particular car model is selected on the touch screen. The content dynamically changes to meet their request. All of the content on the screens is managed using Omnivex software. "The strength of Omnivex software is its ability to deliver relevant content to a targeted audience," said Jeff Collard, President, Omnivex Corporation. If no car is selected on the touch screen, the video wall displays multimedia car content to create visual interest, entertain customers and promote the brands. A Bose Professional audio surround sound system completes the experience. "When we started the project with Autostrada Sport, we wanted to give them a system that would handle commercial advertising for their cars that was delivered in the form of Flash files, various image files and video files. The content management software needed to be easy to use, allowing the design firm to easily update content, in real-time and from a remote location," said Finstad.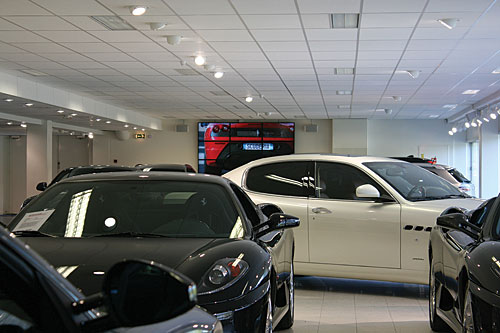 The signage needed to function not only as a sales tool - it needed to function as a back-drop for various social events held for media and customers at the dealership. "They needed a digital signage solution that they could use when they had a release party for a new Ferrari model. The event usually has over 100 guests, with a 3 - 4 hour program that requires the multimedia to play at a precise time during the event. Omnivex was the perfect solution for this," said Finstad. Omnivex software automatically updates the content displayed throughout the dealership. The content displayed is determined by the event taking place at the facility. "We use our screen system for branding and launching new models. It was important for us to get a system that we could easily choose content on the screens depending on the situation, and with Omnivex this has been looked after in an extraordinary way," said Olav Medhus.
The digital signage system has also been implemented in Autostrada Sport's other dealerships, Autostrada, in Oslo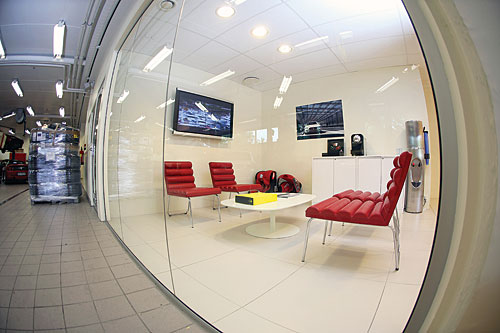 and Skien. In Skien, there are two separate 1 x 3 42-inch NEC tile matrix, while at the Oslo facility there is a similar 1 x 3 configuration using 40-inch screens. Omnivex software allows content to span all three screens in the matrix, or each screen can display different content. The screens feature content to reinforce the car brands, such as Ferrari, Maserati, as well as the Autostrada brand. Design firm Onezero creates, schedules and manages content for the two Autostrada Sport dealerships using Omnivex software. This is all achieved remotely from their office in Porsgrunn, Norway. "For our friends at Autostrada - selling our favourite cars - we do the content management for their video walls both in Skien and in Oslo, from our own office. Pretty cool!" said Kristian Gronevet, Art Director, Onezero.
Results:
Much like the mission of Ferrari and Maserati, Autostrada Sport is dedicated to providing their clients with an enhanced customer experience. Incorporating digital signage in the retail environment has become quite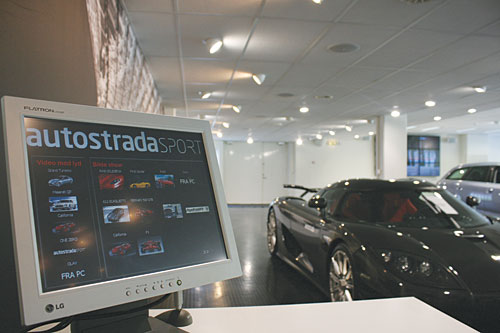 commonplace, so Autostrada Sport needed something special that would set them apart. "We designed a system that is visually appealing and unexpected in a car dealership. Using Omnivex software, content is delivered to particular screens at the precise moment the audience wants to see it," said Finstad. Unlike other signage systems that play a continuous loop of content, directed at a general audience, this system plays content that is directed to one particular viewer, when and where they want to see it. "We are very satisfied with the solution from Omnivex and have had great feedback from our customers about the entire system," concluded Olav Medhus. Climbing sales figures of luxury car brands has Autostrada Sport thinking about expanding the system for the future.