Fraser Health Authority is a single organization that is focused on providing acute care, sub-acute care, home and community care programs and services to almost two-million patients and clients in the province of British Columbia. It is one of Canada's largest and fastest growing health authorities, with over 21,000 employees, 2,200 physicians and an estimated 4,200 volunteers. Fraser Health maintains a major administrative office in Surrey, B.C., which serves more than 130 Fraser hospitals, clinics, community health offices and other buildings, and houses the system's human resources, IT and call center personnel.
The Scope:
Fraser Health Authority's Surrey location handles most of the administrative and customer service functions of the organization. Officials there realized that digital signage could benefit many different departments within the facility by decreasing call center wait times, increasing employee productivity and the effectiveness of their internal communications, and helping to manage facility resources. Fraser Health has a strong commitment to serving its clients and patients at a very high standard. The deployment of this digital signage system would help to further establish its reputation for using innovative technology to improve its interactions with external visitors and patients and internal employees.
The requirements for the digital signage project at Fraser's Surrey location included:
Allowing Fraser to display data from its phone switch and post that information on screens in its Contact Center (call center) to improve customer service
Marketing itself to job candidates and other visitors through LCD displays in the front lobby, while promoting brand awareness and Fraser Health benefits
Providing meeting details and way-finding capabilities for the facility's conference rooms
Once the project scope was determined, it became clear that much of the content for the screens was based on live data or files that refreshed frequently. For example, call center data is ever-changing and updating, and is only useful if it can be acted upon in real time. Therefore, a sophisticated data-mining platform was needed for the content management system, so that data would be automatically pulled from Fraser's existing databases and posted to the correct screens as it was updated.
The Solution:
Fraser Health Authority worked with systems integrator, Conti Electronics, to evaluate different hardware and software options, and implement the system. Conti had deployed many digital signage installations in the past and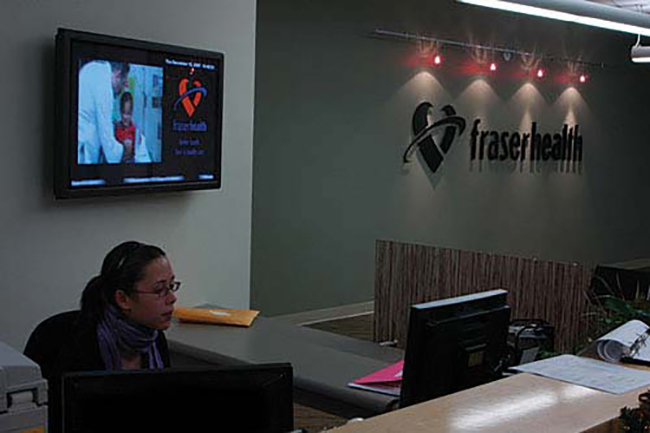 implemented Omnivex on a number of projects, so the firm was very familiar with the software and its capabilities. "We recommended Omnivex software because it can interface directly to any ODBC database and supports dynamic SQL queries, a necessity for the Fraser project," said Colby Harder, President of Conti.
Fraser's Contact Center receives hundreds of calls each week. They wanted to reduce call wait time to improve customer relations, so Fraser decided to provide its personnel with a clear picture of the call statistics. In the Contact Center, Omnivex software culls the phone switch for vital information - live, up-to-the-second statistics, including hold times, caller requests, number of calls in the queue, average wait time - and posts the data on NEC displays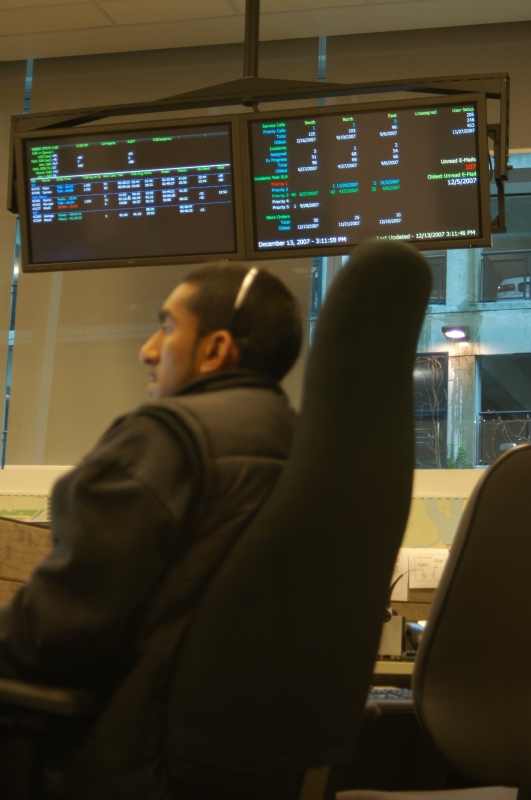 throughout the facility. The Omnivex software interfaces with Fraser's existing phone switch data, and automatically formats and displays the specific information in a way that allows employees to act on it in real time. "With Omnivex, any data source can be formatted, filtered and displayed in real time across a vast network of displays," said Harder. Having this information readily available for Contact Center management and personnel helps them to address any urgent matters or issues before they escalate into irritated or dissatisfied customers.
Fraser Health Authority has nine meeting and conference rooms in their Surrey location. To improve the visibility of meeting room bookings and way-finding, LCD screens were installed outside each room to display the current and scheduled meetings, but Fraser needed a system to display the information. Omnivex has a data linking tool called CalendarLink which interfaces with the Microsoft Exchange Server to pull information from Microsoft Outlook calendars. Employees book the meeting rooms directly from their PCs in their Microsoft Outlook calendar, and then CalendarLink retrieves that information from Fraser's Microsoft Exchange Server. The Omnivex software then formats that information and displays it on the appropriate screens throughout the facility. No additional data entry is required to display this information on the screens beyond the original booking in Microsoft Outlook, thus increasing overall efficiency. The screens located outside each of the rooms help to ensure that people are able to find in which room their meeting is taking place, quickly and easily. Meanwhile, the latest marketing literature, HR messages and job postings are pulled from an existing database by the Omnivex software and showcased on a screen in the front lobby of the building. This helps to promote key Fraser messaging, such as the organization's services and what they are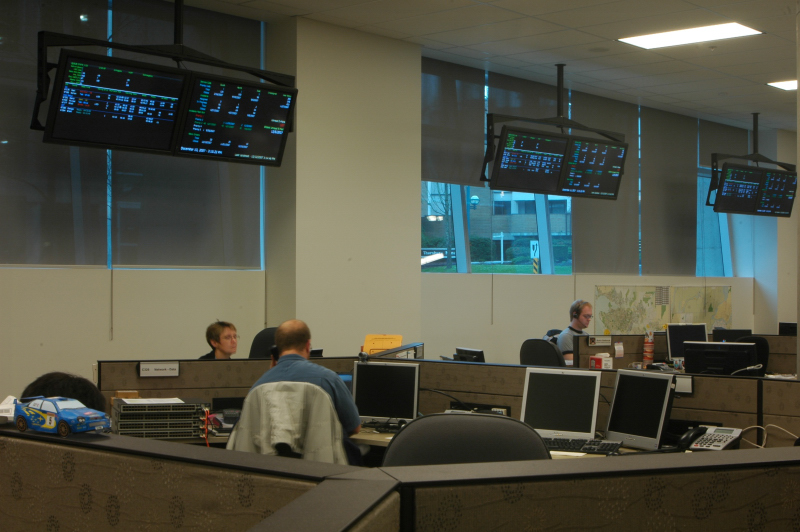 accomplishing for the community on a daily basis, helping to build brand equity for Fraser Health. It also helps to inform employees about company events and policies, thus building a better sense of community within the organization.
Omnivex software is very robust and scalable, allowing many different types of applications to be handled by the same software. "Omnivex allowed Fraser to consolidate multiple functions into a single cohesive application, which was easy to use and centrally managed," said Jim Taylor, Manager, Network and Telecommunications Services for Fraser Health Authority. Unlike other digital signage software, Omnivex does not require any programming or scripting. Since the software is easy to use, Fraser is able to maintain the system without the addition of any specialized staff or third party network operators, keeping the costs of managing the system to a minimum.
Results:
The installation's effectiveness has been measured in several ways. The way-finding capabilities and meeting information in front of the conference rooms have been notably well-received by employees and visitors. Rooms are used for important meetings, and by displaying what meeting is taking place in each room and who is participating in the meeting, interruptions have been eliminated. The system's ease of use has been fully embraced by all personnel.
The lobby screen has helped to inform and entertain visitors at the facility both with messaging and streaming video,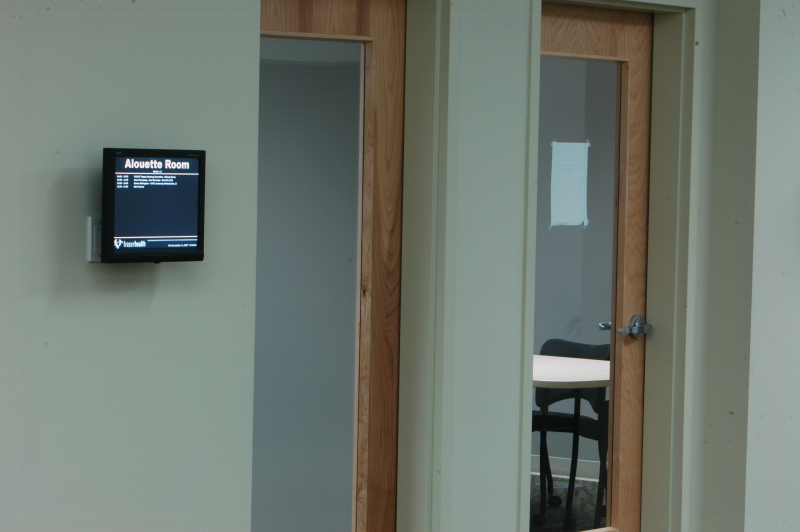 which often details the organization's healthcare programs throughout the province. Fraser Health Authority is also able to appeal to job candidates, such as doctors, nurses and administrative staff on this screen, while reinforcing brand equity and awareness.
The Contact Center digital signage provides much needed metrics, where they are actionable. Personnel have information at their fingertips at the start of client interactions, know in advance where the urgencies are, and which callers have been on hold the longest. A color-coding system also helps them manage the challenge levels of inquiries, to obtain a greater depth of patient details, quickly assess situations, and resolve problems more efficiently. Personnel feel empowered, and time is used more productively. Customer satisfaction related to the Contact Center has increased as a result of the system. "Fraser Health has seen enormous benefits by installing the digital signage system. Response times to calls are continually decreasing and have been cut by 15 to 20 percent already," Taylor said.
Fraser has garnered such a rate of satisfaction with the existing deployment and the specific applications from staff that it has launched a pilot program in its emergency rooms for patient triage. A plan is in place to roll out the system in 13 of Fraser's acute care facilities in the coming months.