In 1883, James W. Scoville announced that he would donate money for the construction of a library building and the Scoville Institute was built at 834 Lake Street. In 1902, the Oak Park voters approved a tax to fund a public library and absorbed the Scoville Institute private library. On October 5, 2003 a new library building was completed at 834 Lake Street. The new building features expanded shelving space for fiction, non-fiction, audiovisual, and other collection materials. Group study rooms, a silent reading room, more than 60 computers, and a lower-level parking garage are available for public use. The green roof and recycled rubber flooring minimize impact on the environment. The new Main Library in Oak Park was awarded the Chicago Building Congress Merit Award for Best New Construction - Suburbs on May 19, 2004. The award states: "This project displays distinctive design, outstanding construction, and a positive impact on the surrounding community."
The Scope:
As a part of its mission statement, Oak Park Public Library wanted to "provide progressive and innovative library services responsive to community needs". Oak Park Public Library needed a way to communicate with their patrons that was "welcoming and personalized" and selected digital displays as a key element in their communication strategy. Large plasma displays were placed in the front reception area and 3 LCD panels were installed adjacent to the elevator doors on each of the library's 3 levels.
Oak Park Public Library needed a scheduling system to manage facility bookings, and a digital signage management system to centrally manage their displays around the library to effectively communicate with visitors. Oak Park was able to identify two vendors that could integrate their products seamlessly and provide them with best of breed performance in these key areas.
The integration of E*vanced Solutions' software with Omnivex's public display management software allows the library to provide up to date information about the programs, events, and meeting spaces in real-time on monitors throughout the library's lobby without any additional work on their part. E*vanced's software automatically sends schedule information to the Omnivex software via XML files, allowing for an automatic and seamless flow of information that is always up to the minute. Library patrons can view what is going on as they enter the library and in what meeting room they can find it. The Omnivex Display 3 software can combine this data with local announcements, messages, graphics, video and related promotional materials to place targeted information at each display.
The Solution: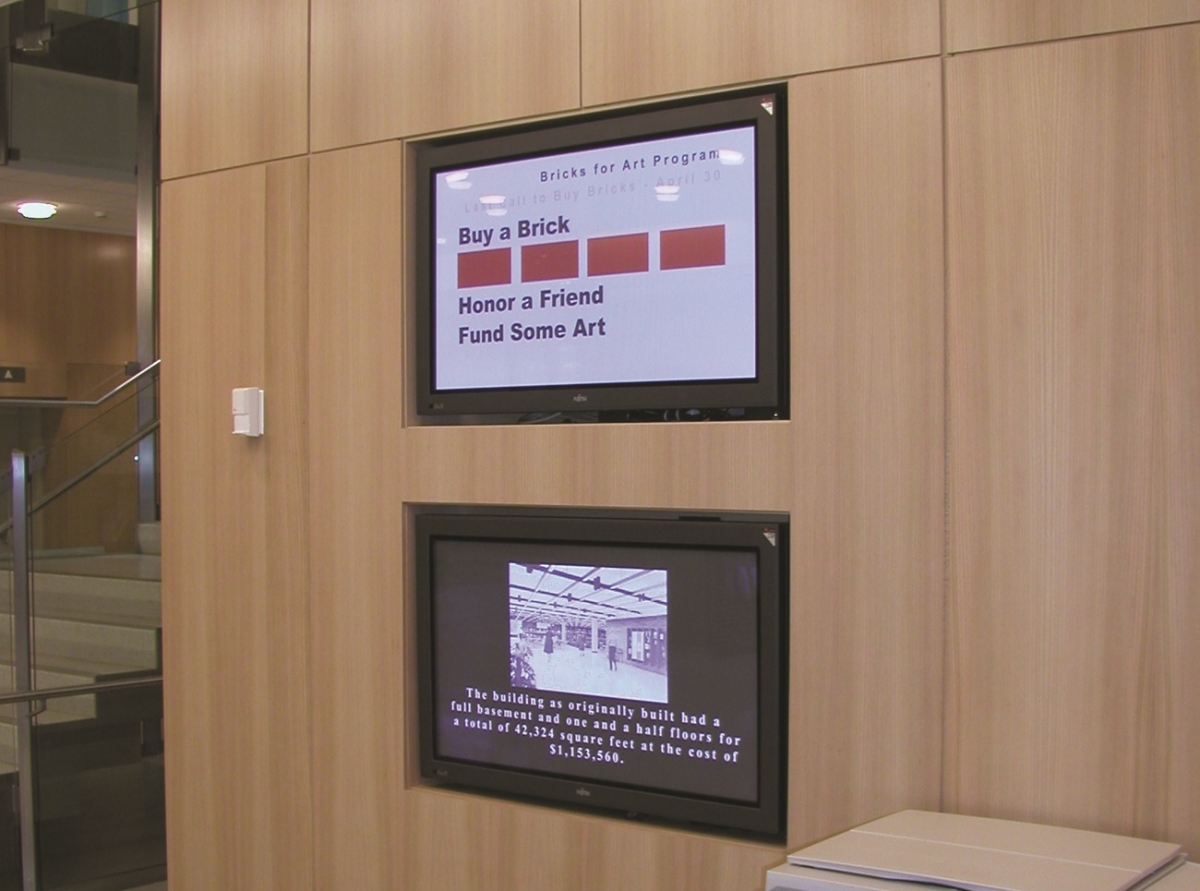 Oak Park Public Library chose Omnivex Corporation to provide a complete digital signage software solution for managing their program.
"Omnivex provided us with the tools to communicate our message to our patrons in a non-intrusive manner", said Deborah Preiser, the library's Public Information Officer. When people first enter the building, they are greeted by two plasma screens informing them about the facility and what is happening right now." The library has an open and inviting interior that is bright and easily accessible to visitors. As you walk around the facility, you will find LCD panels located adjacent to the elevator doors on each of the three floors. Pertinent information about meeting room schedules, library activities, or specific library campaigns can appear on each screen at different times of the day.
Every aspect of the system is managed from a single point by the library's Webmaster. Scheduling information for each room is automatically updated and posted to the appropriate display without intervention from library staff. All information displayed on the screens is visible from the central management point and communications between applications can be logged at the Server.
Using Omnivex Control 4, Oak Park personnel can monitor their hardware and even set up alerts and preprogrammed reactions to conditions. If someone reaches the on/off switch and turns off a plasma screen in the front reception area during operation hours, the software will detect the situation and turn the display back on again.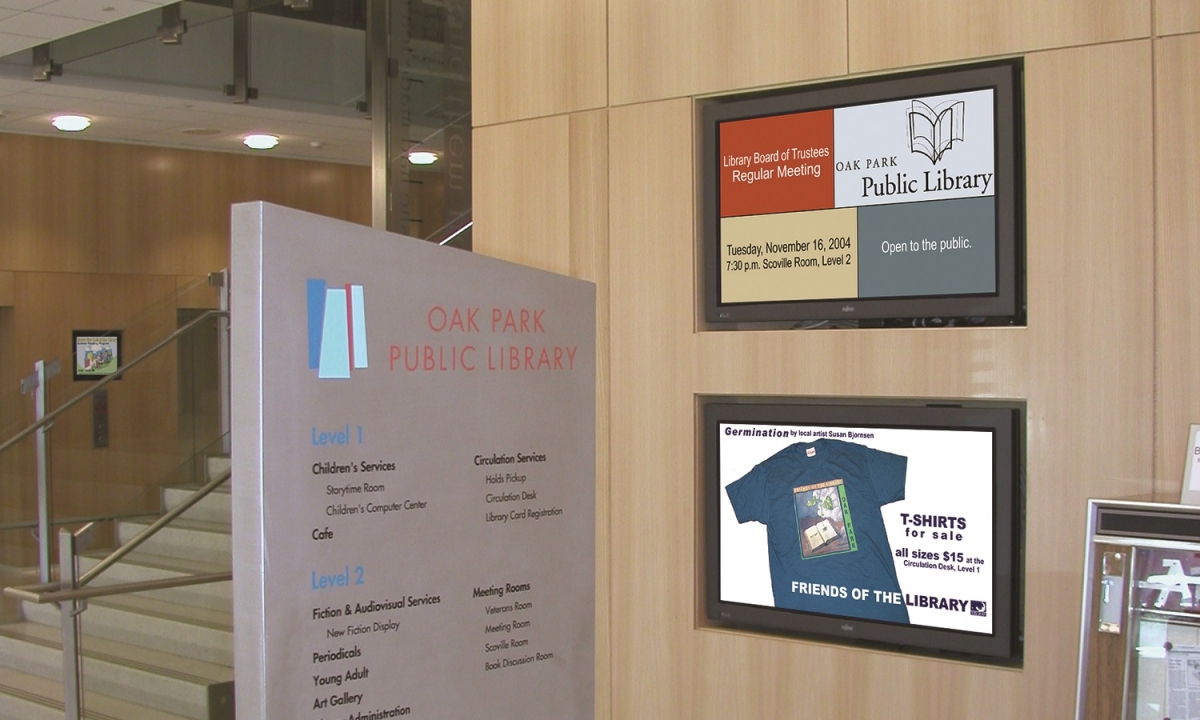 E*vanced Solutions software helps Oak Park Public Library manage their programs, events, and meeting spaces for the library. The library runs programs like Computer Training, Children's Story Hour, and Book Clubs, on a regular basis to provide services to the local community. E*vanced's web based solutions allow the library to easily manage their programs, and allows the public to access program information via the Library's website and register online for programs where applicable. Oak Park also uses the meeting room component of E*vanced's software to manage the schedules and booking requests for their meeting rooms. Some of these rooms are also made available to public groups outside the library and this software helps the library to manage those outside requests and make the room schedules available for public rooms online.
The Omnivex system also can be used to provide immediate information to occupants in case of an emergency situation. Based on a single input, designated screens in the building can switch to an evacuation message specific to that location with graphics instructing people on the nearest exit.
Results:
Oak Park Public Library has been up and running with the system since the new building opened and are adding more capabilities as time progresses. "The system is very flexible and can grow with our needs. We are making more use of it as we go" said Sharon Grimm, Oak Park's Webmaster and display system operator.