Reuters is a global information company providing indispensable information tailored for professionals in the financial services, media and corporate markets. Reuters information is trusted and drives decision making across the globe with a reputation for speed, accuracy and freedom from bias.
Reuters strengths lie in providing the content, analytics, trading and messaging capabilities needed by financial professionals. Their open technology, based on industry standards, enables customers to search, store and integrate Reuters information with content from other sources, facilitating the way they work.
The Scope:
Following a property review initiated under the Fast Forward transformation programme, the majority of the Reuters Group's London staff was moved to one building, located at 30, The South Colonnade, Canary Wharf in east London. The move (completed in June, 2005) situates Reuters in the heart of the new financial district, amongst many Reuters clients, enabling the delivery of great service.
The new facility is fitted with the latest in display technologies including full color, full matrix outdoor and indoor LED displays and indoor LCD and Plasma panels, showing a combination of Reuters news headlines, stories and pictures in conjunction with financial data, internal communication messages and multimedia presentations. In addition, a 100 m outdoor LED ticker wraps around the building showing a steady stream of Reuters news headlines and financial data from around the world.
Reuters demanded a solution that would consolidate the information and distribute it to the multiple display types from a central location. The data needed to be automatically acquired, updated, distributed and displayed across the various display types with no intervention. The plans did not accommodate any full-time resources to manage the system on a daily basis.
The Solution: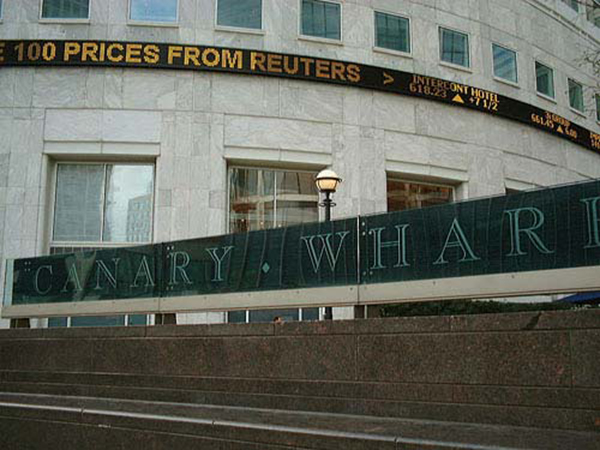 Reuters is hosting an Omnivex DataPipe network allowing them to acquire and organize Reuters data for use by multiple Omnivex applications. This centralized approach provides an easy to manage solution while delivering the flexibility to drive multiple display types. They are interfacing with Reuters data via several live feeds.
For managing the graphical content on the LED Matrix signs as well as the LCD and Plasma panels, Reuters has implemented Omnivex Display. They are able to centrally manage and schedule the content on multiple device types over their network. The control over the content layout, as well as real time access to live data allows Reuters to have total control over the look and feel. They have been able to work with Omnivex Display as their single content development tool, and display information that updates automatically, while adhering to their corporate branding strategy.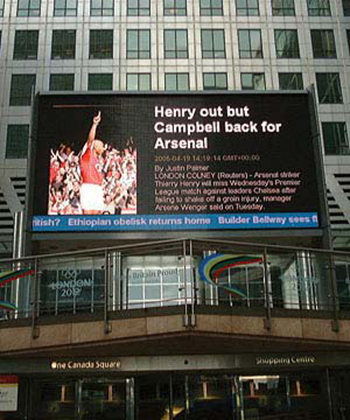 The addition of Omnivex WebPad allows Reuters to give real time secure access to users via a browser interface for contributing messages to the Display content. Managers and users on each floor are able to publish messages into the system instantly giving them the ability to quickly communicate to employees and visitors via their internal displays. This has turned their digital signage solution into a powerful vehicle for real time corporate communications.
For one of the world's biggest outdoor financial LED tickers, Reuters has selected a combination of Omnivex TickerDisplay and Omnivex Display to take full advantage of the capabilities of the sign. They are displaying financial quotes, news headlines and custom messages. The technology supports a real time RS-232 feed from Omnivex TickerDisplay, as well as a programmable overlay of VGA content provided by Omnivex Display. This gives the flexibility of having information scroll in a traditional ticker format from right to left in conjunction with other content that transitions in via wipe, scroll, roll, alpha blend etc. onto the full area, or selected sections of the ticker.
Results:
Reuters financial data, news and pictures are acquired and consolidated within Omnivex DataPipe. All items are then available for automatic distribution to all Omnivex applications within the system. Once the data links and layouts are established, the Omnivex system automatically updates each display with the latest items designated for that specific display.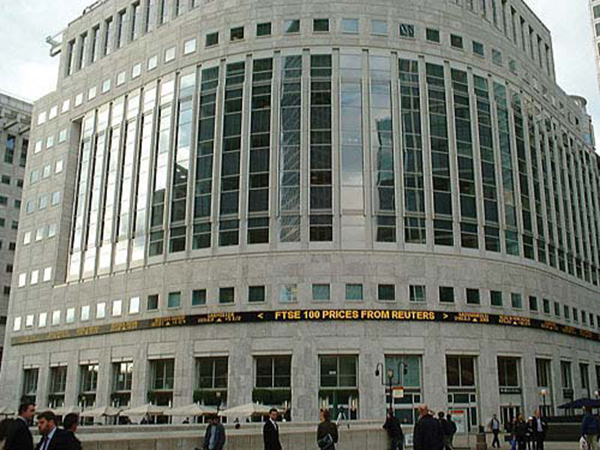 "Omnivex has provided us with a solution that gives us the ability to showcase our information throughout our new facility and run our complex display system easily with minimal day-to-day intervention," said Matt Hassock, Reuters Technical Operations Manager.
"The display system not only showcases our products to our visitors and guests, but also to the general public within Canary Wharf. This exposure reinforces our brand, and our position as the world's leading information provider," added Hassock.
The modular approach and the consolidation of the data to a single source means that any expansion to the Reuters display network, either at the Canary Wharf location or any other Reuters facility around the world can be added to the existing platform and managed centrally.
Reuters has achieved their immediate display objectives at Canary Wharf and are in a strong position to easily accommodate any future growth because of the modular structure of the Omnivex system.