SAIT Polytechnic has a reputation as one of Canada's top technical institutes. The 94-year-old Calgary-based institution is renowned for its training expertise, educational experience and campus culture. SAIT offers an extensive variety of educational certifications such as diplomas, applied degrees, apprenticeship programs, distance learning, continuing education and customized corporate training courses. It also offers training in twenty-seven countries around the world and has 75,000 full and part-time program registrants per year.
The Scope:
Like other post-secondary institutions, SAIT invests heavily in support resources intended to enhance the retention, success and satisfaction of its students Having students benefit from those resources is largely dependent upon the institute's effectiveness in making students aware of those resources.
Addressing that challenge is what first got SAIT's Director of Corporate Communications Dan Allen into exploring the medium of digital signage in 2006. Today, SAIT boasts one of the most vibrant, robust digital signage networks you'll find of any campus in Canada. Thirty–three large plasma screens and LCD monitors are now stationed in high traffic pedestrian locations throughout the campus. The network – branded as SAITVIEW – is also the default channel in all of the rooms at the main campus' two residences, which house approximately 1,200 students.
Allen says that ultimately, the goal of the network is to support the institution's strategic objectives of student and employee satisfaction; institutional positioning; and safety and security. In doing that, he wants to enhance perceptions of SAIT as offering a high-tech, dynamic environment; increase the campus' sense of community; showcase and celebrate student and institutional successes; recognize supporters; improve SAIT's emergency response capacity; and sell continuing education programming to visitors.
As you might expect, students are the primary target audience, but the network is also designed to serve the needs of staff and visitors which includes prospective students and institutional supporters.
Meeting all of those requirements is challenging in the unique environment of an institution at which most full-time programs are completed in two years rather than four. Approximately 49% of SAIT students already have either some post-secondary experience or have obtained other certificates, diplomas or degrees. Approximately 65% have participated in the labor force and approximately half are employed while attending SAIT.
"They are a focused, no-nonsense audience," says Allen. "They don't have much time or patience for anything that isn't immediately relevant to them. That's why we sought a vehicle that could best deliver messages when it might matter most, such as: where to go for help in sorting out issues with your calendar, where to find assistance to prepare for exams, or what resources are available when feeling stressed or depressed."
Prior to selecting a solution, SAIT assembled a research team that traveled to other campuses around North America to identify best practices in five key areas of digital signage: content, operation, technical capabilities, security and measurement. Through systems integrator Sharp's Audio Visual, SAIT built a digital signage platform powered by Omnivex software. The deployment included the use of TTUFF PCs in 16 locations within six buildings.
The Solution: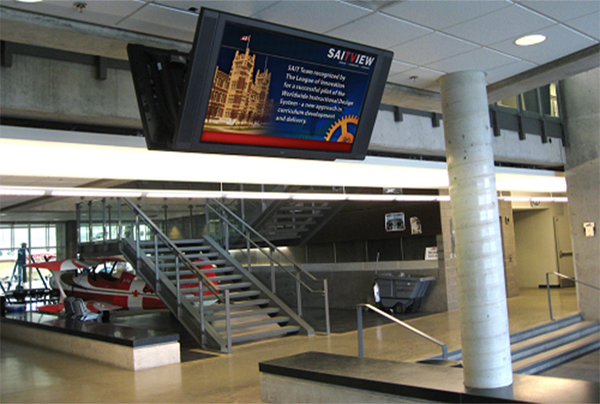 SAIT turned to Omnivex for a digital signage platform that provides real-time information, troubleshoots itself and attracts and captivates an audience. Omnivex solutions are known for their sophisticated capabilities concerning data acquisition and remote hardware monitoring. The software manages all aspects of SAIT's digital signage network, including content creation and management, real-time data acquisition and distribution and remote device monitoring and management. Omnivex was judged by SAIT to be the top platform in addressing these criteria.
The Omnivex software system functions in real time. Current campus news headlines, support resource information, sports scores, weather, time and much more are displayed throughout the all of SAIT's four campuses in Calgary. The system is also being integrated in the campus's crisis and emergency notification plans.
To ensure the ongoing relevance of SAITVIEW, SAIT hired a full-time content coordinator very early in the process. The coordinator serves as a clearinghouse and designer for contributions submitted via a web-based forum from across campus through SAIT's intranet. This process assists contributors in creating unique content, requesting posting-times and locations, selecting from a set of background templates, uploading associated media files and requesting professional designs. The content coordinator still maintains control of the overall look and feel of the content submission, provides editorial control and ensures that graphic standards are met. The online forum is only open to staff, but students are able to contribute through their department's faculty. Increased profile is given to content submitted that recognizes the work and successes of students, including newscasts produced by SAIT's broadcast students.
Content displayed using Omnivex software at SAIT is contextual; which is to say it is influenced by the time of day and location of the screen. For instance, content in the evening focuses on promoting part-time courses while content displayed in the morning is geared toward the needs and interests of the full-time student body. The screens are located in high-traffic areas and display repeating SAITVIEW content. Certain messages, such as those promoting ongoing campus resources, are displayed year-round, while other content may only be presented for a matter of hours or days depending on their scheduled rele
All of the hardware associated with SAIT's digital signage system is monitored by Omnivex Control software. The software alerts an operator if the hardware is failing to perform as expected and tells them exactly which hardware has failed and the nature of the failure. This behavior creates time and cost-savings by providing the information necessary to quickly rectify an unanticipated situation. If a display screen somewhere on the campus is not functioning as expected, Omnivex Control automatically rectifies the problem by responding to the behavior with an action such as rebooting the computer that controls the display screen or turning the screen back on. The software also writes an entry to a log for future reference.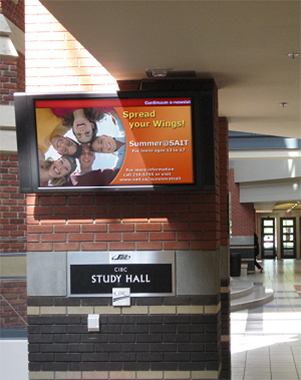 "We selected Omnivex to run SAIT's digital signage platform for our customers because of its strength on the data acquisition side and for its management of the displays," said Angelo Kosmidis, Director of Digital Signage, Sharp's Audio Visual. "If a screen has a problem, for example, Omnivex notifies the digital signage operator. There's also tremendous cost savings. Because Omnivex can troubleshoot problems from a central location clients don't have to continuously check individual screens."
"The great thing about Omnivex software is its ability to provide real-time information," says Jeff Faber, President and CEO, Sharp's Audio Visual. "This is a key differentiator for the SAIT Polytechnic digital signage system that is garnering attention from post-secondary institutions across North America. Another great benefit is the software's ability to turn off the LCDs and plasmas at night and back on in the morning to increase their life-span."
Results:
Although not the first post secondary institution to deploy digital signage, SAIT real-time, relevant platform and high-quality delivery of content make it stand out among its peers in North America.
"We did our homework," said Allen. "For us, content is king and we were very diligent and disciplined in selecting the right hardware, software, systems integrator and operator to deliver on our vision. The results have been phenomenal."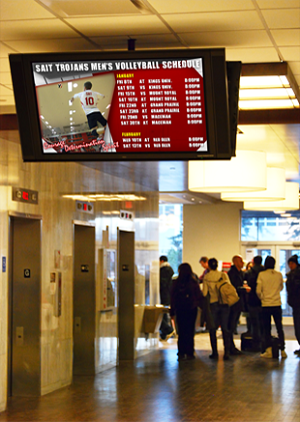 In one case, there had been a number of laptop computers stolen from various locations around campus. The operator of the digital signage system was notified about the problem by campus security and within minutes, content was created with a message to alert and caution students about the problem. A rash of car break-ins also generated an immediate warning to students.
In another instance, there was a viral outbreak and the school responded by deploying messages on their campus-wide digital signage system that encouraged students to get vaccinated. In short order, more than four thousand students were vaccinated. "We get between seven and eight requests for new messages each day," explained Allen. "We definitely don't struggle for new content."
After just two months of operation, a comprehensive survey of SAIT students revealed that the SAITVIEW brand was readily recognized by 56 percent of viewers as the institution's digital signage (or television) network. Seven in ten students said they watched SAITVIEW at some point during the day. Two out of three people surveyed said they were very or somewhat informed about SAIT Polytechnic services, resources and activities; while an astonishing 68 percent credited SAITVIEW as 'the best' or 'one of the best' sources for information. An analysis of how long students watched the screens showed that students were seeing an average of 100 SAITVIEW messages per week and possessed an impressive record of recall. Since a majority of programs at the school are two years in length, surveys such as these are conducted at a two year interval to ensure that the majority of the respondents can offer a fresh perspective based on a reasonable amount of exposure over the time of a program cycle.
"Digital signage is a visual communications medium that better suits the young audience of our educational facilities. Messages are more memorable and have more impact when they are provided in a form that is best suited to the viewer," said Jeff Collard, President of Omnivex.
SAIT is now exploring broadening the scope of its display network including an eight-screen video wall at its busiest entry. The purpose of this installation is to showcase the day's events on campus. Other upcoming installations will include way-finding and the expansion of SAITVIEW into the institution's new 740,000 square foot Trades and Technology Complex which is slated to open in 2012. "The world of digital signage is changing and we're always identifying and investigating the value of this and other technology with the potential to advance SAIT's strategic priorities," said Allen. "We like to think the success of SAITVIEW is no accident; rather the product of very disciplined planning, research, implementation and measurement."