Southcentre Mall is located in Calgary, Alberta in the community of Willow Park. The mall offers a diverse mix of more than 200 highly acclaimed stores and services. It is the exclusive location for some of Calgary's most sought-after retailers including Crate & Barrel, Restoration Hardware, Coach, Bose and Disney.
Originally opened in 1974, Southcentre was in need of a remodel in order to bring it into line with the newer shopping centres in the Calgary area. Southcentre wanted to ensure they were providing an unparalleled shopping experience and maintaining their reputation as the preferred place to shop in the Calgary area. Since the mall had been in operation for over thirty years, management felt that it was time to expand and update the facilities, so beginning in the fall of 2007, the mall underwent a $104 million renovation to bring it to the forefront of the upscale shopping destinations. Following completion of the renovation, the mall boasts just under one million square feet of retail space.
The Scope:
Southcentre's main goals are to provide a unique facility, making the shopping experience more comfortable, more convenient and less stressful. Southcentre is a family-focused shopping centre, dedicated to meeting customer's needs and building and sustaining a healthy, thriving community. Southcentre offers amenities such as family washrooms and nursing rooms, 'Parent & Tot' parking stalls in the lot, complimentary strollers with children's programming, KidStop areas, interactive directories, complimentary wireless Internet, Comfy Kids Club, and Ticketmaster.
Even with all of these great shops and services available, the mall undeniably had an older feeling about it. Management felt that a complete redesign would not only ensure they had the best retailer shops and services available, but that they would also have the best shopping experience for their guests. The renovations were extensive and included architectural designs with warm textures and rich colours, better and more efficient lighting, top of the line beautiful washrooms, a brand new 920 seat food court with soaring windows and themed comfort zones.
In addition to the renovations, there were some clearly defined pain points expressed by guests and retail store owners which needed to be addressed with the remodel, such as:
Improved facility navigation
Better access to mall information
Improved visibility of retailers located in the mall
Better visibility of promotions taking place at retail stores in the mall
A better place for meeting, resting and entertainment within the mall
Having seen other large retail environments utilize digital signage to achieve these goals, Southcentre felt that all of their goals for improving the customer experience and also continuing to appeal to the high-end retailers could be accomplished with digital signage.
Southcentre Mall conducted studies to determine where the most appropriate positions for screens would be throughout the facility. They wanted to address three key types of locations: those where people would be on the move, those where they needed quick access to information and those where they would be stationary for a longer period of time. They positioned screens strategically throughout the facility at entrances, high traffic locations and at the Customer Service desks. In the newly constructed Centre Court meeting and relaxing area, they installed a feature 3 x 3 video wall using 9 screens to provide a visually captivating and entertaining environment. They also created a "Sports Zone" area where sports fans could enjoy the latest from the sports world while taking a break for shopping. With the recent Olympic winter games' going on this has proven to be a big hit.
The Solution:
Initially, Southcentre thought that they would be able to manage the content on all of the screens themselves, using Microsoft Power Point. After struggling with the lack of scheduling ability, the restricted graphical capabilities and the limited functionality of using Power Point to manage a large digital signage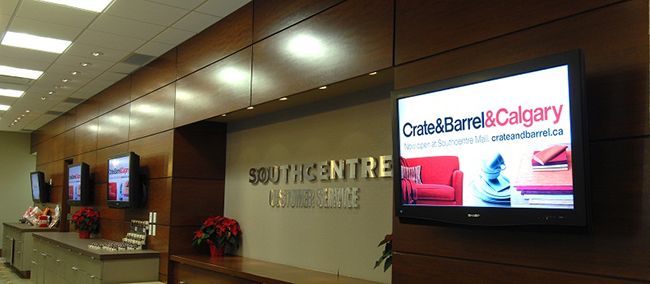 deployment, Southcentre decided that they needed to find a better solution. "We originally used very basic software to manage content on the screens, but we found that it was not able to meet our needs, as the content on the screens did not look very compelling and the scheduling aspect was not sophisticated enough," said Shawn Hanson, Southcentre General Manager.
Southcentre decided that it was time to get some advice from an experienced digital signage professional, so they contacted Sharp's Audio Visual. Sharp's Audio Visual is an experienced audio visual integrator, with national reach in Canada. Having been involved in numerous enterprise-wide integration systems, they were fully capable of taking on a project of this size. "Sharp's Audio Visual was brought on to the project to advise about the software options available to manage the digital signage system. After reviewing what our main objectives and future plans for the system would include, Sharp's recommended Omnivex," said Hanson.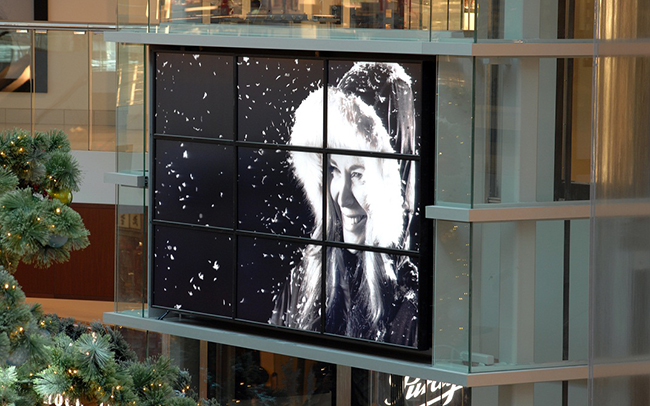 Previously, the content on the screens had limited functionality due to limitations with the scheduling, media file playback and the inability to make the content interactive. Sharp's immediately trained Southcentre's Building Services Technician, Ryan Roch about how to use the Omnivex software and then deployed it to manage all of the existing screens. The digital signage is managed from a central location using Omnivex software. "The software was easy to learn how to use and made creating content quick and easy. Now we have schedules that allow us to play unique content on all of the screens," said Roch. Content includes all types of multimedia files, a ticker zone, live news and weather, entertainment and advertising.
In the Sports Zone, they are able to show live sporting events, sports highlights and a ticker with sports news. Since Omnivex software allows users to create content in the native resolution of the screens, the video wall content and all of the other content on the traditional digital signage now looked more vibrant, less pixelated and more visually captivating. Facility navigation had always been a priority for Southcentre's guests, so interactive wayfinding screens were installed to help customers navigate the large facility. In other areas such as the two Customer Service areas, management displays content about mall hours, the services and programs they offer, upcoming events taking place in the mall and the surrounding community, as well as advertisements for the retailers who have space in the facility.
Results:
Southcentre is able to increase the satisfaction of existing tenants, while appealing to new tenants by offering them the chance to advertise on the screens throughout the mall. "It's something that distinguishes us from the other malls. We are able to use our existing digital signage technologies for the benefit of the entire centre and our retailers," said Ryan Roch, Southcentre Mall's network operator. "We provide content creation services and the ad space to our retailers free of charge," said Shawn Hanson.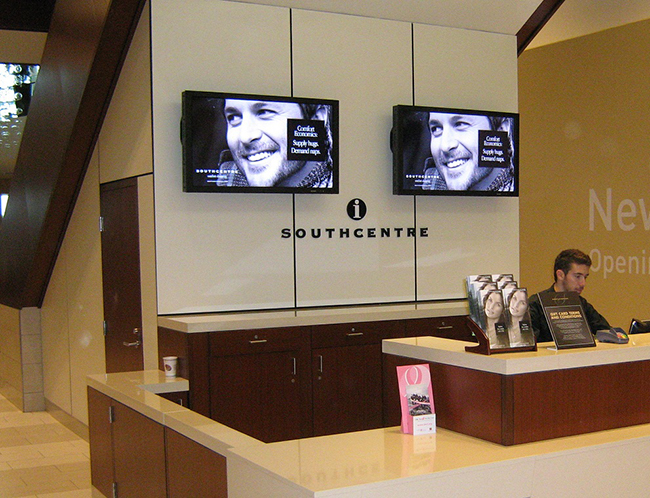 "Shoppers like to learn about promotions taking place in the mall, while retailers like to get the brand exposure we are able to provide to them," he continued. "This also helps boost the sales of those retailers who may be struggling in this down economy. Ultimately, the success of our retailers leads to our success, so we are happy to provide them with the opportunity to increase their visibility," finished Hanson. All of the screens also include the Southcentre logo and some display advertising about the mall, helping to promote the mall as the ultimate place to shop.
"Future plans for the digital signage system include expansion into other areas of the shopping centre and exploration of further opportunities to promote retailers and other groups using mall space," said Hanson. Another option is that Southcentre Mall could use their digital signage network to realize an additional return on their investment by offering mall tenants a hosted solution on their existing Omnivex network. This would allow them to offer their retailers the ability to have screens in their stores to promote products, without the need for any training or major infrastructure investments. The software could also be used down the road in the Mall's Food Court, to display menu items, prices and promotions.
The renovation and addition of digital signage to the mall has reinforced Southcentre as one of Calgary's best places to shop. Feedback from both shoppers and retailers has been phenomenal.