Today, TMX Group is much more than Toronto Stock Exchange (TSX) and TSX Venture Exchange (TSXV), the cornerstone of Canada's capital markets. TMX has expanded into energy trading and clearing with NGX; derivatives trading and clearing with Montréal Exchange, CDCC, EDX London and BOX; fixed income trading and information services with Shorcan and PC-Bond; and investor relations services with Equicom. This diversification greatly expands their opportunities for growth and provides the foundation for future success.
The Scope:
The TMX Broadcast Centre, located on the ground floor of 130 King St W, Toronto, Ontario, provides a venue to connect the public with up to the minute financial news. Every business day, senior financial journalists from Canadian business media interview leading figures in the world of finance. When news happens at Toronto Stock Exchange or TSX Venture Exchange, business media are there to broadcast that financial news to the world. Interviews with Canadian business leaders are also conducted throughout the day from the TMX Broadcast Centre. It is the home of financial news media, including CP24 and BNN and they provide occasional use services to CNBC, Fox Business News, Bloomberg, BBC, CTV News Channel, CBC, RDI, TVA and Investment Executive TV along with many other Canadian and international media.
Events can be hosted in two separate areas: the Gallery and the Studio. The Gallery accommodates annual general meetings, seminars, product launches, news conferences, receptions and dinners. The Studio hosts news conferences in addition to specialized television programming, within the actual broadcast floor itself. The Gallery also houses heritage exhibits that describe 150 years of history. Visitors can check current market data from TMX Group exchanges (Toronto Stock Exchange and TSX Venture Exchange) and from around the world. TMX has offices in major Canadian cities where financial data from the Broadcast Centre is displayed to visitors.
TMX Group's Broadcast Centre is renowned as one of the world's most advanced financial broadcast locations. TMX was looking for a digital signage software platform that they could use to manage real-time information displayed on LCDs, LEDs and projection screens. They wanted to be able to manage the digital signage within all of their locations across Canada from their headquarters in Toronto. The Omnivex development team was brought on early in the planning process to help define parameters for the project. Omnivex has a long history working with the major data vendors and hardware manufacturers and was able to help TMX Group optimize the solution.
The Solution: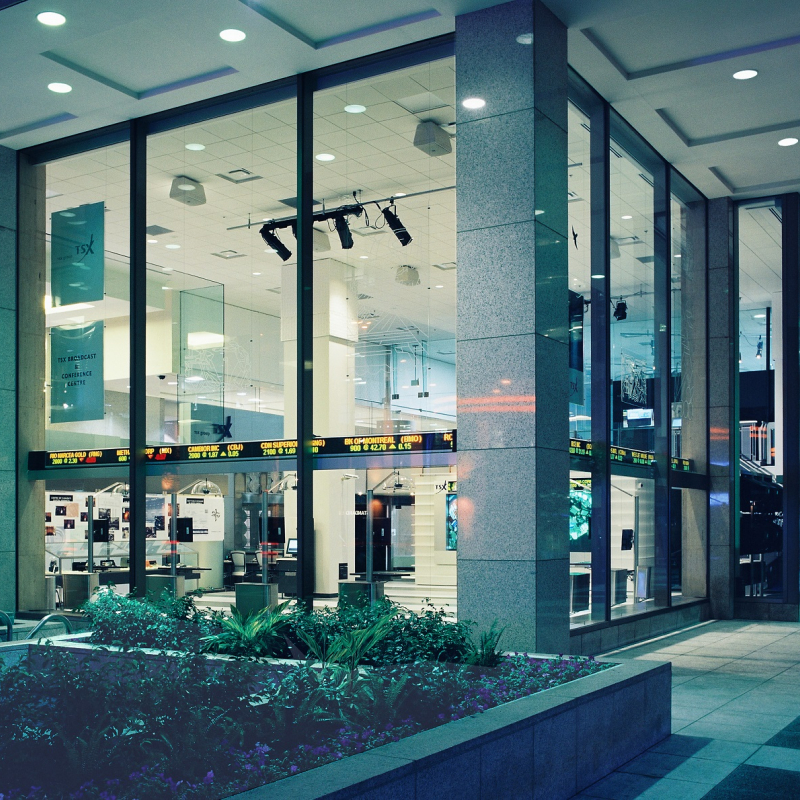 The most challenging part of the project was addressing how to collect all of the data from such a broad range of sources and deliver it to so many devices, within different locations, simultaneously. DataPipe is the central data engine for Omnivex applications and is used to distribute data throughout TMX Group offices. The architecture of the Omnivex solution allows TMX to create and manage content from the TMX Broadcast Centre, and drive displays across the country. With 14 video cubes, 12 LED Tickers, 7 LED wallboards and multiple LCD panels showing a vast amount of real-time data sources, the amount of information accessed and delivered is staggering. Omnivex provides a large assortment of DataPipe components to interface with the various data feeds, make queries for custom requirements, retrieve data requests from each broadcaster and communicate with AV hardware in the facility.
Since the initial digital signage deployment in 2003 when the Broadcast Centre opened, TMX Group has moved to a new data vendor. "Accommodating this type of change would have been impractical with a hardware based solution," said Jeff Collard, president of Omnivex. "We were able to build a new interface for the software that took into consideration operating differences of the new data partner," said Collard. Omnivex software continuously collects data using a variety of "Linking" applications to access specific types of information. In the case of Omnivex NewsLink, Omnivex not only extracts the latest financial news headlines but then identifies the company in the story and extracts current trading data on that company. This information is then formatted and displayed on various display media around the facility.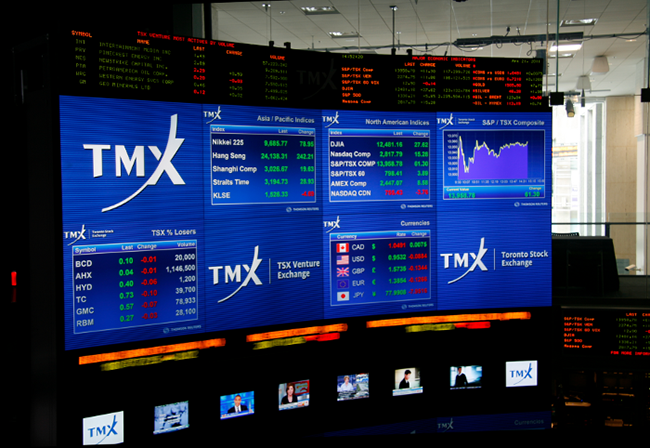 Tests were run with various display screens using television cameras under real life conditions to determine the best technology to use in a broadcast environment. "With Omnivex Display software, it was easy to set up a variety of conditions in a very short period, so that TMX could select the best display," noted Collard. Product representatives of the major media companies were involved in the selection process. "The television production people were tough critics to please but their expertise was invaluable," added Collard. Ultimately, TMX Group chose Christie Digital 70-inch RPMS LCD video cubes and Omnivex Display software was selected to drive them. The projection engines have been upgraded to Christie Entero LED Projectors since the initial deployment.
The Studio includes a media wall 22 feet tall, consisting of fourteen 70-inch SXVGA rear-projection cubes. Omnivex Display software allows each media outlet to customize their backdrop to reflect their own unique image and display relevant data to the stories they cover, in the language they choose. Omnivex DataPipe is used to display customized market data for the various media outlets. The on-air personnel required the ability to input their requirements for that segment and switch between various background layouts as they progressed through their report, which was easily achieved using the Omnivex Broadcaster Interface. This content includes live data tables, charts and graphs as well as pertinent commentary from the newscaster. A newscaster can report on any trading element from any exchange around the world. The information is real time and has to be delivered instantly; with differences in time zones, this becomes particularly challenging since certain commodity prices centre around exchanges that may not be open at the time the information is requested.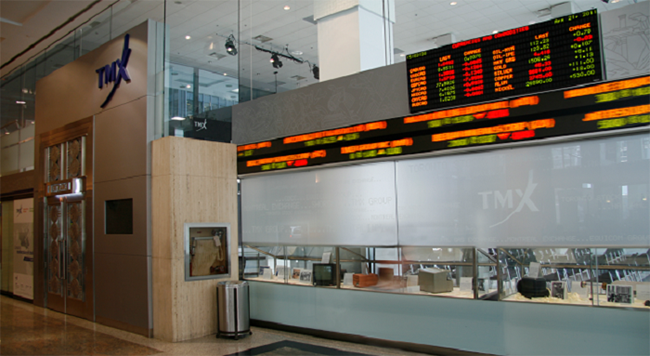 Using Omnivex IOLink, TMX Group was able to link their Crestron system with the Omnivex DataPipe Server allowing them to coordinate content playing on their displays with the operation of various hardware components. Omnivex IOLink is able to react to serial commands from Crestron, and also output commands to Crestron as events dictate. Omnivex Display has the capability of embedding data-triggering buttons into content on the screen. The TMX Group utilizes a touch screen and makes use of these buttons to allow visiting dignitaries to participate in ceremonies as financial markets open.
LED tickers and wallboards augment the environment and are used to display S&P/TSX indices, foreign currencies, and activity from other exchanges around the world. Data for the LED devices and the projection units is supplied by an external data partner (to access global data) and resides on various terminals within the facility. Furthermore, TMX wanted the system to watch for news stories from their own news service, match it with financial information on the subject companies and display them together. All of these requirements were made a reality using Omnivex software. During opening ceremonies, the touch panel screen displays the guest listing company, with the countdown to market open. The touch screen is a high tech equivalent to the opening bell and triggers content throughout the facility. Simultaneously, Omnivex IOLink sounds the starting siren and triggers external hardware via the Crestron control.
Results:
After close to 10 years of flawless operation, the Broadcast Centre continues to inform Canadians about financial matters. The system is up 24/7, aside from a weekly reboot over the weekend to ensure that all computers are operational. The system features a fully redundant server with automatic failover to ensure consistent operation. "The Broadcast Centre gives the public a window to the financial markets and an outage could be misconstrued so we needed a very robust solution," said Kris Backus, Manager, TMX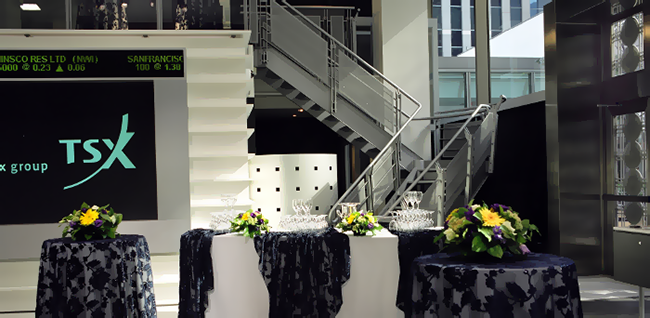 Broadcast Centre. "The system is fully automated with a single technician operating it from our headquarters in Toronto. Should a mechanical failure occur, the system can instantly cut over to our mirrored backup PCs," said Backus. The system is easy to use for both TMX staff and on-air presenters who wish to manage their own content for live broadcasts.
Final construction of the TMX Broadcast and Conference Centre was completed on May 1, 2003, and was met with rave reviews. "The Omnivex solution provides us with the ability to quickly select the companies, commodities and indices that we want to present and then display them in various charts and graphs for a clear picture of what is going on in the markets," said Backus. "The Centre now has one of the most advanced financial display systems in the world," he concluded.