Developed & Published by:


Sponsored by:


By Richard Slawsky   RetailCustomerExperience.com
The ability of in-store devices to communicate with each other offers the potential to create an entirely new customer experience while at the same time providing retailers increasing insight to customers' needs.
Technology is changing how retailers interact with their customers. Posters, shelf tags and point-of-purchase signage has been replaced by flat-panel screens with full-motion video. Dynamic QR codes that change depending on conditions allow customers to use their smartphones to obtain detailed product information, visit an e-commerce site or engage with the product through augmented reality. At the register, screens help customers learn about complimentary services or loyalty program benefits resulting from their purchases.
In addition, the tattered paper catalogue chained to the counter has been replaced by kiosks that allow customers to view a retailer's entire offering and have items not in stock shipped to the customer's home. And rather than having to run to the stockroom to check whether a particular item is in stock, more and more salespeople are carrying tablet devices that allow them to check inventory or pull up product information right from the sales floor.
Those retailers who simply replace a printed poster with a flat-panel screen playing an endless loop of product promotions are missing a significant opportunity. The ability of digital devices to communicate with each other, respond to consumer interactions and record the outcome of those interactions offers retailers the opportunity to deliver customers the information and assistance they need when they need it. This ultimately leads to improved customer satisfaction and increased sales.
In-store devices are becoming increasingly intelligent giving rise to a new type of retail environment: The Connected Store.
Integrating the experience
A large retailer today is likely to be a distributed enterprise—sourcing and selling the latest products in new or evolving markets. And with the ubiquitous nature of the Internet, consumers today are armed with more information than ever, often knowing as much or more about a particular product than the salespeople.
The relationship between customers and retailers has changed; the technology available to both parties requires a new type of sales engagement. Retailers now have the ability to connect people with specific information to build value for both the seller and the buyer.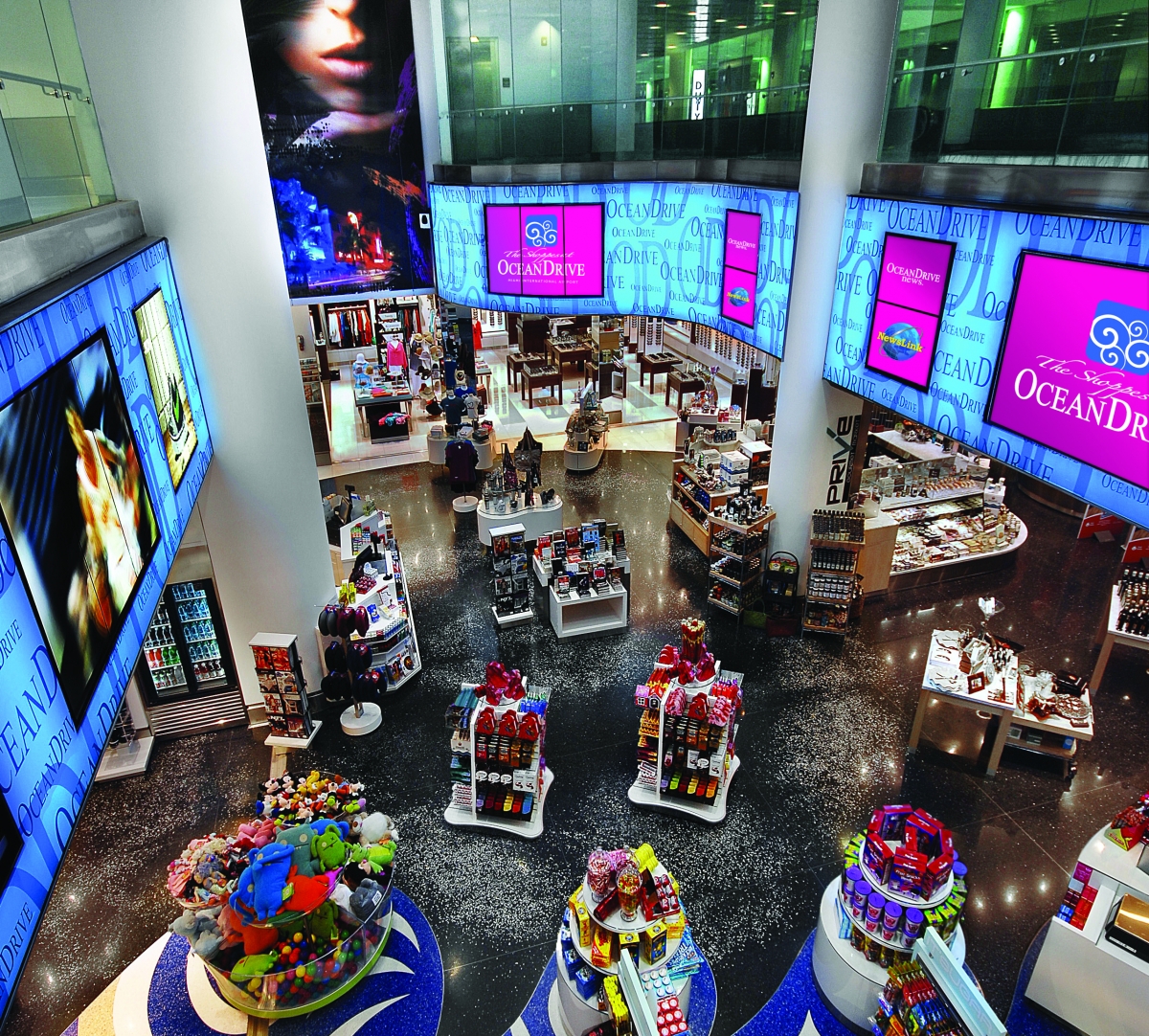 When digital technology first began to be integrated into the retail experience, digital signage and other screens throughout the store were relatively mindless, in most cases simply displaying static images or an endlessly repeating loop of video.  Although those screens presented information in a more engaging fashion, that information was the same no matter what the customers' interest.
In the Connected Store, digital signs, POS terminals and kiosks are no longer stand-alone entities. Instead, they are part of an intelligent system that exchanges information between devices and the store's IT network; providing greater customer engagement and a better customer experience. It also empowers sales staff to help customers make informed purchasing decisions. That integration offers retailers the ability to leverage data and services throughout the enterprise. "In the Connected Store, digital displays and other systems recognize and respond to a customer's interaction," said Doug Bannister, ceo of Toronto-based Omnivex Corp.
The company's Moxie software, running on Microsoft Windows Embedded 8 can create engaging customer experiences while providing retailers with information that can help increase sales and profits.
"Customer interaction can provide the retailer's marketing department and operations with real time intelligence on the products that consumers are interested in," Bannister said. "This helps them create personalized marketing offers and optimize resource planning for individual stores."
In the connected store content displayed on digital signage can change on the fly based on a variety of conditions.  By manipulating variables, content rules can allow each display to determine the appropriate message to play at a given time to a certain audience. The system automatically determines what unique content to play at a given location that will have the highest relevance and value to the viewer.
In addition, by capturing a customer's contact information those devices can serve to create a conversation and a connection with the customer that extends beyond the walls of the store.
Leveraging the communication
"In today's dynamic an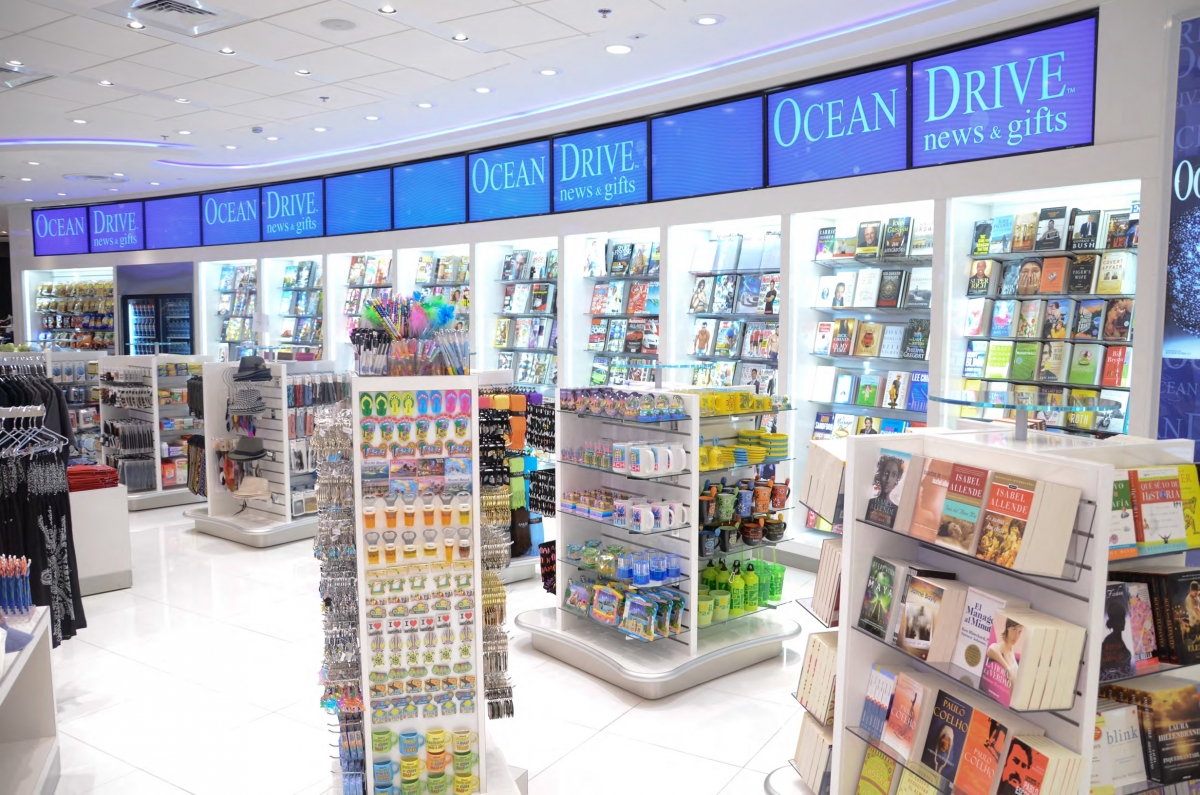 d multichannel environment, retailers are finding the need for a whole new level of integration to serve customers the way they expect," said Kevin Dallas, general manager of Windows Embedded at Microsoft Corp.
In Microsoft's vision of intelligent retail systems, store managers use a touch-enabled store management dashboard to view operational analytics, POS data and building maintenance controls. The dashboard also enables store managers to control in-store digital signs and to run specific promotions for individual departments.
"By connecting common devices, enterprise applications and cloud services into an organization-wide intelligent system, retailers can more accurately forecast sales, develop dynamic pricing models, better understand their customers and realize new value from new streams of information," Dallas said.
Consider, for example, a hardware store with a variety of power drills on display. As a customer picks up a particular drill, a "smart shelf" senses that interaction triggering a digital display to play information related to that particular drill to aid the customer. Store systems record that interaction, measuring which products generate the most interest and triggering inventory systems to increase stock recommendations on those items that generated the most customer interaction.
Conversely, if the store is overstocked on a particular model of drill, customer interaction with a similar model can trigger digital signage to display a promotion of that overstocked item, helping to work down inventory of the overstocked alternate product.
The Co-operative Group
The Co-operative Group worked with Microsoft to implement an intelligent integrated system using Windows Embedded- based POS terminals, handheld devices and kiosks across the UK food retailer's 5,000 stores.
Microsoft helped the Co-operative Group implement digi- tal signs that provide real-time marketing messages. In addition, the Microsoft-based system alerts staff when food is outdated and needs to be discarded, and displays  suggestions for possible additional food item purchases at customer self-checkout terminals.
The system provides the Co-operative Group with analysis of purchasing trends across its UK stores, drilling information down to individual customers' purchases. The company's system conducts more than 200 million transactions a week via a connected solution that tracking sales, trends and orders.
As a result of its intelligent system the Co-operative Group was able to boost weekly sales, driven by real-time offers prompted by customer analytics. In addition, the company realized $4.7 million in annual savings as a result of simplified training, better deployment of staff and improved inventory and cash management.  Source: Microsoft Corp.
And if sales associates are equipped with tablets that are connected to their store's digital signage system, they can come to the assistance of customers.
"Real-time data moves back and forth between different devices in the store to create an experience that is specific to an individual shopper," Bannister said.  "A sales associate will see a message on their tablet that a customer needs help at a specific location. The sales associate can use their tablet to make recommendations to the shopper for products to look at which are reflected on the large digital signs along with the products the customer had been viewing."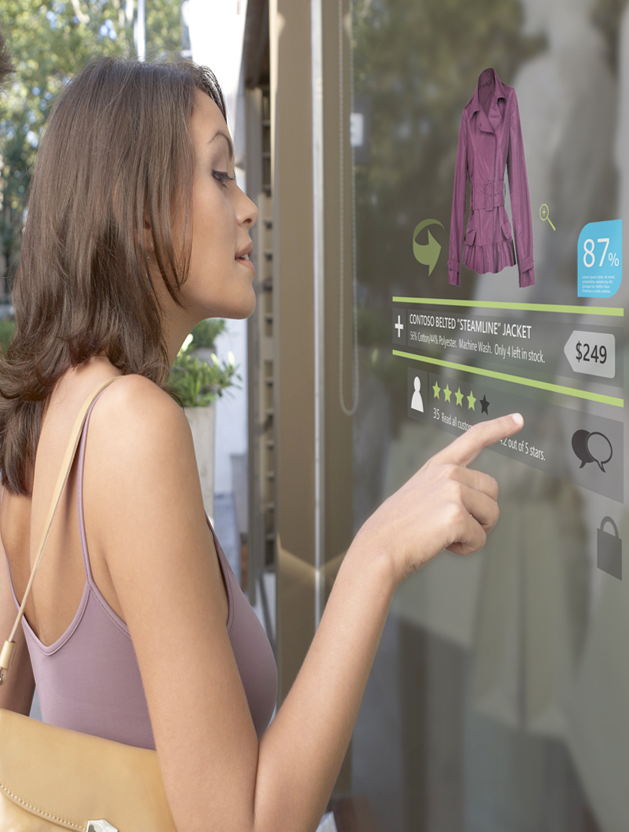 Because the tablet is connected to the store's POS system and its inventory system, the sales associate can check that items are in stock at the store. "They can also inform the POS system about the products that the shopper has selected, so that the cashier will have the information on these products ready for checkout," says Bannister. "This allows the customer to continue with their shopping and improve the overall shopping experience."
Another illustration of the power of The Connected Store is that of a large international car rental agency. The agency operates two brands in one space and customer traffic varies day by day. Increasing completion spot- lighted the need for the agency to support its brands with signage that was uniform, flexible and conveyed professionalism.
Digital signage enables the agency to instantly customize the look and feel of the retail counter space depending on expected customer traffic. The flexibility of the signage allows staff in individual locations to accomplish tasks such as adjusting gas prices as they change and promoting certain car models based on availability.
If staff know, for example, that their fleet of midsized cars are reserved for the day but expected returns to feed that demand are slow coming in, they can promote upgrades to arriving customers and avoid a shortage. It also allows them to promote accessories like GPS units and scale back those promotions when supply of those devices runs low.  In larger locations the agency has screens that direct prestige customers to their cars, enabling them to bypass lines. 
The connected store is built around individual customer experiences. Rather than interacting with a single clerk or location, all assets of the organization and by extension their suppliers are engaged around that individual shopping experience. If you are not sure about a purchase, get input from others in your social circle through your personal mobile device. Based on past patterns and current trends, the connected store can make much better recommendations around your personal preferences and shorten the time to deliver it. The store signage system helps create the environment and delivers information to the customer in the form they are most comfortable with. Beyond physical devices, customers can also interact with the store through natural interfaces such as voice or gestures.    
We have seen a fundamental shift over the last ten years in how people in- teract with technology and the basic infrastructure is now available to allow a different kind of interaction. The concept of the Connected Store promises to create a completely new customer experience, one where retailers use technology to anticipate a customer's specific needs and are able to instantly present that customer with the information they need to make an informed purchase. Even if the shopper doesn't make a purchase on that visit, capturing their information can facilitate an ongoing conversation with the customer keeping them apprised of offers related to their interest, lead- ing to future purchases.
And while the value of intelligent devices is most easily seen in a retail setting it has applications in all industries, Bannister said.
"Data is the new currency that moves across borders, it is as applicable  to healthcare or banking as it is to retail," Bannister said.  "Connecting devices with legacy systems allows people to engage with information anytime and anywhere."