Developed & Published by:


Sponsored by:

Interactive digital signage provides added value for wayfinding by making it easier and less expensive to deploy and manage
The term "wayfinding" was coined in the 1960s by Kevin Andrew Lynch, an architect, urban planner and author, in his book "The Image of the City." Lynch, who studied under Frank Lloyd Wright and went on to become a professor at MIT, contributed to the field of city planning through research on how individuals perceive and navigate the urban landscape. Lynch's book was the result of a five-year study on how users perceive and organize spatial information as they navigate through cities. He defined wayfinding as "a consistent use and organization of definite sensory cues from the external environment."
In recent decades, people have ventured further and further from home, and the environments in which they found themselves became more and more complex, without the aid of signage. Today, the term wayfinding is used to define how to move large numbers of people in a large area, such as an airport, casino, convention center or hotel, when those people are unfamiliar with the area and aren't sure where they need to go, using some form of signage to direct them.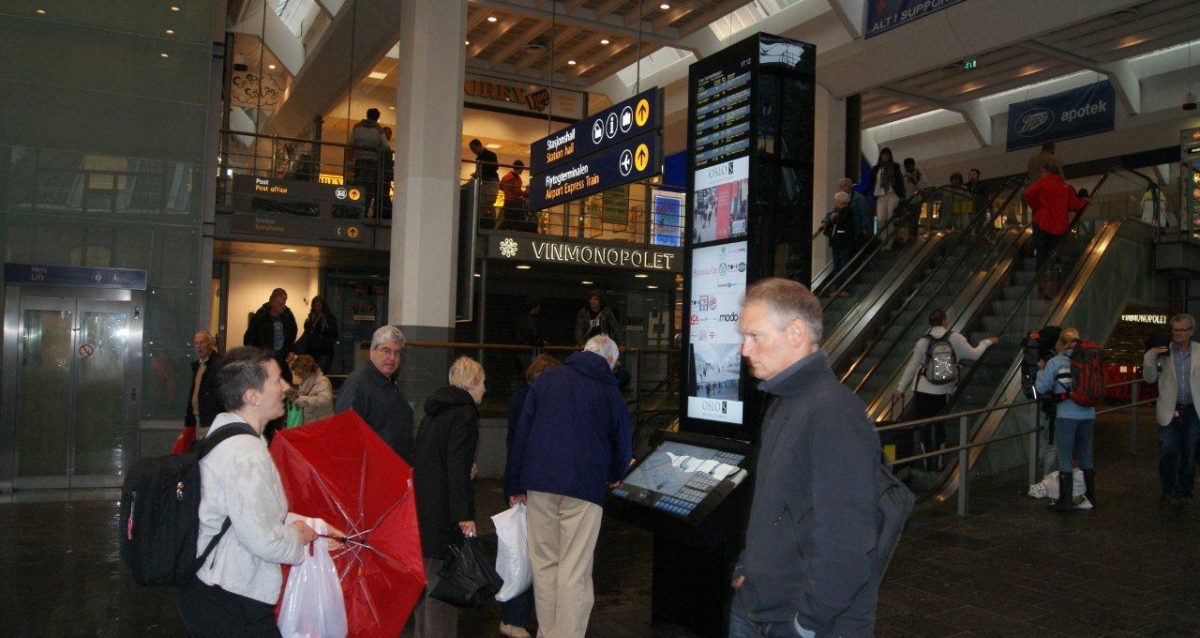 Traditionally, wayfinding solutions consisted of static signs or large maps. Unfortunately, if the layout of the facility changed, due to construction or maintenance, or if a destination point was renamed, such as in the case of a mall where retail spaces often change, those maps were rendered useless. Recently, digital signage has provided a mechanism to rapidly deploy updates to multiple locations. But it still required significant manual intervention to plot new routes in response to changing conditions.
In today's busy world everything is changing. But Lynch's book provides a clue on how to handle change and make it an ally. If the digital map could simply respond to the "definitive sensory cues from the external environment" and choose the best route automatically, based on current conditions, then the problem would be solved.
In this mini-guide, sponsored by Omnivex Corp., we'll look at the development of interactive digital wayfinding signage and how real-time data is driving previously unheard of capabilities in the marketplace.
Chapter 1 — Static wayfinding signage
The roots of wayfinding signage in a large facility trace back to static signage; directional arrows mounted on a stand, fastened to a wall or hanging from the ceiling.
From there, wayfinding signage advanced to a plastic sheet mounted on a backlit kiosk. If there's one location where most people have encountered such signage, it's at the shopping mall.
"We've all seen those types of signs, with a big index and a pointer that says, 'you are here'," said Doug Bannister, ceo of Concord, Ontario-based Omnivex Corp., a provider of content management software for digital signage networks. "It has an alphabetical and categorical listing of all the electronics stores, womens' clothing stores and so forth."
That type of wayfinding signage is still common today. Unfortunately, that's also where most people have encountered the weakness of static wayfinding signage.
According to the International Council of Shopping Centers, there are more than 100,000 shopping centers of all sizes throughout the United States. And although data on store closures is difficult to come by, it's likely a safe bet that any shopping mall that had a bookstore as a tenant likely has wayfinding signage that's incorrect or out-of-date.
"Every time that happens, those malls have to make up a new map, print them up and get them out," Bannister said. Unfortunately, with economic conditions being what they are, mall management isn't likely to spend thousands of dollars a week or more to keep its backlit signage inserts updated.
Similarly, static wayfinding signage at an airport or train station also can fall victim to changing conditions. Airlines change gates on a regular basis, meaning signs directing passengers need to be updated. In situations frequently, such as peak holiday travel periods, renovations or simply a number of flights landing at times close to one another, facility managers may need to route passengers based on specific conditions. Static signage simply doesn't provide for those options.
Although turnover may not be as big a concern in facilities such as universities or medical campuses, another issue comes to the fore there. Much signage, especially that which is printed on paper or cardboard and mounted in a frame, becomes outdated quickly, in addition to simply becoming dirty and worn with age. For those operators trying to make a good impression on customers — whether they are students, patients or visitors to a casino — a dirty, worn-out directional sign may create the wrong kind of long-lasting impression.
And for those facilities undergoing construction or expansion, leaving static signage incorrect or obsolete is no better.
Ultimately, dirty or out-of-date signage can lead to guest frustration, which can affect the bottom line for those businesses using such signage.
Facility managers clearly need a better answer to wayfinding. The advent of digital signage helps to provide a solution.
Case Study
Luxury hotel uses Omnivex software to communicate with visitory and guests
Hyatt Regency is one of the most prestigious brands in the hotel industry, operating in major cities around the world, with meeting facilities and special services designed with the business traveler in mind. Hyatt Regency Chicago is in the heart of downtown Chicago, with 2,019 guestrooms, 63 meeting rooms and 228,000 square feet of space for meetings and various functions. It is made up of two separate towers, connected to each other and neighboring buildings by a series of hallways and underground tunnels. Hyatt Regency Chicago takes pride in offering its guests the best of everything among luxury hotels — great restaurants, well-appointed rooms and unparalleled service.
Project scope
The hotel management wanted to help guests and visitors navigate the facility and provide a more effective method of distributing information (including meeting schedules and locations, local attractions and events, maps of the facility, and captivating graphics to promote the Hyatt brand and hotel services/amenities). They expressed a desire to display real-time information about weather and news, as well as flight information for Chicago's two major airports. In addition to 50 fixed-mounted LCD screens, Hyatt Regency Chicago required mobile screens that could be moved to different locations throughout the hotel depending on the daily events. They also wanted a system that could recognize who was viewing a particular screen and display custom content to suit the profile of the viewer. Lastly, the management team felt that it would be beneficial to incorporate a live television feed on some public displays, as well as provide guests with the ability to access information on the public displays directly from the television screen in their room.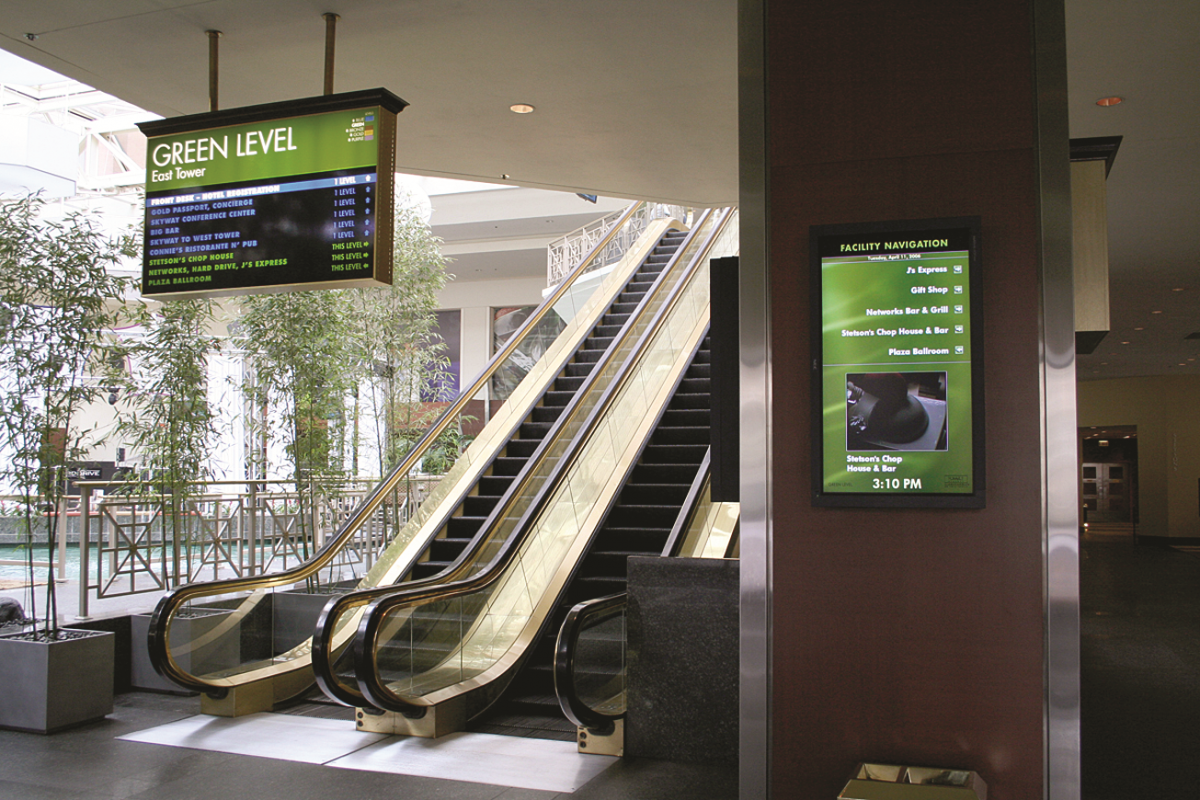 Omnivex solution
The hotel contracted Hospitality Partners, a company that specializes in management systems for hotels, to implement and maintain the digital signage network and to create content for the screens. Since Hospitality Partners has extensive experience managing digital signage networks, it was asked to evaluate the digital signage software systems on the market.
"During our decision making process we identified some key components that should be embodied by the selected digital signage software," said Jim Drysch, manager of networking and telecommunication services for Hospitality Partners. These components were a strong foundation in data management, ease of use by the end user and a strong commitment by the software company to support their product. Omnivex was hands down the leader in all three categories. No other software we evaluated had the same combination of power and simplicity of use as Omnivex software."

Content for the screens is managed by Omnivex Display software. The central content management component resides at Hospitality Partner's corporate location. From there, Hospitality Partners can design content and deliver it to the Hyatt Regency network. Omnivex software acquires, sorts and formats real-time data through an intuitive interface that does not require complex programming by the operator. Real-time news and weather data is delivered to the screens via Omnivex NewsStand and Omnivex DataPipe.
Live television is streamed to certain screens and incorporated into the display content automatically. The software also interfaces with the centralized Hyatt property management server, called Envision.
The Envision database contains information from around the world about all Hyatt meeting and banquet bookings and schedules. Omnivex DataPipe software is able to access information located in the Envision database and display specific meeting information on particular screens at a specified date and time automatically, with no manual intervention by Hyatt Regency staff.
"The data-centric approach that Omnivex has taken allows users of their software almost endless flexibility in data formatting and manipulation," Drysch said.
The 10 mobile screens can be placed in different locations depending on what activities are taking place at the hotel. Since Omnivex software can simultaneously support multiple communication protocols, adding a wireless network for the mobile screens was seamless. The screens are able to access all information from the Omnivex DataPipe network and display scheduled information for the specified location.
Omnivex software allows guests to access information on the public displays directly via their standard in-room television screens. Hyatt Regency Chicago uses this feature to promote hotel services and amenities, and to showcase local events and attractions, helping guests have a more enjoyable stay while in the Chicago area.
Through the use of radio frequency identification (RFID) tags, Omnivex software recognizes when a specified observer is in range of a screen and automatically changes the content from the regularly-scheduled information to unique content that has been created for that particular viewer.
Omnivex Control software allows Hospitality Partners to communicate directly with the digital signage hardware installed in the hotel remotely from its central offices, to ensure that everything is operating as intended. The software continuously monitors the status of every screen as well as the PC connected to it, without a Hyatt staff member having to physically check on the hardware. The software automates an appropriate notification, should a problem occur.
Results
Omnivex and Hospitality Partners worked closely with Hyatt Regency Chicago to understand its requirements and concerns and implement a digital signage system that supported its core values and satisfied the needs of its guests. By interfacing directly to the Envision database, the system provides relevance to the viewer and eliminates ongoing operating costs. Omnivex software allows Hyatt Regency Chicago to help its clients find their way around the hotel and to conference and meeting areas with greater ease, while enhancing the environment to look more modern and technologically advanced. The installation of this digital signage network and the unique capabilities of Omnivex software helped enable Hyatt Regency Chicago to maintain its position as Chicago's premier hotel.

In 2007, this installation won the DIGI Award for corporate excellence in technology.
Chapter 2 — Electronic wayfinding signage
Digital signage added a completely new dimension to wayfinding. In addition to offering the ability to update signage relatively quickly, it allowed users to include animation and even full-motion video.
Airports, with their complicated layout, arrival and departure boards and filled with large numbers of people who may be unfamiliar with the facility, were one of the prime candidates for the adoption of digital signage.
"Some airports still hire people to stand in strategic locations and direct people to go here or there," said Omnivex's Bannister. "That is an expensive solution."
Airport digital signage can include information on popular destinations, restaurants, shops and hotels, as well as timely information on local events and possibly the opportunity to buy attraction tickets.
For example, a hungry traveler could not only use a digital wayfinding system to locate his gate, but also see what food offerings were in that area. And because a digital signage network can be updated quickly, signs could change to direct travelers to their flights by the name of their destination, not just point to their intended gate. Automatic RSS feeds can keep the boards updated with features such as weather reports or breaking news.
In a hotel, digital signage can act as a virtual concierge, offering data such as a hotel map, meeting schedules and banquet information. Strategically placed touchscreens can allow users to search for information, such as room availability, dining menus, banquet information updates, daily weather forecasts and details about tourist attractions. Since the staff is freed from answering commonly asked questions, they are able to focus on providing better customer service.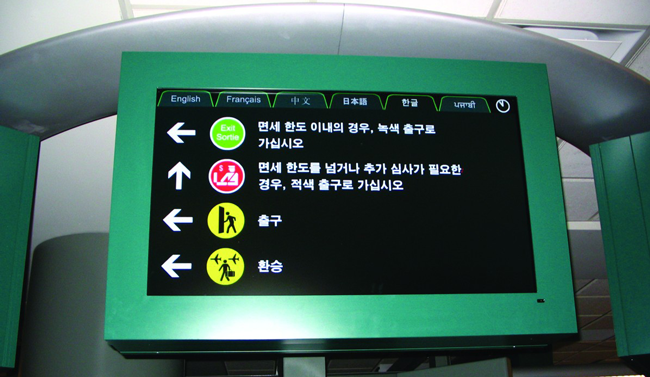 Medical facilities can be confusing mazes, complicated by the fact that visitors often have other issues on their minds than trying to recall which hallway led to the room where they need to be for an appointment or which elevator they need to take to visit a sick relative. Digital screens can be placed at strategic locations to help direct those visitors to where they need to be.
In a shopping mall, digital signage can be updated as one store leaves and another takes its place. Touchscreen kiosks can help answer shoppers' questions. The video capability of digital signage allows operators to place advertising on the screens, offering additional revenue opportunities for retailers and facilities managers.
And for universities, digital wayfinding signage can serve double duty as an emergency messaging system. Universities often have a large population over a vast area; in the event of an emergency such as a severe thunderstorms or tornado alerts, getting current information out as quickly as possible is imperative and could save lives.
From what has been covered so far, it might appear that a basic digital signage network is the answer to nearly any facility's wayfinding needs, right? Well, not so fast.
Although digital signage allows for updating and the delivery of additional information, it often takes someone with programming skills to make those content changes happen and cannot necessarily be sent to the screens from a remote location. And while digital signage has opened the door to a host of opportunities for deployers, many doors remain closed.
Interactive wayfinding
Venues such as airports, sports arenas, hotels, medical facilities and universities are utilizing interactive wayfinding as a way to direct visitors. Terms and considerations include:
Touchscreen. The most common method to provide interactive maps is the use of touchscreens, often found on kiosks. This allows the viewer to select a destination from a list, and the system will plot a path to the end point.
RFID. If something is known about the viewer, the wayfinding experience can be targeted. Luxury box holders at sporting venues may have a special card with an embedded RFID tag to give them access to reserved areas or provide customized content for that ticket holder. Delegates at a conference may carry a conference badge with an RFID tag identifying their conference and credentials (not necessarily any personal details). Based on this information, the wayfinding system can dynamically filter information to direct the viewer to the appropriate venue or though designated areas.
Barcode scanners. Much like the RFID example, ticket holders at concerts and events can use the barcode on their ticket to identify seating locations and provide auxillary information, such as a panoramic view from their seat or services available to guests in a specific area and where those services can be found.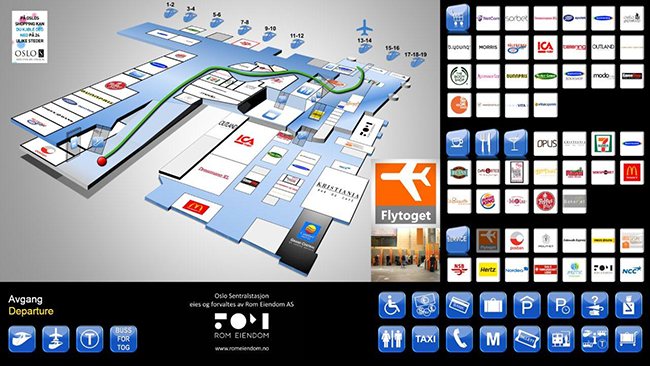 Multifloor/Multiregion. Some locations may reside across multiple floors or multiple regions, such as another building across the street or across a campus. Transfer points, such as stairs, elevators and escalators (or trams, bridges and tunnels), need to be identified but may not be applicable to all viewers.
Conditional formatting. Some elevators may not operate at certain times of the day or escalators may change direction depending on the traffic direction (a common issue in stadiums). Certain routes that are applicable during the day with natural lighting may not be advisable at night when there are fewer people around and dark paths. The system should be able to decide the appropriate route based on current conditions. Advanced interactive wayfinding also can respond to reroute people away from high volume areas or those under maintenance.
Customizing for the viewer. For the physically impaired, wayfinding can be a challenge since certain routes may not be accessible or the height of touchpoints on a screen must dynamically adjust to suit the reach of the viewer. On a large campus map, it may be necessary to have both macro and micro views depending on the distance to the destination. If the map is large and the destination is close, then the system should be able to zoom in but not to the point of losing reference points.
Auxiliary information. There often is information related to a wayfinding inquiry that will assist the viewer. It could be a store description, details such as hours of operation or advertising about current promotions taking place there. Turn-by-turn directions may be provided by printing a map, or texting directions to a mobile device in the form of an SMS message.
Updates. Things change over time and one of the big advantages of digital displays is the speed at which updates can occur and the ease of distributing updates. The challenge arises for short-term changes such as an escalator being closed for maintenance. Many wayfinding solutions (Adobe Flash is commonly used) require coding to make changes which are expensive and often laborious, and are not reflected on the screens in real time. The system should not require special skills in order to update, or at the least those costs should be identified up front.
Emergency procedures. Emergency evacuation procedures should be built into a wayfinding Interactive wayfinding (cont.) solution indicating the closest exit and automated triggers. In addition, the system should be able to direct traffic away from trouble, not towards it, so if a fire alarm is triggered near an exit, traffic should be directed to an alternate exit automatically.
Managing lists. Relating the items on a wayfinding map to a location name can be a labor-intensive process, especially in large malls with many tenants. Turnover can often make mapping of tenants and locations a full-time job. If information is hard coded, then scripting skills will be required, slowing down the process and adding costs.
Chapter 3 — Intelligent signage
There's an often repeated saying in the digital signage industry: Content is king. But is that really the case? Omnivex believes that context, not content, is the true king.
"When looking at the societal acceptance of new mass communication technologies, three phases become apparent," Omnivex's Bannister said. "In phase one, there's focus on infrastructure. In phase two, there's a focus on content, and in phase three there is a focus on context."
And although many digital signage providers may not admit it, the industry is entering phase three. Consider the variety of ways deployers have developed to measure the viewers of digital signage, from physical surveys to facial-recognition software.
Omnivex took the "context is king" notion to heart when the company developed a wayfinding module for its Moxie digital signage software. Rather than simply being a passive system, digital signage networks are becoming intelligent, making snap decisions based on changing conditions.
With Moxie, if a person is searching for a particular location via an interactive kiosk or touchscreen, the software is able to determine the shortest route based on current conditions, taking into account situations such as ongoing construction or other factors. The software dynamically generates the best option to get from point A to point B. All of this can be accomplished without any scripting or special skills by the operator, and changes can be made in minutes by a trained user.
The system is able to respond in real time to various factors, such as maintenance closures, traffic and other current conditions, adjusting its route accordingly, Bannistersaid. Omnivex Moxie has the ability to send an SMS message with the directions or print a copy of the map for reference. The software also can interface with a facility's existing infrastructure, such as the fire detection system, so that it is able to respond automatically to emergency evacuation notices and other timesensitive elements, further broadening the scope of its applications.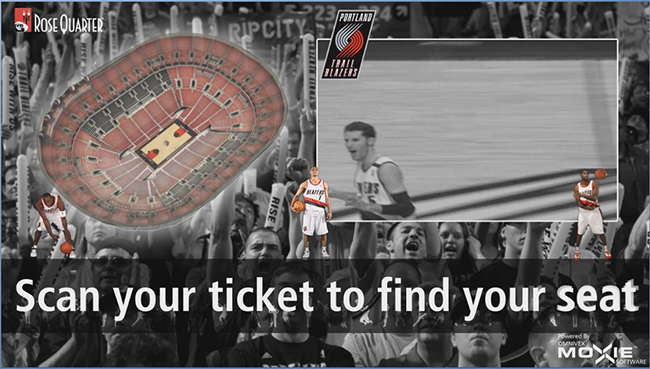 Consider, for example, a basketball game at a local sports arena. Before the game, digital signage can direct fans to different sections of the concourse. A screen outfitted with a barcode scanner can allow a ticket holder to scan his ticket and be presented with a map to his seat or the nearest concession stands. At some large sports venues, the escalators change direction at a certain point based on traffic conditions; the wayfinding application can respond to the current escalator direction by sending patrons to the appropriate escalator to get to the next level. If a sensor identifies congestion on certain escalators, a definite safety concern, the wayfinding application can start directing patrons to an alternate route until the volume is reduced to an acceptable level. Since wayfinding is just an extension of the overall facility of digital signage, these screens can be used to promote items on the menu boards when available, helping increase revenues for the facility and helping fans find the nearest location for the products they want.
Game times can vary and the wayfinding application should be smart enough to know when a game is delayed or going into overtime. Rather than flipping wayfinding to show the nearest exit at a fixed time, the system should respond to the game clock automatically so that it is in sync with the fan experience and providing the right information at the right time.
The best route from point to point may change through the day due to conditions that are hard to predict. On a large campus, someone may need to go to another building. If it is a sunny day, a person might go through an open courtyard but when it is raining, the best route might be around the courtyard through a wing of the building. A pathway between two buildings might be valid during the day but a risk at night. Or congestion at certain areas might suggest that a longer route to an alternate exit is the best choice. Weather, lighting and traffic are all external conditions that could impact a decision. Rather than trying to predict conditions, it is much better to detect them using standard sensor technologies and react accordingly.
Many shopping malls these days feature high-end restaurants, so rather than simply looking at a kiosk to find the shortest route, shoppers can check the wait for a table and add their name to the reservation list. By entering a mobile phone number, they can receive a text message when their table is almost ready.
One Omnivex customer, an international airport, was looking for a better way to assist arriving passengers who may not be fluent in English find their way once departing the plane. As it turned out, the answer was simple.
"Using our software, they query the incoming flights in their database and tie that into the digital signage software," Bannister said. "So for example, if a flight has just arrived from Spain, the software is intuitive enough to know to show the information on the arrivals screens in that area in Spanish and English. If there's an inbound flight from France, it will display the messages in French and English, and so on. Since gate information can change, linking the information to the airports data system ensures that the information is correct every time. That's just an example of the dynamic capabilities of the software."
"That is a very critical business component for airports, because they often have a short amount of time to get people across the terminal to their connecting flight, and they need to do it in the most efficient manner possible," Bannister said.
Omnivex's Moxie software is designed to tie into a variety of data sources. Once the operator sets up rules for the software, the data drives the network, whether the information comes from a flight database in an airport, an event database at a convention center or the time clock at a sporting event.
"That makes our software extremely responsive, very adaptable and inexpensive to operate," Bannister said. "It also allows us to show targeted messaging to the audience that is viewing the screen rather than to show the same content to everybody."
Every facility manager's worst nightmare is having to evacuate at a moment's notice because of a fire or similar threat. With intelligent wayfinding, signage can update screens to direct visitors away from the problem area.
"For example, if someone pulled the fire alarm, we can have that information updated on hundreds or thousands of screens in less than a second and direct people away from where the problem is located," Bannister said. "That is the kind of responsiveness that is built into our software."
Omnivex shows its Moxie
Omnivex Corp., a Microsoft Gold Certified Partner and provider of content management software for digital signage networks, has released version 6.09 of its Moxie software platform. The latest version has improvements for better performance, scalability and usability, the company said.
Moxie software represents a significant shift in the way digital signage has traditionally been approached, according to Omnivex. Moxie is a comprehensive platform used to create, manage and deploy digital signage systems that uses both internal triggers (such as time, location and data) and external information (including touchscreen inputs, contact closures and environmental factors) to determine the appropriate content to display on the screens, for a particular target audience. Making visual communications contextual improves its effectiveness and subsequently, the return on investment of the system.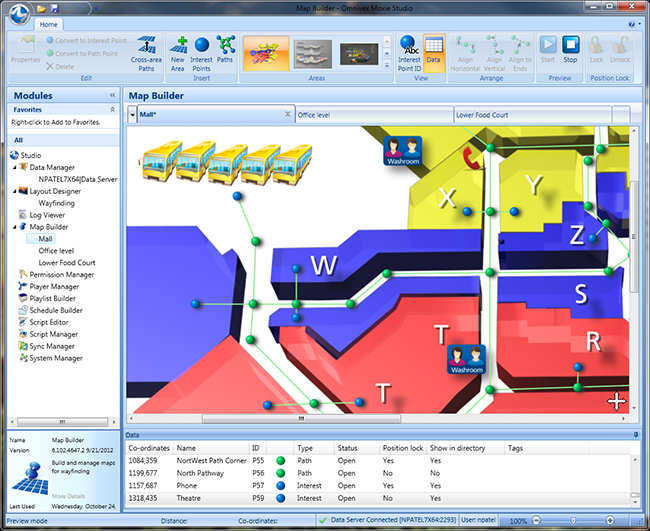 Changes to the usability of the software include the ability to automatically match the content timeline duration to a media file's duration and communications improvements which make for increased responsiveness in multi-user environments. Moxie now also supports ClearQAM video capture, which will allow users to include content from an unencrypted signal in their content displayed on screen.
Further functionality for the new wayfinding module that was introduced in 6.08 will allow users to create a wayfinding directory for their map in the Layout Designer with very few steps. Through the Directory Zone, users can easily create a directory and customize it using a table, rather than having to create individual button zones for each start and end point. The same set of rules and formatting can be applied to all of the buttons within the Directory Zone, cutting down on the time required to deploy and manage interactive wayfinding maps. Any changes made to the start and end points, as well as their corresponding labels, will also be displayed in the directory. This functionality enables users to easily sort and filter the items in the directory by type, category, alphabetically or a host of other options.