Summary
A new license file is required when upgrading to SQLLink 4 (versions 4.04.5424 or lower) from a version earlier than 4.02.4044.1.
Symptom
When starting an upgraded version of SQLLink 4 for the first time, the splash screen appears with a message requesting that a new license file needs to be obtained from Omnivex.
This message does not mean that the existing license agreement with Omnivex is invalid, but that the new version of SQLLink 4, coupled with the particular system configuration, requires a reissue of the license file.
Solution
When the splash screen disappears, the Omnivex SQLLink 4 Registration dialog box appears.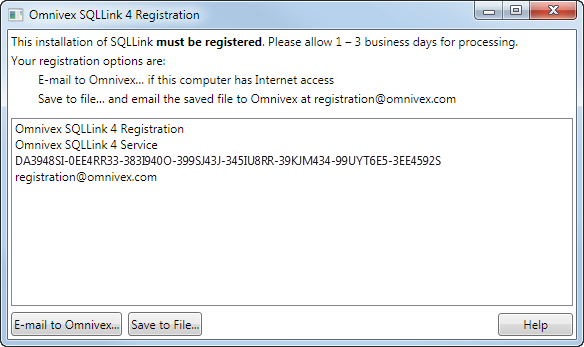 Re-register SQLLink 4 software. For detailed information on how to register, see KB item 155.