Summary
This article lists the new features and changes in Moxie version 6.14. It is intended for anyone planning to upgrade their installation of Moxie 6.12. All Moxie components including Data Server, Player, Studio, and services, must be upgraded to 6.14 in order to ensure compatibility.
Additional information
For information on obtaining the latest Moxie release, contact Omnivex Technical Services.
New features
Default content can be sent to players connecting to the Data Server for the first time. This feature is enabled through the MDSC (Moxie Data Server Configuration tool). By default, an Omnivex-supplied image is used, but this can be changed by using the System Manager.

Client access restrictions have been added to the MDSC, including a passphrase and player IDs. These are independent, mutually exclusive and optional access restriction methodologies. An initial passphrase is entered into the MDSC at the time the feature is enabled and subsequently, passphrases are maintained through the System Manager. Player IDs are also created and maintained using the System Manager.
With the Player ID feature, it is now possible to set a player's properties, metadata and content assignment when a player initially connects using an ID.
Views for player IDs can be saved in the System Manager.
There is now a dedicated DataPipe port for communication of cell changes between the Data Server and Moxie clients.
A new player-only installer is available with the functionality to start a player when installation finishes and it creates a Player shortcut on the desktop.
Media file length metadata is now added to the Data Server when the media is uploaded. This media file length is displayed in the Playlist Builder as the media file's duration.
Layout Designer can now create both layout and layout zone thumbnails for use in Omnivex QuickLink.
The new QR Code zone generates QR codes from static text, data-bound cell text, and URLs.
There is a new image zone type - image data range - which dynamically links to Data Server cells that contain paths to images.  It can be configured to sequence images and hide blank cells.
A web zone feature now shows or hides scroll bars.
A text auto-shrink feature was added to data-bound text and text collections. It automatically shrinks linked text to fit within a text zone's boundary.
New editing tools were added to Layout Designer's design panel including grids, rulers, guides and a snap-to-line behavior.

A new and revised Layout Designer User Manual now contains links for faster information retrieval and each topic has had its content consolidated and made more concise.
The databinding offset feature now includes the functionality to offset sheet values and also includes a redesigned and more user-friendly data offset definition process.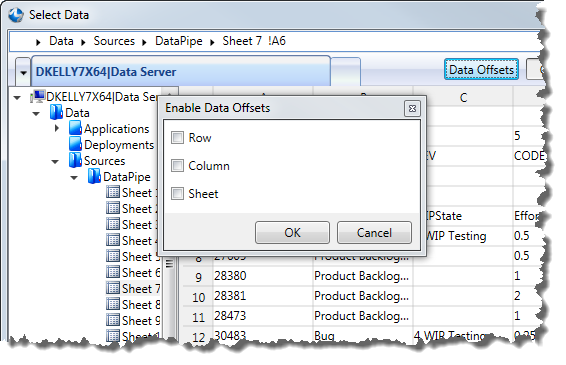 A Studio purge option was added to the System Manager. This feature clears the local Studio database, removes cache items, and restarts the Studio.
Data Server switching is now supported for both Studio and Player.
Changes

Layout Designer:
 
New tabs present the layout sized-to-fit the existing window.
New zoom enhancements included a zoom-to-fit option.
In the Properties dialog box, the layout size and position properties now only permit whole number values.
The ribbon has been enhanced to improve the user experience.

Data Manager:
 
Workspace import and export feature includes enhanced feedback during processing, identifying warnings and errors
 
Installation
 
The MDSC's panels have been simplified and streamlined.
The Data Server Connection wizard has been simplified and streamlined to support new features.
Data Server clients registered in 6.14 and onward will display a unique identifier as part of their name to differentiate between same-named computers in a Cloud implementation.
 
Content Logging:
 
The logging sub-system has been updated to permit a SQL Express Log database.
 
Fixes
Sequencing content on a layout now uses a single common timer resulting in multiple zones maintaining synchronization.
Playlist syncing now works for nested-parent players.
When an unregistered player is started and no more player licenses exist, a message is now displayed on the splash screen. The message requires acknowledgement and once acknowledged, the player process shuts down.
Content rotation values now work as expected – positive values rotate clockwise, negative rotate counter-clockwise.
 
Known Issues
When permissions are enabled and a user that is not a Data Administrator signs into Studio, the version and logged-in status for the Studio does not appear in System Manager.
Video syncing between Players can drift when using Windows 8.1. This problem occurs because of an issue with the operating system and it has been reported to Microsoft.
On ultra-high DPI resolution screens (greater than 1920 X 1080) Moxie Studio may encounter refresh/redraw issues.
Passphrase and Player IDs are not supported in Data Proxy.
After upgrading a Moxie Studio or Player from 6.12 to 6.14, a Connection dialog box may appear upon re-connection to the Data Server for the first time. This is expected and is part of the changes made to the Data Server through the upgrade process. Click OK and continue using the application.