Banking institutions have turned out to be among the most enthusiastic users of digital signage, and this benefits both the banks and their customers. Banks have long been thought of as stuffy venues - a place you "have" to go. However in recent years, banks have started to try and overcome that reputation, and digital signs are playing a key role.

Digital signage has proven to be a remarkably effective tool for creating a welcoming and engaging experience within bank branches. It has enabled banks to both improve customer experience but also improve communications with customers, visitors and employees. Through the use of digital signage bank branches are now able to provide real-time updates on relevant information like the stock market and currency exchange rates, but also provide personalized information on relevant products and offers for individuals in the bank.
Here are 4 reasons digital signage and banking go together so well.
1. Digital Signage Reduces Perceived Wait Times
When customers have something dynamic and engaging to view while they wait in line for the next available teller, those waits don't seem so long. Whether the digital signage offers information about banking services, or simply informs with headlines, sports scores, and weather, it gives people something to do other than count the number of people in front of them. It can also be integrated with queue management by, for example, calling the next customer forward or showing the approximate wait time, and these applications have been linked with higher customer satisfaction.
2. They're Terrific for Informing Customers
Digital signage can be the perfect medium for offering customers faster alternatives to in-person banking services or new service options available to them. For example, it can inform customers waiting in line about how to download a mobile banking app that lets them check balances or transfer funds. Alternatively, it is a great way to communicate about changes in service such as branch hours. Many banks use direct mail, email, and their website to keep customers informed of new products and services. Digital signage is a perfect way to leverage the customers time in a branch to inform them of new products such as credit cards, insurance offers, or loan specials. Interactive kiosks in the bank and screens next to tellers can also be used to personalize the information being shown to specific customer's needs.
3. Digital Signage Viewing Data Can Be Collected and Put to Good Use
Interactive banking kiosks can capture customer usage data, and this data can be used to help calculate digital signage return on investment, and determine which messages and formats are most engaging and successful with customers. Digital signage can measure "dwell time" in front of signs and help banks learn which messages are most effective based on day of the week, time of day, and season.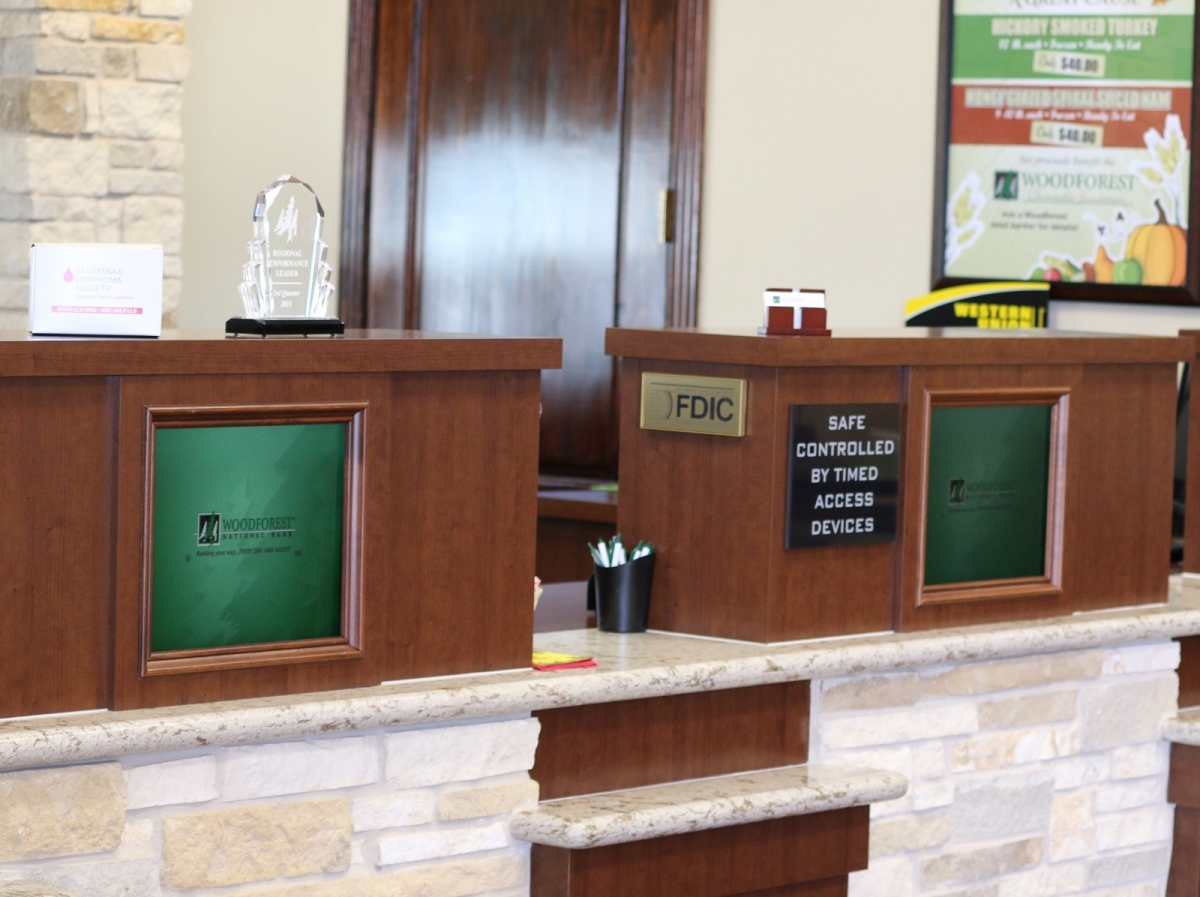 4. It's an Environmentally Responsible Option for Banks
Sustainability is increasingly important to today's consumer, and many customers have already opted for electronic bank statements and online banking, reducing resource usage and helping banks keep their resource and printing costs down. When banks have captivating, compelling digital signage content, there's less need for printed matter, and no leftover printed matter to deal with once a promotion has ended. New messages can be added at any time, with no need to "throw away" the old messaging.
Conclusion
Banks are discovering new ways to connect with their customers, and they're taking their cues from welcoming spaces like coffee houses in an attempt to rehabilitate the banking industry's reputation as being dull. Making today's banks into comfortable, welcoming spaces helps build the relationship between the bank and the community, and digital signage can be an important part of that. Whether they're used to inform, advertise, or simply keep customers entertained as they wait in line, digital signs make perfect sense for today's banking experience.