Enhance student experience with digital signage
College and university campuses are typically large, multi-building affairs. Whether a student, staff, or visitor, a positive and stress-free experience is essential. Effective visual communications go a long way in ensuring a positive campus environment. Omnivex digital signage software can help manage every aspect of your campus communications. Provide students, staff, and visitors with clear wayfinding, real-time scheduling, news and events, health & safety info, and more on screens across your campus.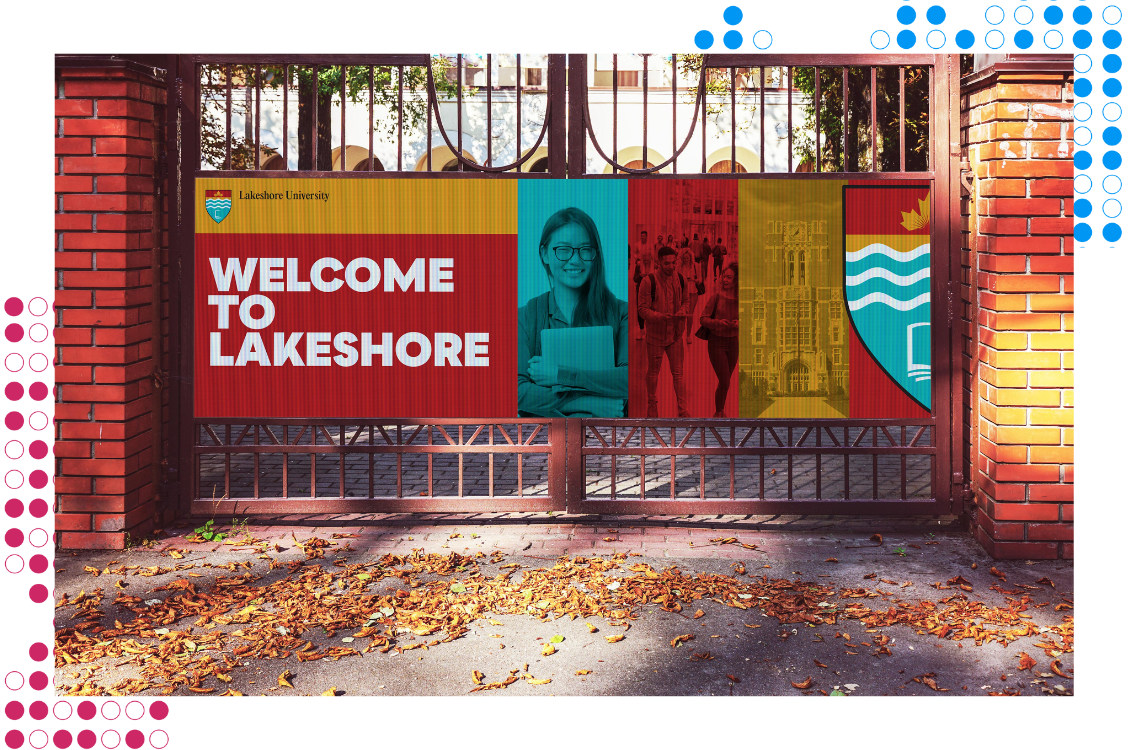 Welcome Screens
Welcome students, staff, and visitors to your campus with timely and relevant information. Highlight parking, popular buildings or facilities, wayfinding information, and more.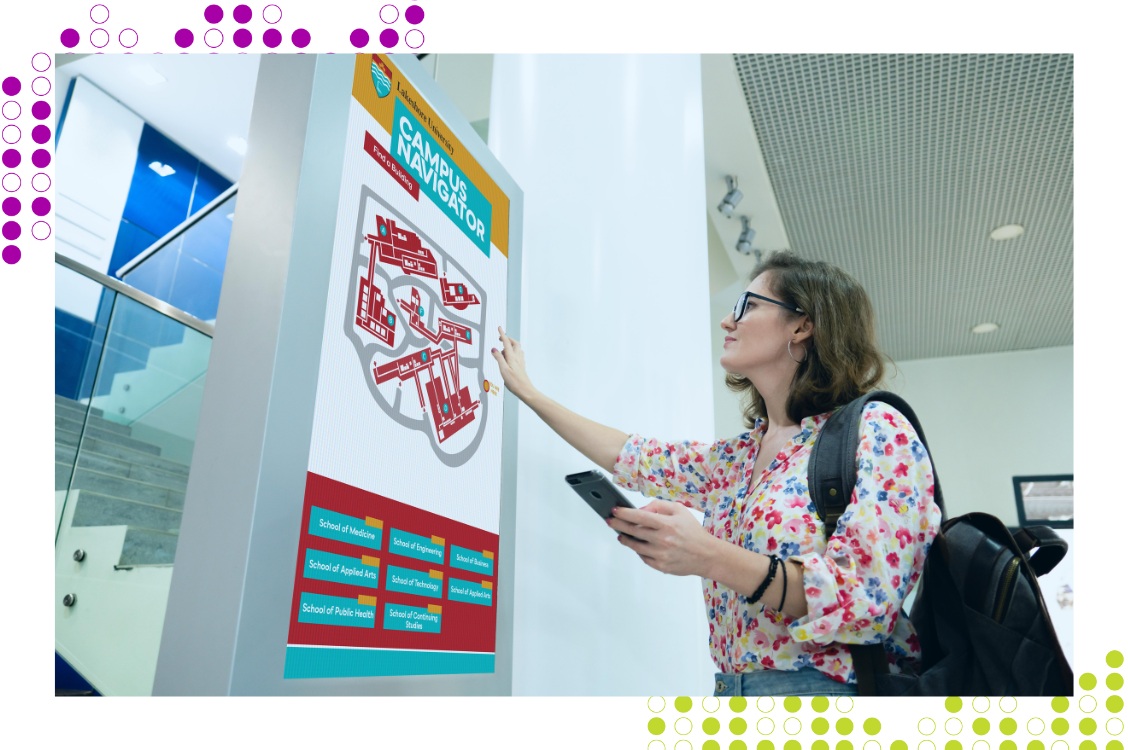 Wayfinding
Campuses are large, multi-building affairs that can be hard to navigate. Enhance navigation with interactive wayfinding kiosks and integrate directions on all screens.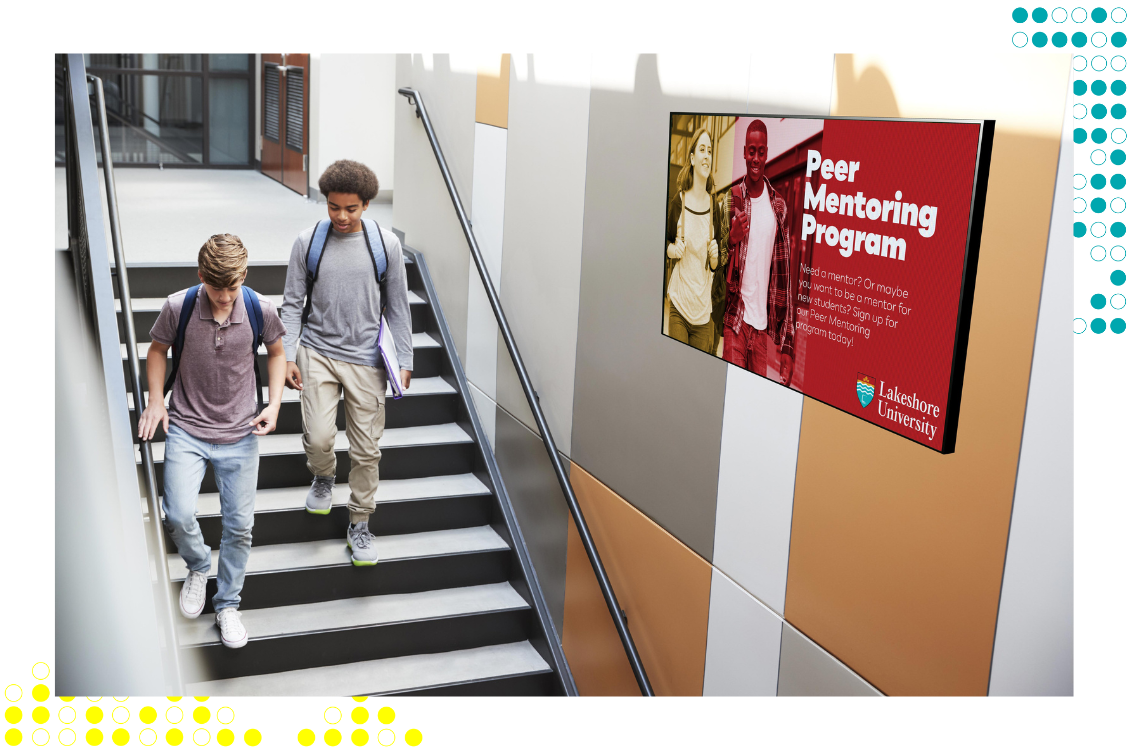 Information Screens
Use digital signage to keep students informed about programs, jobs, events, and more. Maximize student engagement on-campus with real-time communications.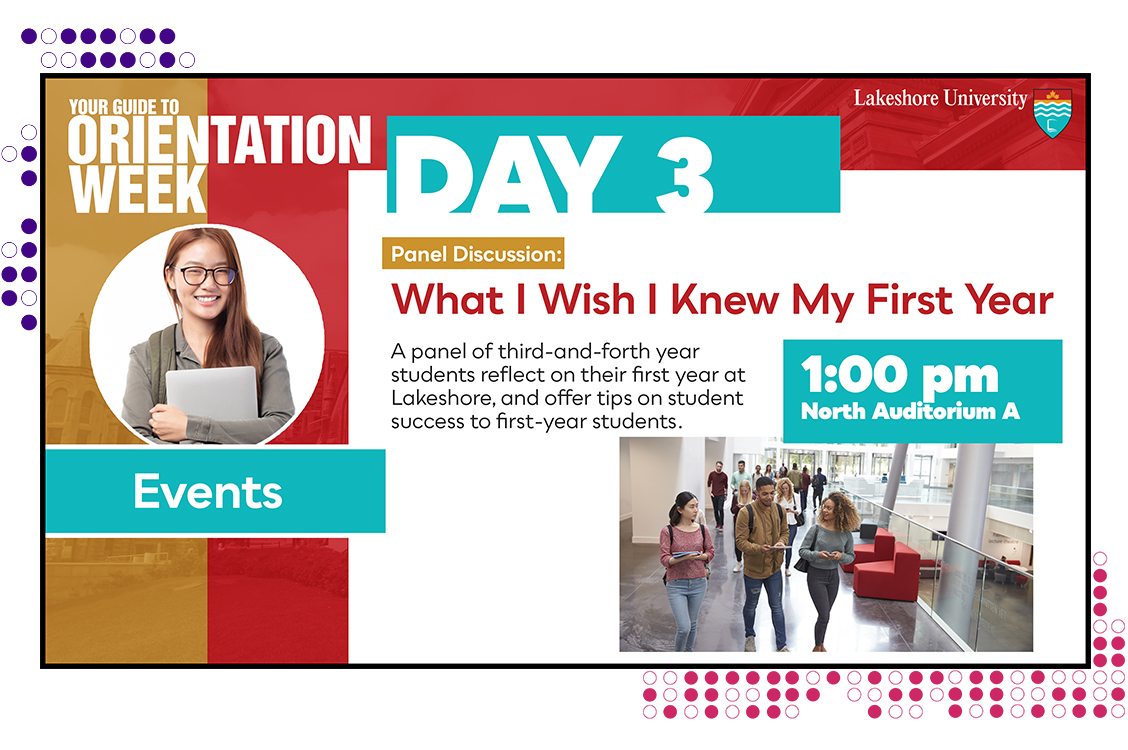 Student Communications
Provide real-time updates on campus events. Share class location changes, facility updates, campus news, and other important information.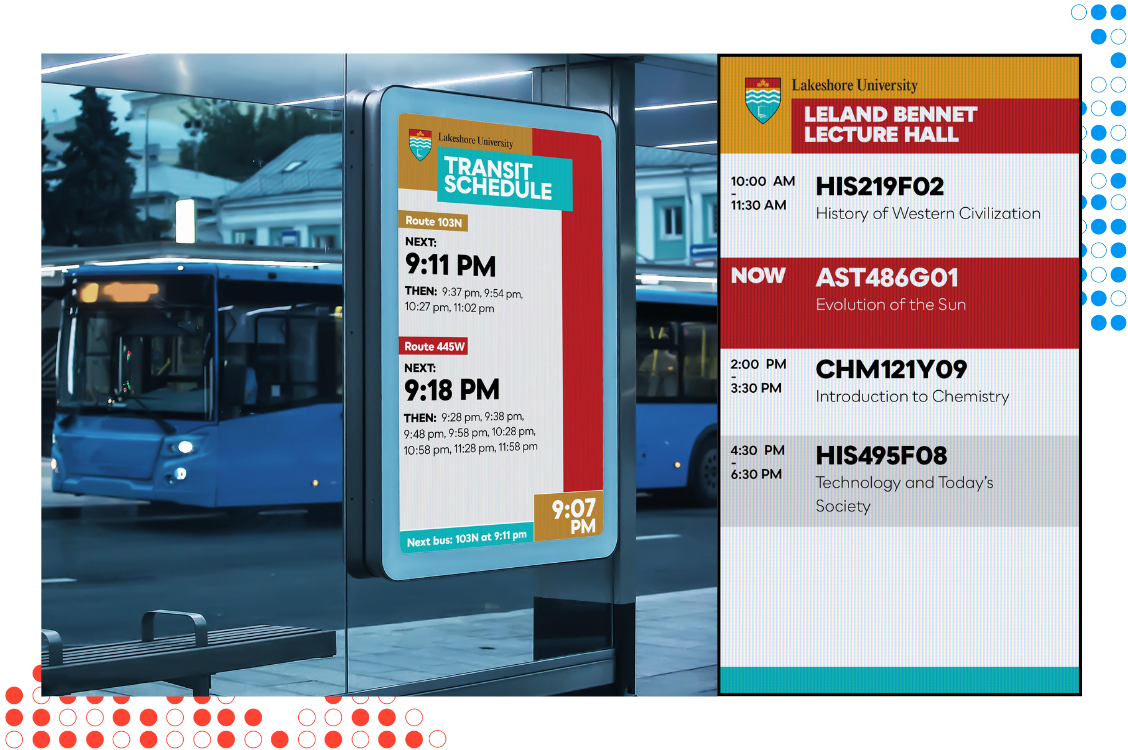 Scheduling Information
Share real-time room and class scheduling information with students and staff. Integrate transit schedules into your digital signs, highlighting stops on your campus.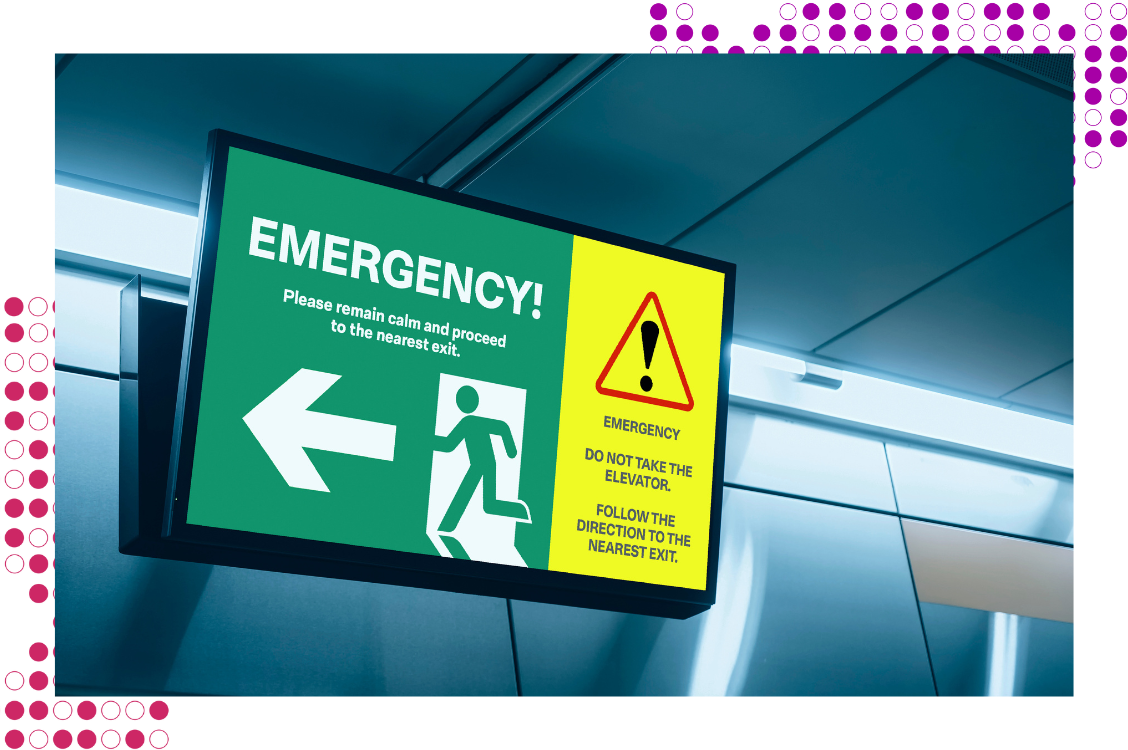 Emergency Notifications
Share real-time alerts and information on screens across your campus. Combine existing audio alarms with visual emergency notifications to improve safety.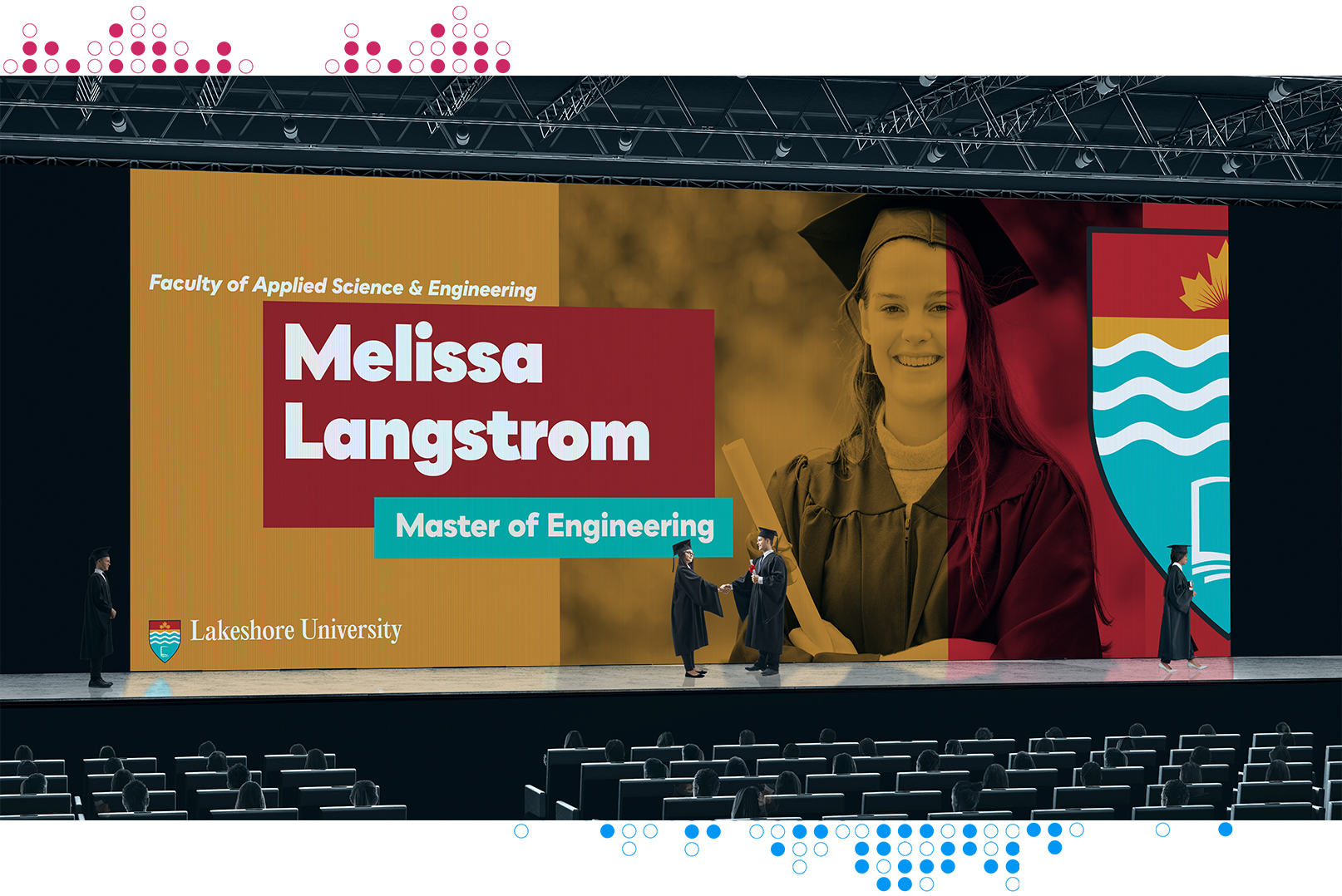 Enhance Campus Events
Digital signage is an innovative tool to elevate post-secondary campus events like convocation and sports activities. By displaying dynamic and visually engaging content, such as event schedules, directions, and live updates, digital signage creates a more immersive experience for attendees. It fosters better communication, enhances event visibility, and encourages student engagement, making it an indispensable asset for a vibrant and connected campus community.
Strategic placement of digital signage displays in high-traffic areas, such as student unions, cafeterias, and main entrances, ensures maximum visibility of information pertaining to campus events and sports activities. Share past event footage, or create teaser trailers to capture attention and generate excitement.
Advertising Screens
Leverage your digital signage to promote products in your campus stores, highlight services available to students, staff, or visitors, or showcase upcoming events and games.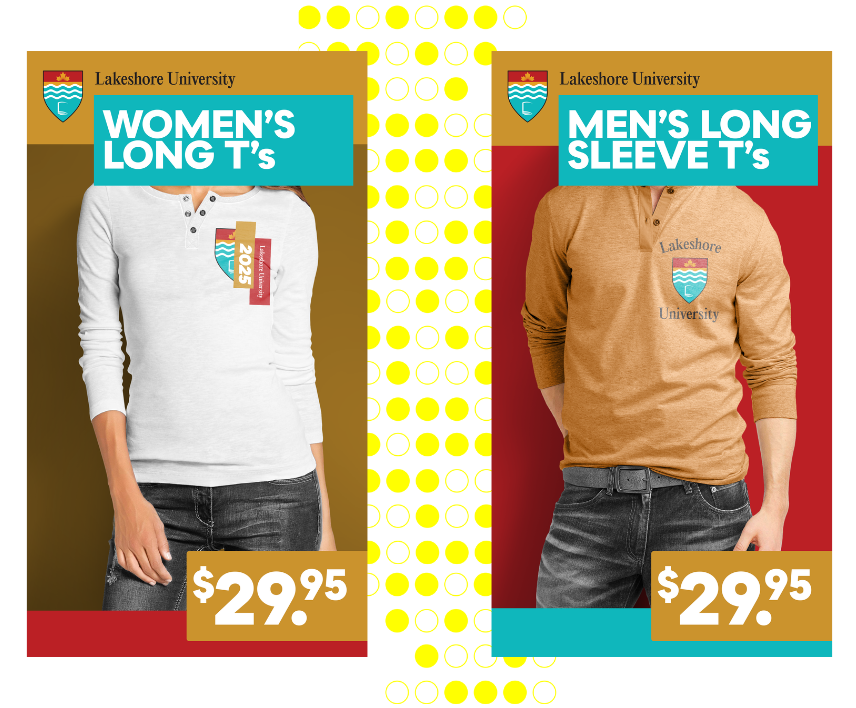 Campus Stores
Easily promote new and exclusive products for sale on digital signage in your campus stores. Enable students and visitors to browse inventory or even pay for items at an interactive kiosk.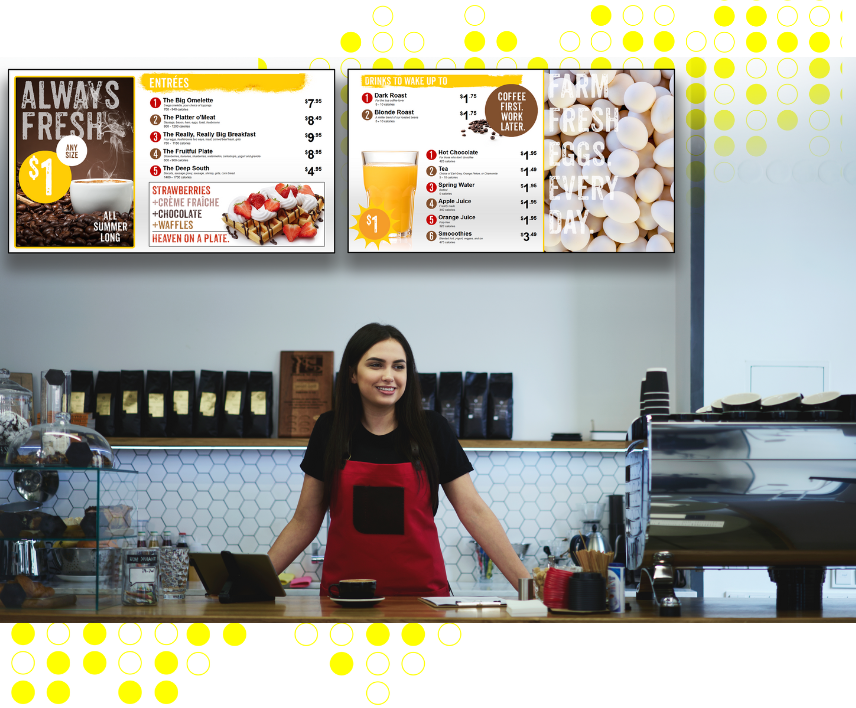 Menu Boards
Share important nutritional information, promote new menu items, and more on digital menu boards in campus cafeterias and concession stands in your stadiums and facilities.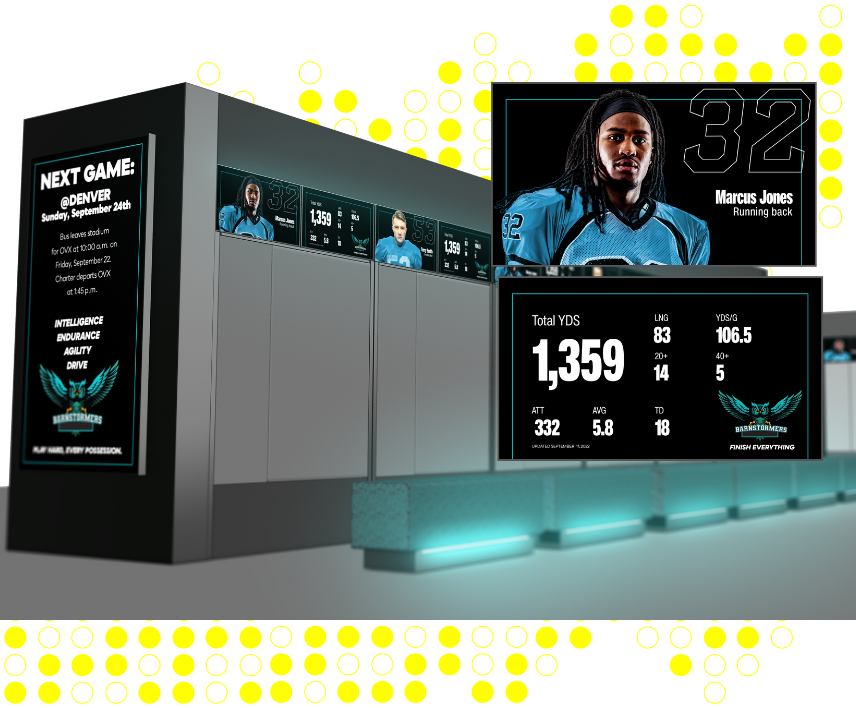 Locker Rooms and Stadiums
Energize players for the game and help manage the logistics of running a team with digital signage. Leverage digital scoreboard to keep the audience engaged and highlight upcoming games.
Donor Walls
It takes a community of individuals and companies to ensure the success of your school. Recognize their contributions with a digital donor wall in a central location on campus. Create visual profiles of key donors that incorporate company logos, photos, and other exciting information. Incorporate eye-catching videos to highlight the results of donations - new facilities, equipment, scholarship recipients, and more. 
Use your digital donor wall to run a real-time fundraising campaign. Highlight progress towards your goal and integrate your fundraising platform to show a live list of donors. Incorporate 4K video and graphics to grab attention and highlight the results of donations - new facilities, equipment, scholarship recipients, and more.