Enhance guest experience with digital signage
For hotels, convention centers, and other venues creating the best possible guest experience is paramount. Omnivex digital signage software allows you to enhance every moment for guests from arriving at your venue until they depart. From interactive wayfinding stations to self-service kiosks to information screens, keep guests informed with relevant, real-time information. In addition, data from various sources such as calendars, weather and news feeds, external transportation schedules, and emergency notifications can be integrated into your digital signage.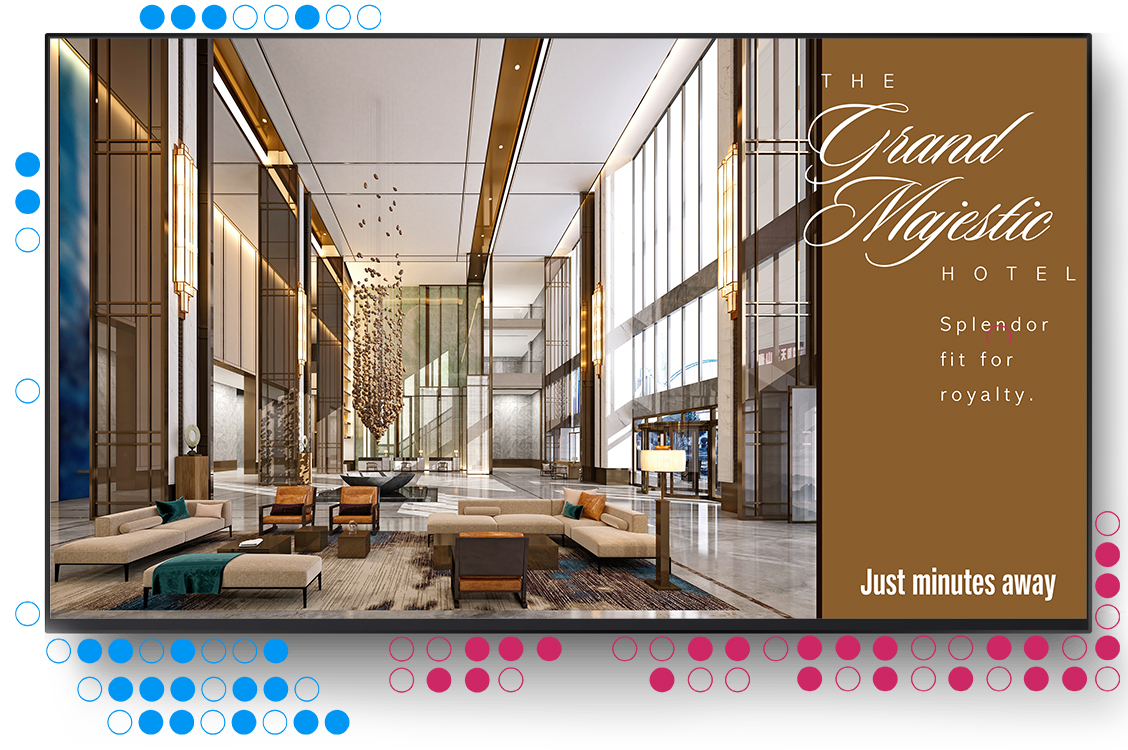 Advertising Screens
Generate incremental revenue with advertising screens. Highlight products, services, and events in your hotel or venue. Sell advertising space to local tourist attractions, restaurants, and more.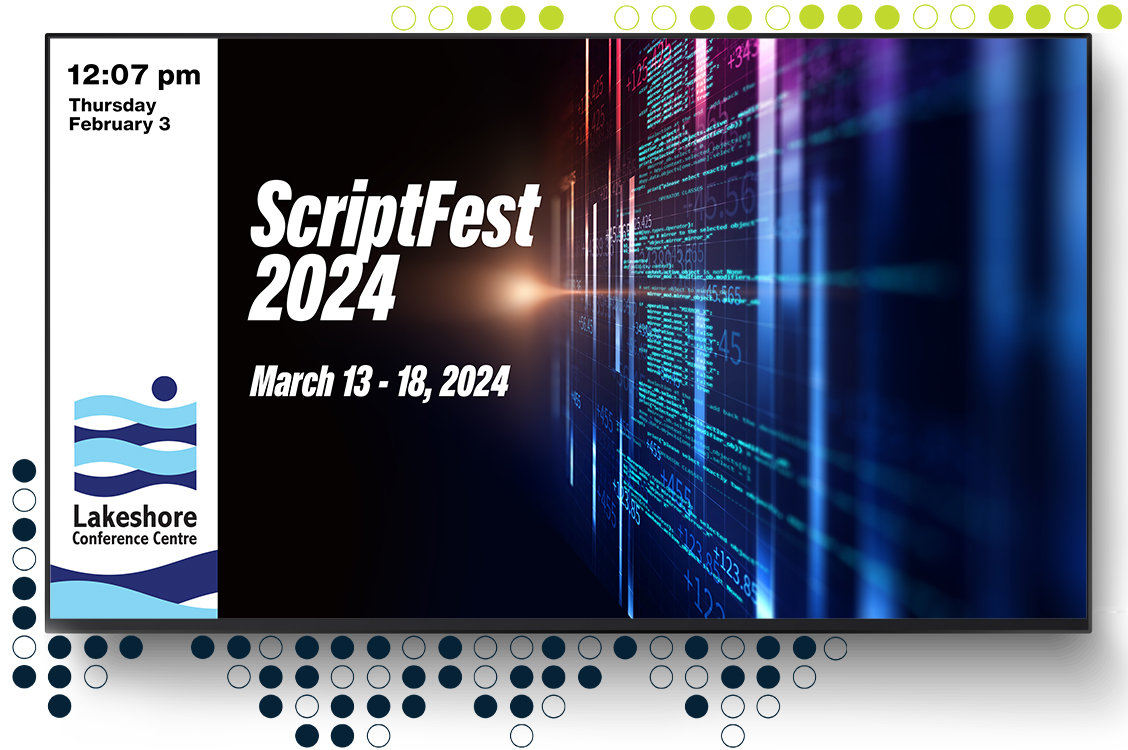 Event Screens
Amplify excitement with engaging graphics and video content highlighting visiting conferences, upcoming events, hotel or venue information, directions, and more on screens in public areas.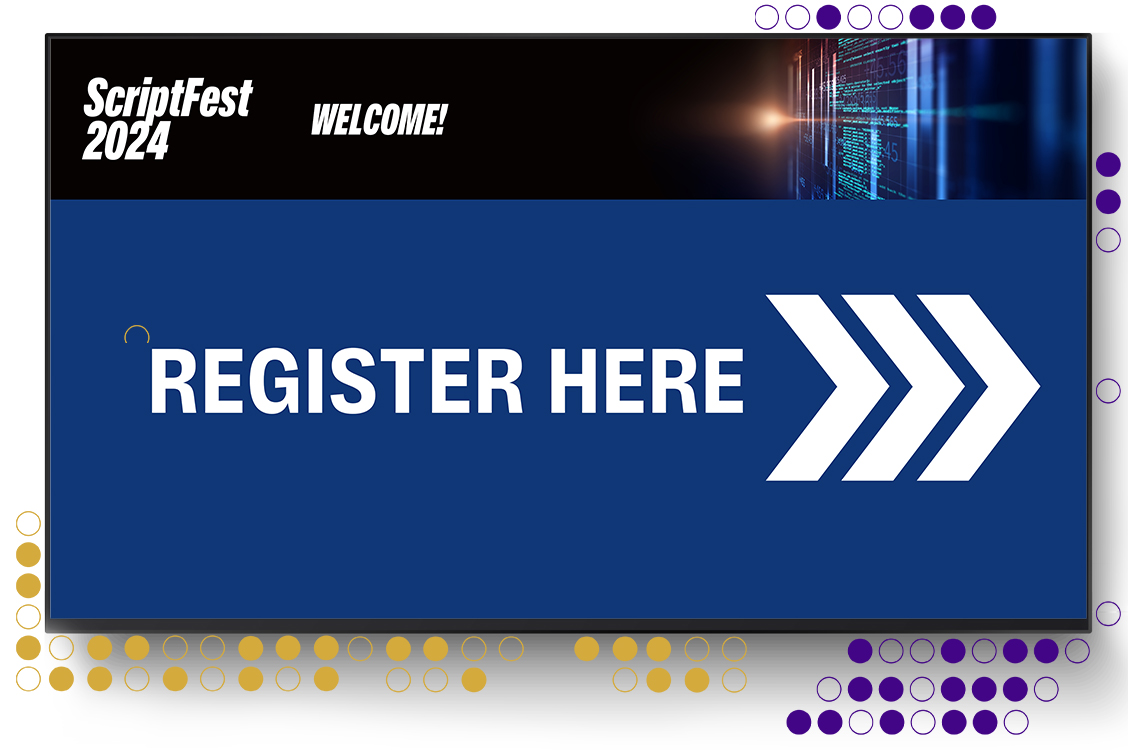 Queue Management
Events can be traffic-heavy, especially with a large number of attendees. Highlight where visitors and guests need to go and manage queues and wait times effectively.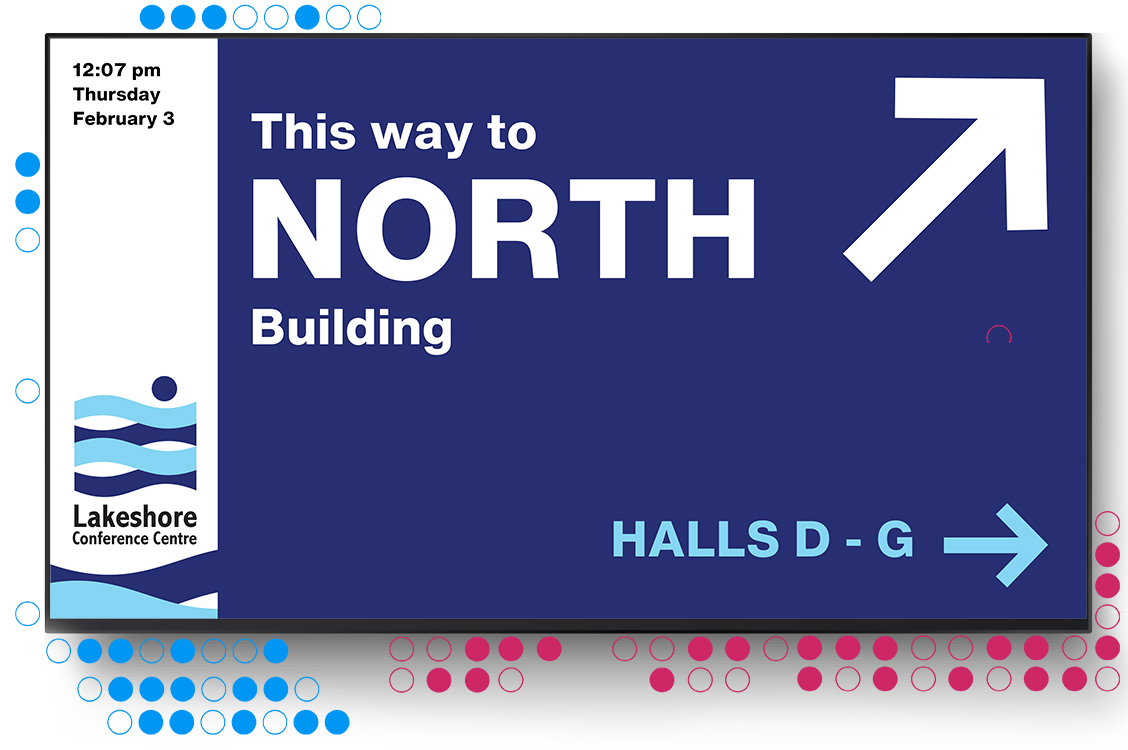 Environmental Wayfinding
Conference centres and venues can be large, and guests need to find their way around. Digital wayfinding signage provides flexibility and ensures guests and visitors find their way.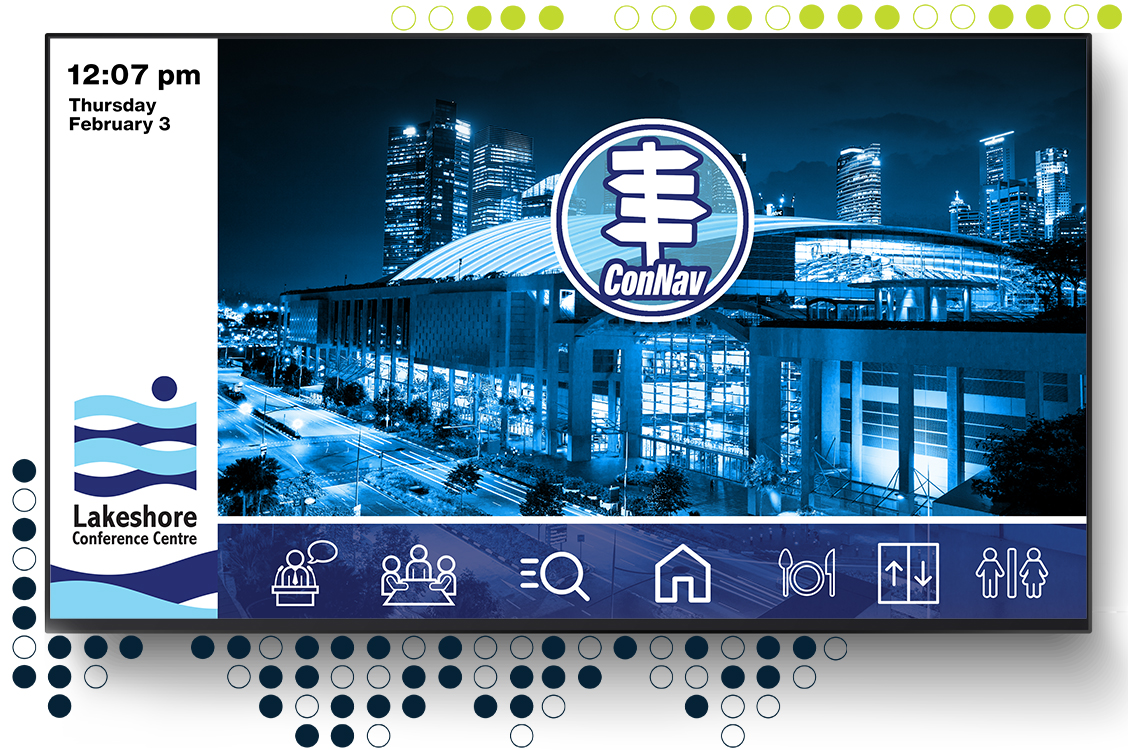 Interactive Wayfinding
Enable guests to self-serve by providing interactive kiosks in your lobby. Kiosks can be used to check in to your hotel or event, book excursions or meals, and more.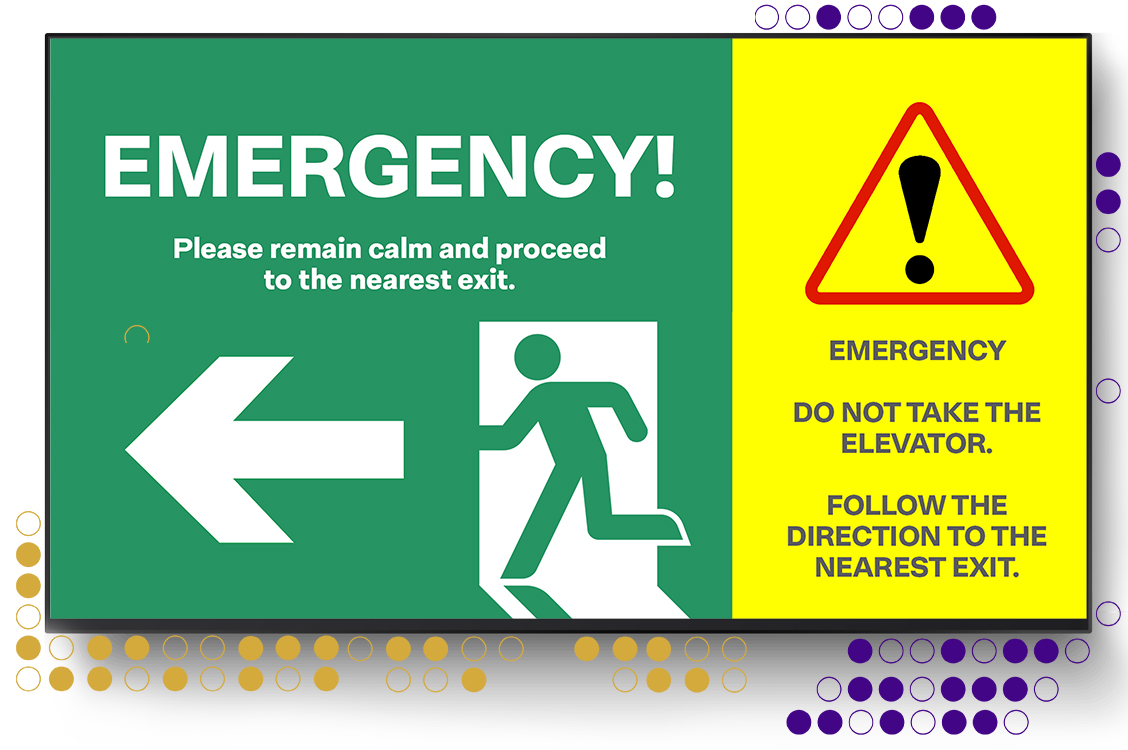 Emergency Notifications
Integrating digital signage with your audio alarms allows you to share crucial supplemental information. Highlight the type of emergency and provide visual directions and cues.
Video Walls
Create a "WOW" as visitors and attendees walk through your hotel or venue with a video wall. Whether small or large, a video wall provides a unique opportunity to create a lasting first impression. Incorporate 4K video and imagery to tell your brand story and engage viewers. Consider integrating interactive elements through the use of touch screens or mobile phones.
There are projection, LED, and LCD options when creating your video wall. Additionally, consider unique shapes and designs for your video wall beyond the standard rectangle, such as curved, angled, and more. Digital signage software can help you manage the content on your video wall along with lighting, blinds, and more.
Meeting Room Signs
Digital signs for your meeting rooms streamlines the conference experience, creating a modern, engaging, and professional atmosphere that leaves a lasting positive impression on all attendees. They allow attendees to easily locate their sessions, reducing confusion and delays. Customizable content allows for branding and sponsor recognition, which can translate into revenue-generating opportunities for your business.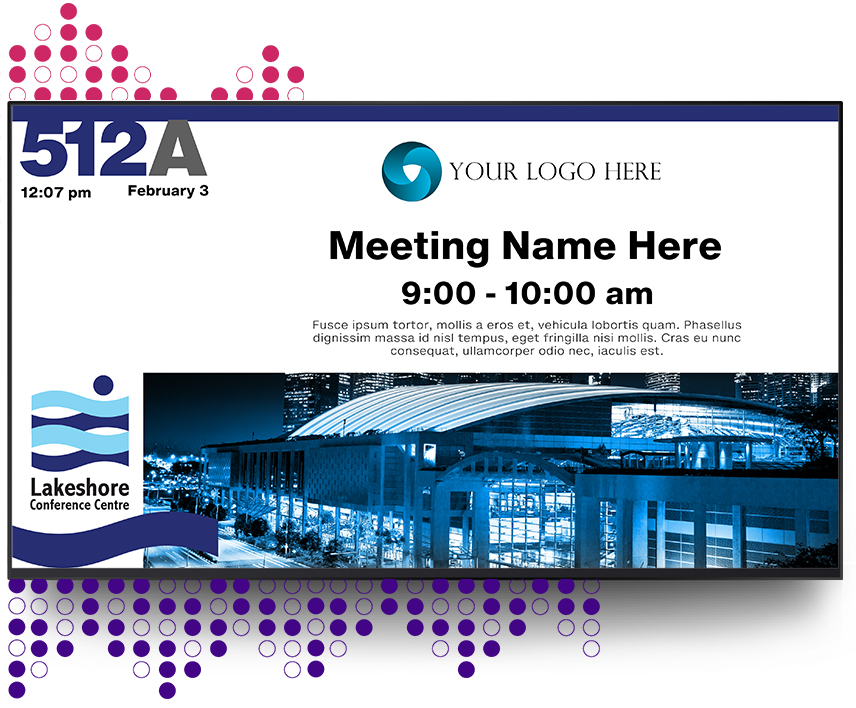 Standard Option
Provide a standard option that promotes your brand and allows customers to showcase their corporate logo and meeting details.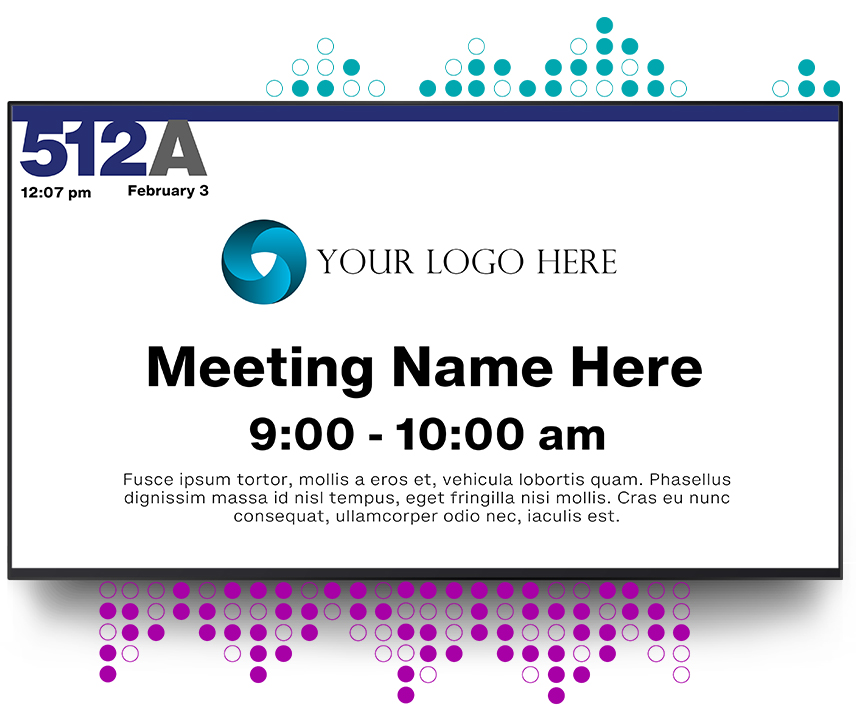 Client-Branded Variant
For an additional fee, remove conference center branding and shift the focus to the client's branding and meeting event.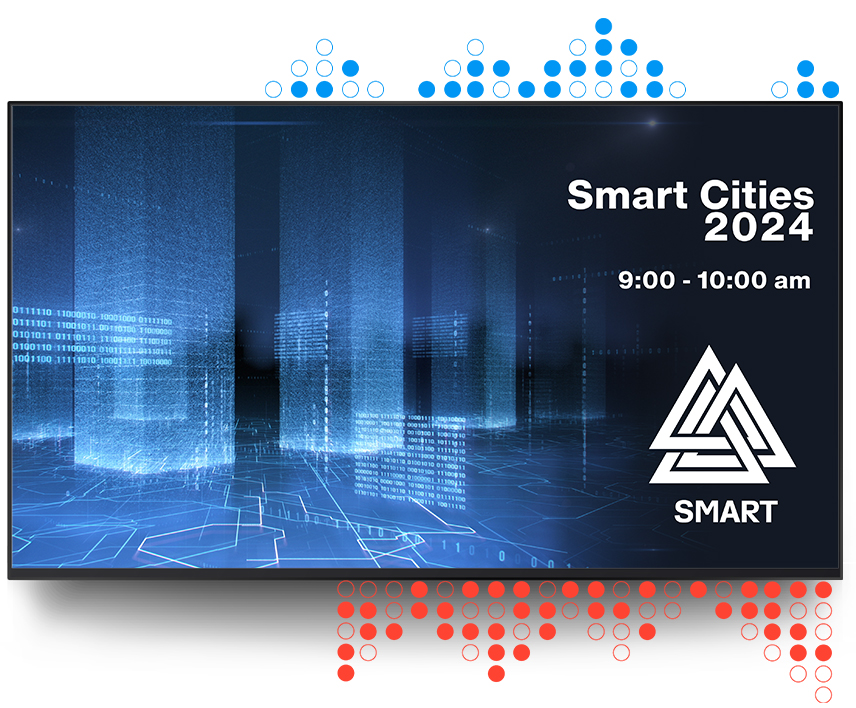 Custom Screen
Providing customers the option to create their own screen provides greater flexibility and increased revenue opportunities. 
Meeting Directories
Screens outside of meeting rooms are a convenient and efficient way to ensure attendees find where they need to go. Use dynamic templates with event titles, start times, and organizers' names to capture attention quickly. Integrate meeting room screens with calendars and other systems to ensure they update in real-time and reflect changes or cancellations. 
Consider using color coding or icons to differentiate between various meetings or events. Including QR codes or touch-screen functionalities can provide attendees with additional information or allow them to check in for meetings.