Improve in-branch experience with digital signage
With the popularity of online banking, banks must create a compelling customer experience in their branches. Every customer interaction must be a positive one. Omnivex digital signage software helps create an engaging and immersive branch experience. Use a variety of digital screens, interactive kiosks, and video walls to keep customers and employees updated about products and services, financial market data and news, interest rate changes, and more. In addition, enable branches to customize content and highlight banking products or services specific to or popular in their location.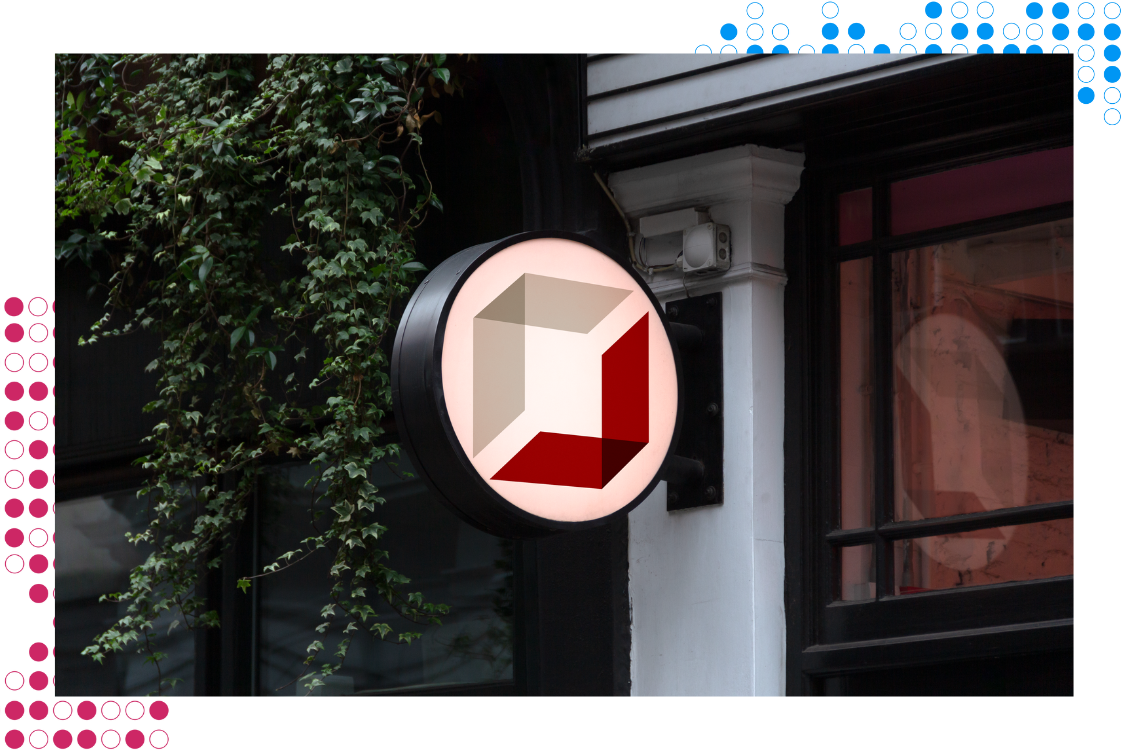 Outdoor Signage
Draw new and existing customers into the branch with digital billboards or smaller screens at ATMs highlighting hours, products, services, and branch-specific news.
Welcome Screens
Use digital signage in your bank lobby to create a welcoming environment reflecting your corporate brand. Highlight services and share real-time news and information.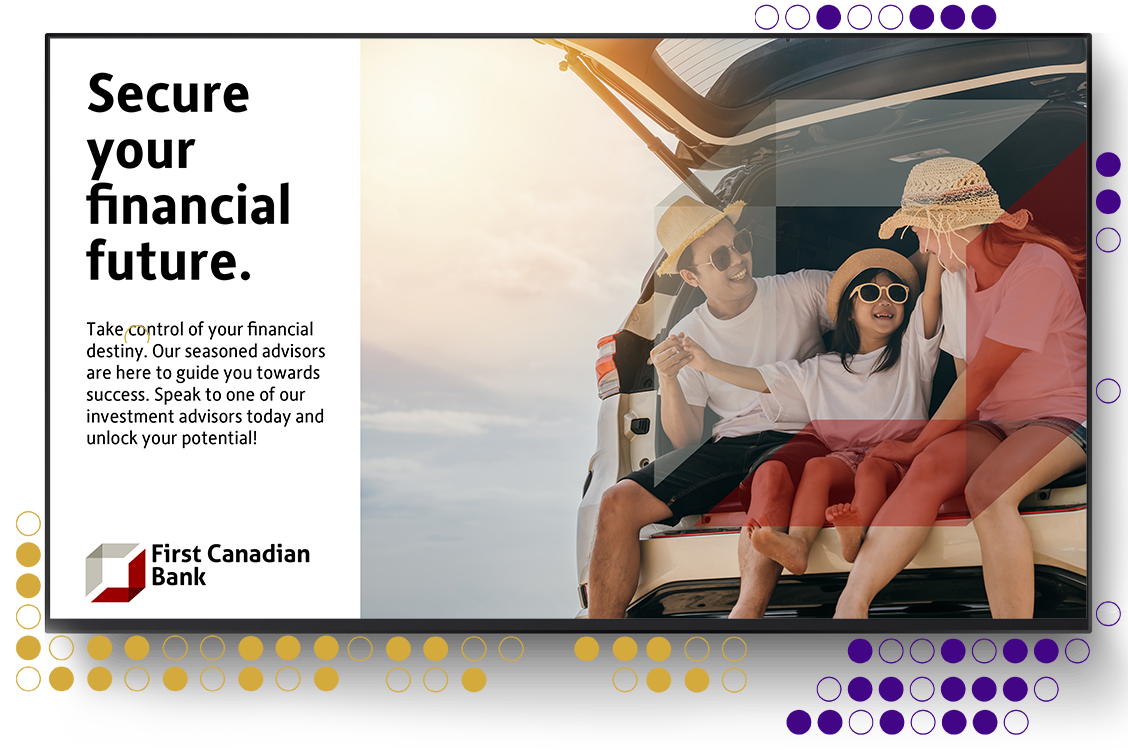 Advertising
Use digital signage at the entrance to promote new banking products or services and draw customers into your bank. Additionally, highlight current promotions and customer testimonials.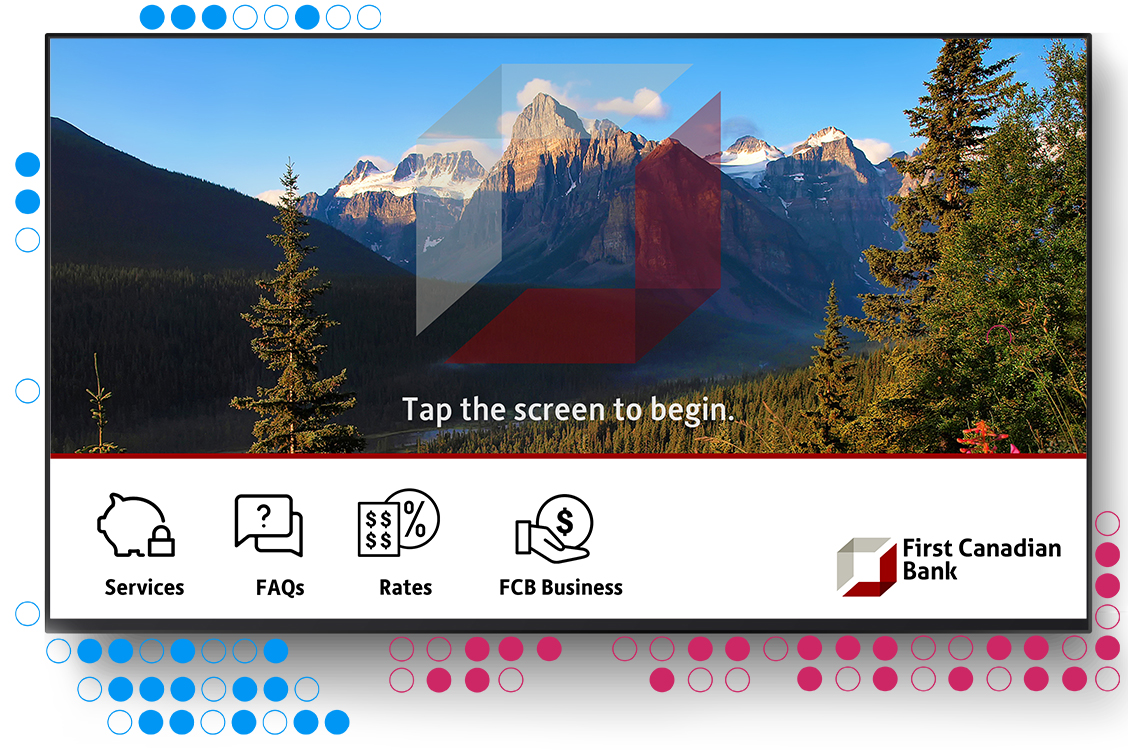 Self-serve Kiosks
Allow customers to book appointments for banking services, search for an employee or branches, and more from a self-service kiosk. When not in use play ads on the kiosk screen.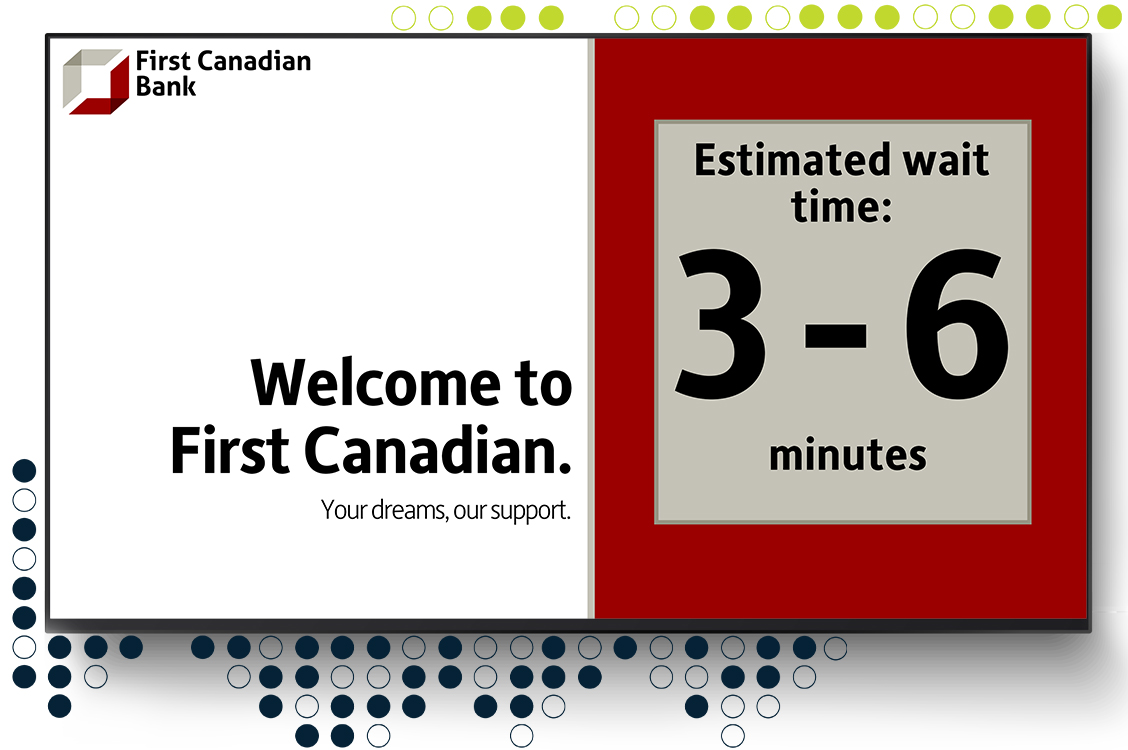 Wait Time Screens
Use digital signage to share real-time updates on wait times for tellers or other services. Integrate a QR code onto the screen to make information portable to mobile phones.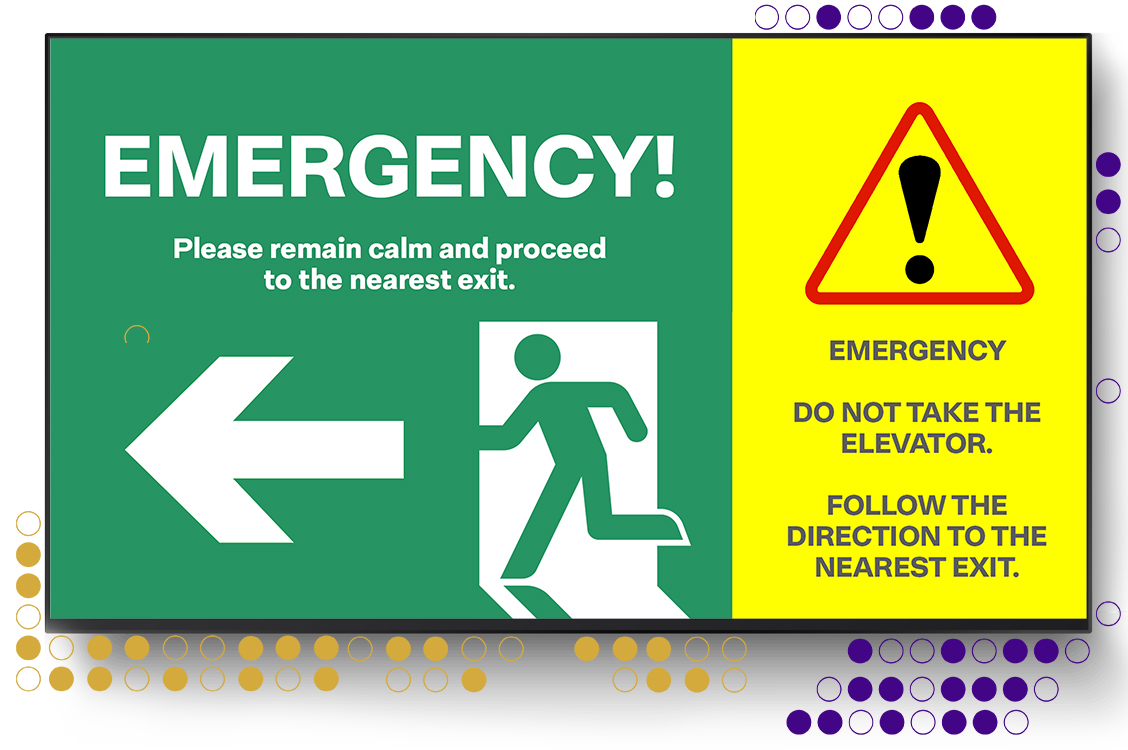 Emergency Notifications
Integrating digital signage with your audio alarms allows you to share crucial supplemental information. For example, provide visual directions and cues.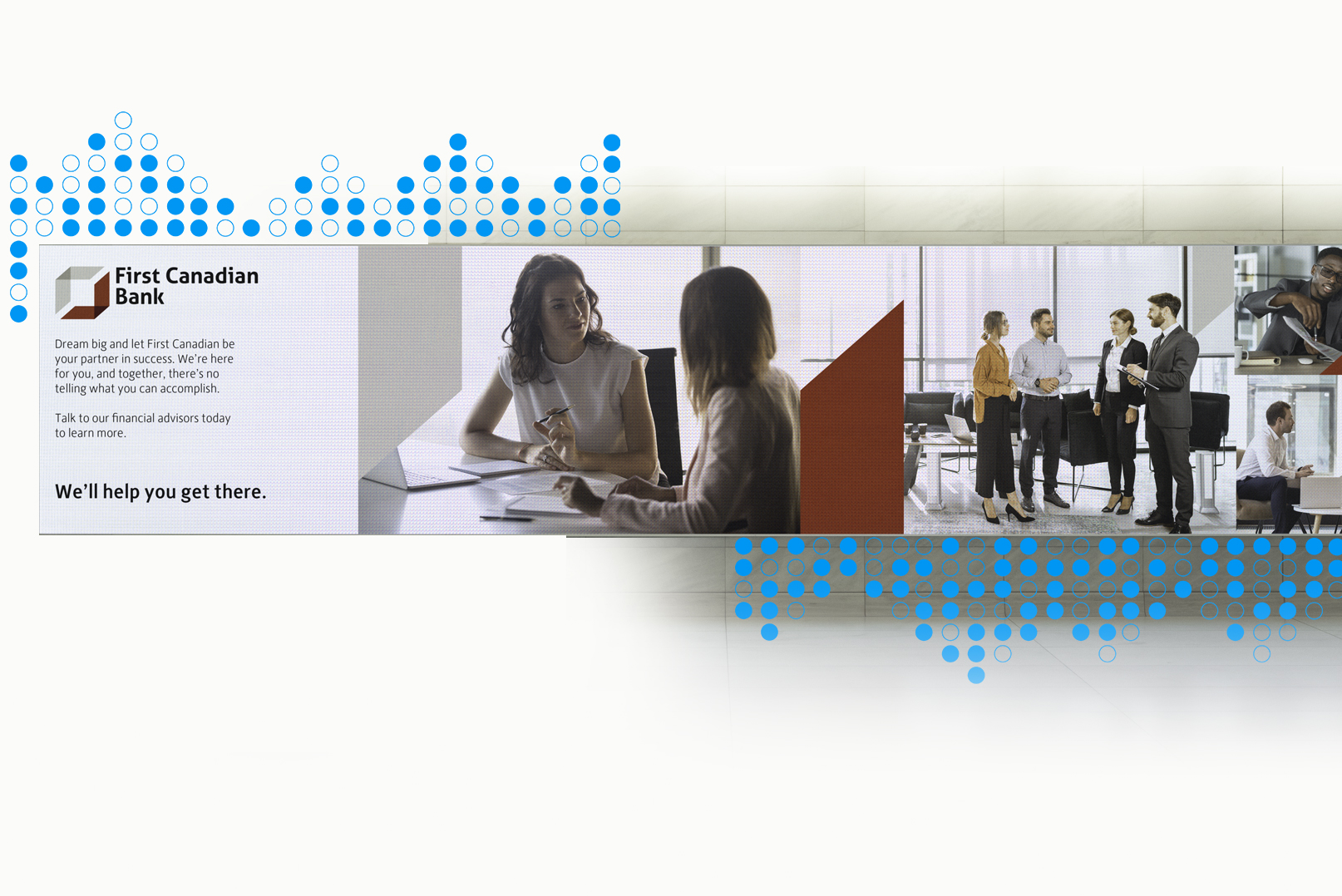 Video Wall
Create a "WOW" as visitors and employees walk through your lobby with a video wall. Whether small or large, a video wall provides a unique opportunity to create a lasting first impression of your organization. Incorporate 4K video and imagery to tell your brand story and engage viewers. Consider integrating interactive elements through the use of touch screens or mobile phones.
There are projection, LED, and LCD options when creating your video wall. Additionally, consider unique shapes and designs for your video wall beyond the standard rectangle, such as curved, angled, and more. Digital signage software can help you manage the content on your video wall along with lighting, blinds, and more in your reception area.
Interior Digital Signage
Create a lasting first impression and a welcoming environment that reflects your brand logo, colors, and tagline. By using a variety of screens, from interactive kiosks to video walls to transparent screens, you can engage customers with an immersive experience that highlights products and services along with your mission and values.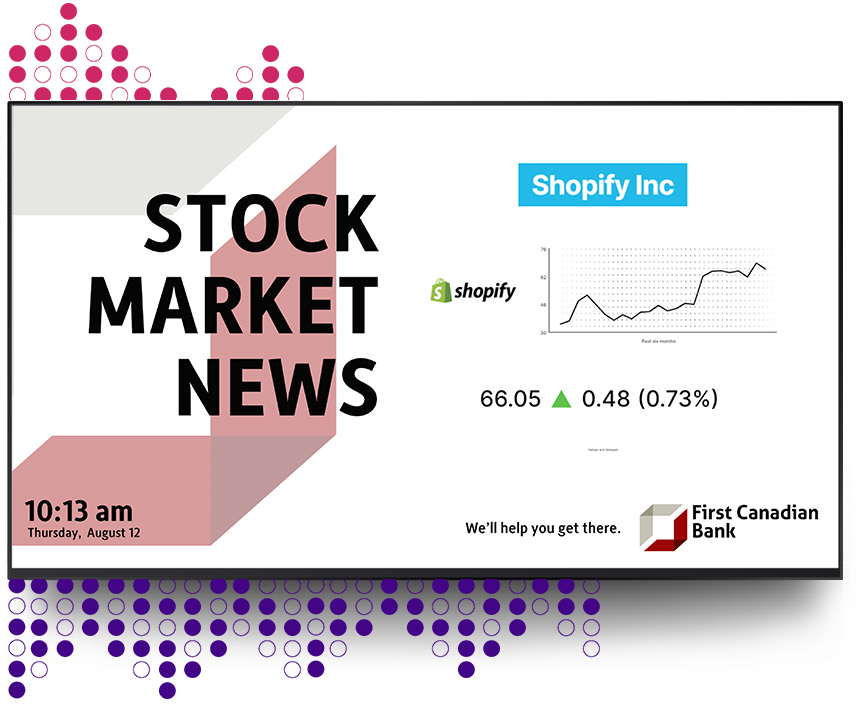 Reduce Perceived Wait Times
Make the wait seem less with informative content, such as news and weather, stock feeds, social media content, or banking promotions and events. Additionally, inform customers what to have ready when they reach the teller.
Upsell Products & Services
Use digital screens throughout your bank to promote products or services, such as new credit cards, bank accounts, or mutual funds. Leverage self serve kiosks to enable customers to book service appointments, research product offerings, and sign up for new services.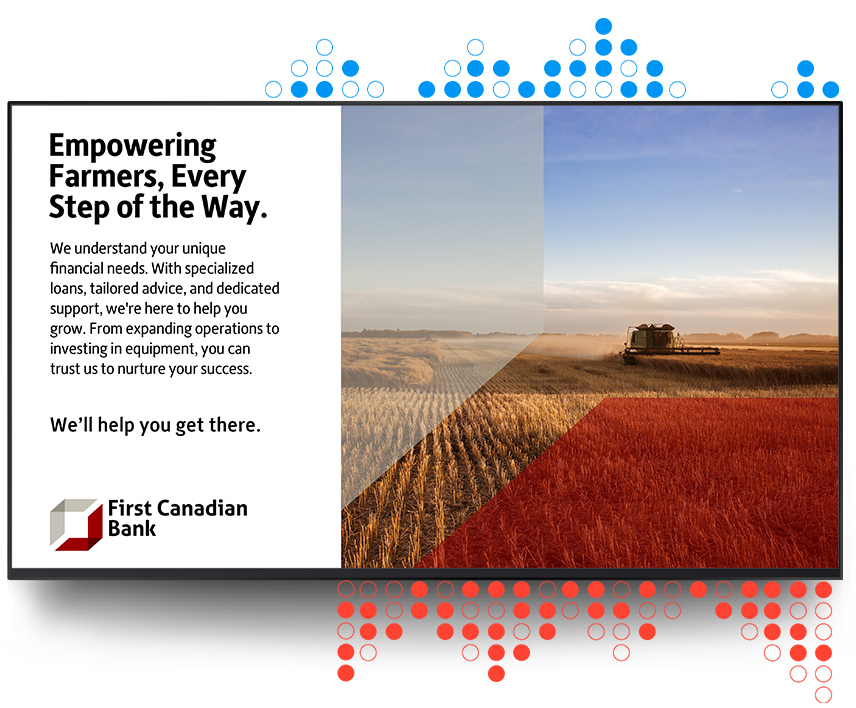 Target by Location
Customize content by branch or geographic location to ensure the information, news, and product or service offerings are relevant to the audience while maintaining corporate branding. Leverage metadata to target content to the right screen, at the right branch, at the right time. 
Employee Communications
Digital communications on digital signage, tablets, mobile phones, and more provide employees with relevant real-time information and empower them to make faster and better business decisions.
Share news, announcements, new product and service offerings, policy updates, HR information, and more on digital screens in employee areas or break rooms. Additionally, provide real-time weather, transit, and traffic updates customized by geographic location. Use digital signage to highlight recent successes and achievements. Content could include customer accolades or other praise from the banks' social media networks.