In 2021 global airline flights were estimated at around 22.2 million. Though down significantly from before the COVID-19 pandemic, these flights carried an estimated 2.8 billion passengers. Even at these reduced volumes, thousands of people pass through an airport daily. Ensuring the best possible traveler experience is critical.
From traveler-facing digital screens like FIDS, GIDS, and wayfinding to behind-the-scenes monitoring systems, there's no limit to how digital communications can help manage every aspect of your airport. 
Whether traveling for business or leisure, travelers want the experience to be stress-free, easy, and, most of all, enjoyable. Effective visual communications go a long way to ensuring that every traveler has a positive experience in your airport. 
WELCOME SCREENS
Welcome travelers to your airport with timely, relevant information.
What do you want travelers to see when they first enter your airport? High-quality digital signage and communications are crucial for a positive traveler experience. Communicating the correct information as soon as passengers enter the airport will go a long way to ensuring a pleasant experience in your facility. 
Timely & Relevant Information on Flights
Provide real-time updates on flights arriving and departing. Highlight changes, delays, and other important information.
Wayfinding
Enhance traveler experience by integrating wayfinding into displays like welcome signs. Ensure they know where they need to go as soon as they enter your facility. 
Airport Services
Does your airport offer free wi-fi? Special assistance for those in need? Are airport staff widely available to help travelers? Highlight the services and amenities you provide that enhance the traveler's experience. 
Branding
Your brand is essential. It conveys a sense of community and instills confidence in travelers. Highlight your brand on all of your digital signs. 
CHECK-IN COUNTERS
For most departing travelers, check-in counters are their first destination upon arriving at the airport and are a vital part of airport communications.
Digital signage makes managing check-in counters easy for airports. Assign counters to airlines and allow airline personnel to update and change content on their counter's digital signage through a user-friendly web platform. 
WAYFINDING

The most significant influence on traveler experience is an airport's wayfinding signage. Travelers are on the move, and making sure they know how to find where they want to go is vital to a positive traveler experience. 
Aside from standalone wayfinding signs, you can integrate wayfinding into other applications, such as FIDS displays, welcome screens, store and restaurant directories, and more. 
The easier a traveler can find what they are looking for, the more positive their experience.
Wayfinding can be more than just arrows - tell travelers how long it will take to reach a destination, so they can make an informed decision on where to go.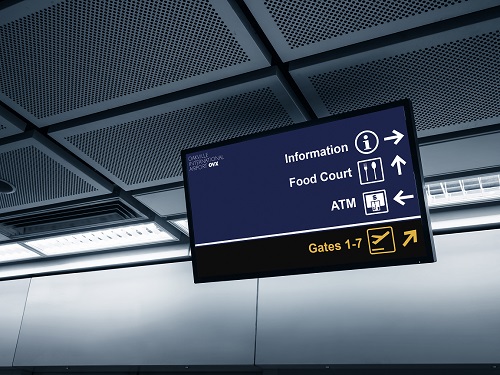 FIDS
FIDS displays are essential for every airport. Travelers have come to rely on these screens to keep them informed and up-to-date on the status of their flights. 
The Importance of Real-time Data 
Timely information is always essential, but more so when people are traveling. Stream your flight information (AODB) directly from the source onto your digital signage. Display flight status and changes in real-time, keeping travelers informed and worry-free.
Order of FIDS Data
If sorting flight information by destination or airline, or any field aside from departure time, place that field first so travelers can quickly identify the sort upon their first viewing.
Sorting FIDS Data
Whether you sort by city, departure time, or airline, focus on the group once sorted and how easily data in a group can be scanned. Typically alternating row fills can be changed to alternating group fills to make viewing easier. 
Making FIDS displays that are easier to read
Does flight information always have to be presented in a table, with row upon row for the traveler to scan? Innovative ways of displaying flight information to travelers are popping up in airports worldwide. For example, providing flight info in a card style offers many benefits to the traveler and digital signage operations. 
You can also add countdown timers to each flight, so the number of minutes until departure is clear. All of these new methods allow the traveler to make informed decisions.
SECURITY
Does anyone like going through security at the airport? Taking off our shoes and belts, unpacking electronics - it's not a fun process. And we certainly don't like long lines. So, what can digital signs do to make the experience better for the traveler?
Security Wait Times 
Display the estimated wait time for a traveler to pass through security. Automatically count the number of people passing through a security gate and display an estimated wait time. 
Line Queue Management
Security lines can be lengthy and busier at different times. Digital signage allows you to easily change line queue entry points and the capacity to match the physical queues set up.   
Prepare Travelers in Line 
Use digital signs to inform travelers how to prepare for security as they wait in line. For example, do they need to remove shoes and belts? Will they have to take their laptop out, power it on, or put it in a separate bin? Prepare travelers as they wait, so the line moves faster. 
Reduced Perceived Wait Times
Make the wait in line appear less cumbersome by keeping travelers informed and entertained with digital signage, whether by ads, videos, or clever brand messaging. 
GIDS

Screens at the gate are another essential part of the traveler's journey. They are the traveler's last stop in your airport as they depart for their destination and need to provide the traveler with up-to-date flight details. From the moment they enter the waiting area right up to when they board their flight, travelers rely on GIDS screens. 
Make GIDS information portable by sharing the information and updates through a mobile app. Reduce congestion at the gate and generate revenue for food and retail vendors by allowing travelers to wander the terminal while waiting for their flight.
BIDS

BIDS displays are one of the few screens arriving passengers may see, so make sure you're presenting all the critical information they need. 
Arriving passengers may be new to your airport, so include wayfinding, both to baggage carousels, customs, and other parts of your airport.
VISUAL PAGING AND EMERGENCY NOTIFICATIONS
Visual paging allows you to present audio announcements on screen. Whether a traveler is receiving a phone call or has forgotten an item, visual paging helps ensure they get the message. 
For the hard of hearing and deaf passengers, visual paging is essential. Visual paging can be added to any display or appear as its own layout. 
Keep Travelers Safe and Informed During an Emergency
Digital signage provides a way to get real-time alerts and information to travelers during an emergency. Combine existing audio alarms with visual emergency notifications to improve your disaster preparedness and safety plans. 
From check-in to security to the gate to baggage and everywhere in between, effective visual communications ensure every traveler has a positive experience in your airport.