Whether you have an individual restaurant or a large chain, digital signage can significantly enhance customer experience and improve operations. With digital signage software like that provided by Omnivex, you can create a cohesive digital signage experience encompassing the exterior of your restaurant, drive-thru, and interior. A centralized digital signage network management ensures corporate branding standards are followed for large chains while allowing the regions or individual restaurants to easily update their digital menu boards to reflect local languages or products. 
Outdoor Signage
Digital screens on the exterior of your restaurant are an excellent way to draw in customers. Highlight new menu items, promotions, and more with HD images and videos. Engage with the local community and foster goodwill by promoting charity events or community initiatives. Share basic wayfinding information, such as drive-thru location.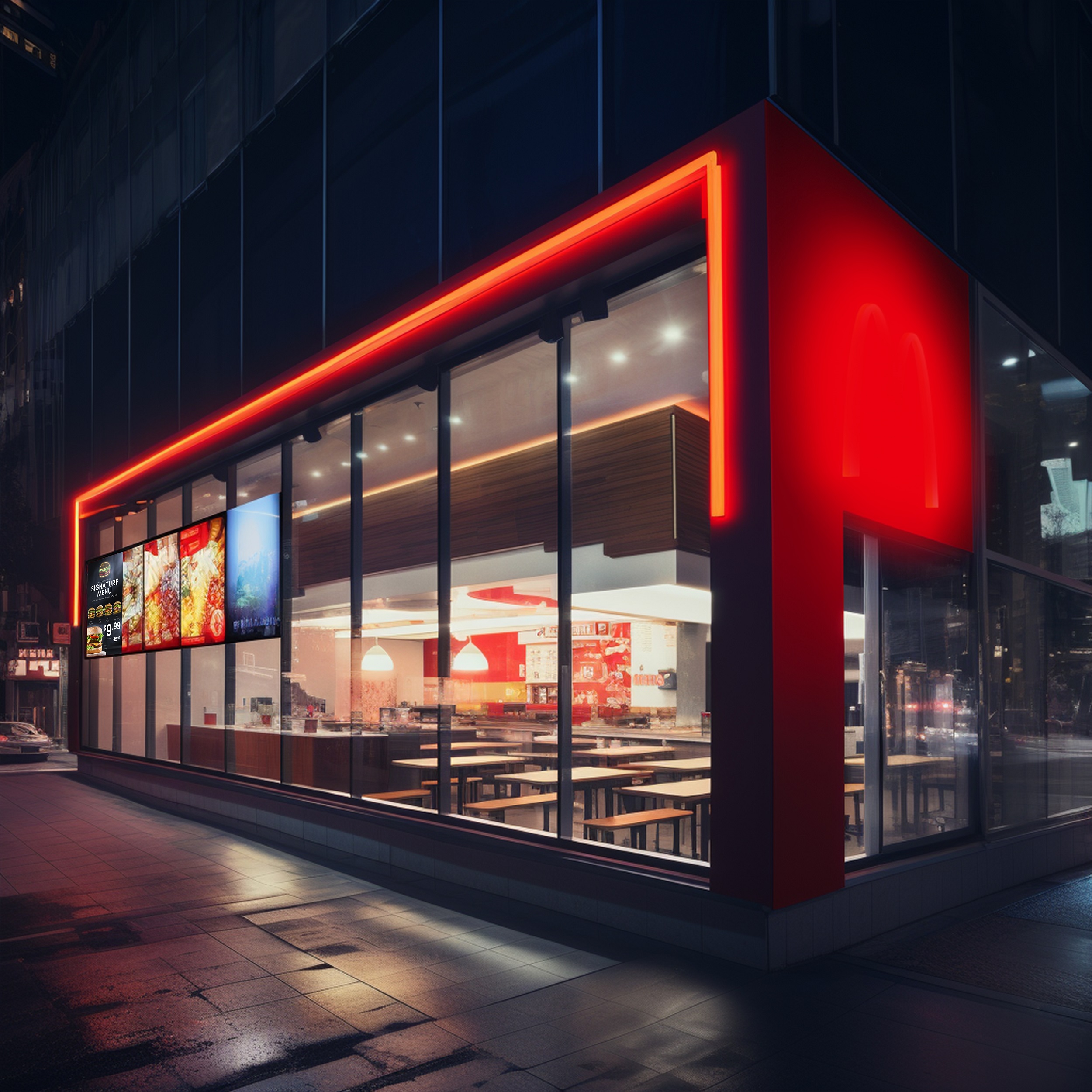 Drive-Thru Screens
Highlight menu items, nutritional information, promotions, and pricing on your drive-thru screens. Consider implementing suggestive selling techniques on the screens. For example, when customers order a burger, the system can prompt them to add fries and a drink, boosting average order values. Additionally, display order summaries on drive-thru screens, allowing customers to review their selections before finalizing their orders. This reduces order errors and enhances overall satisfaction.
Interactive Kiosks
Enable customers to self-serve with interactive ordering kiosks. Tie into your inventory, POS, and loyalty programs to create a personalized experience. Create a user-friendly interface featuring dynamic graphics and animations to guide your customers through the menu, allowing them to select items, customize their orders, and add extras or special requests. Leverage the kiosk to provide information in multiple languages, accommodating a diverse customer base and enhancing accessibility.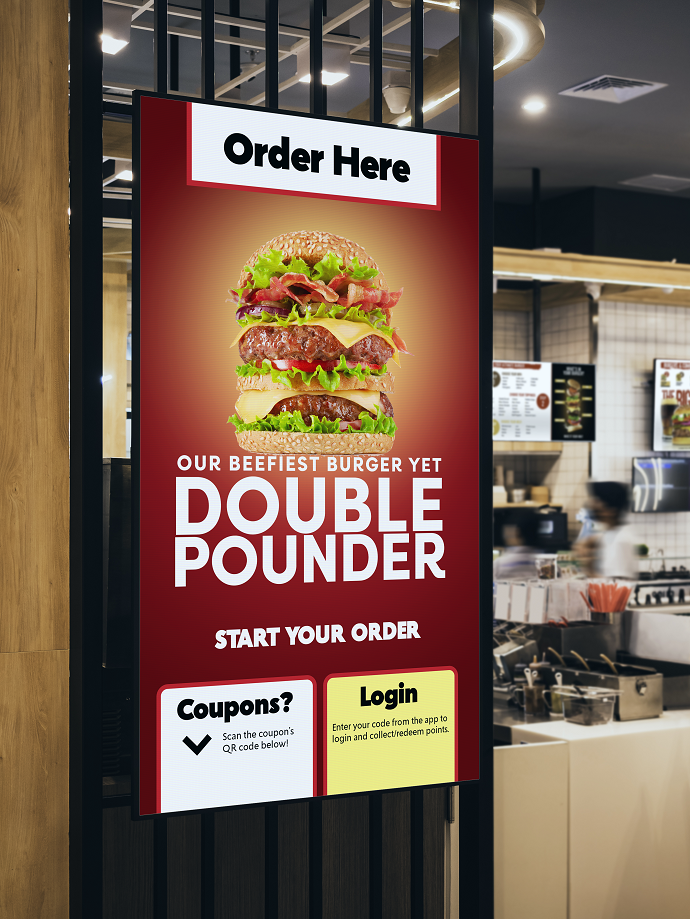 Order Processing 
Keep your kitchen staff organized with order processing screens that identify when orders were submitted, wait time, and more. Position these screens in the kitchen or food preparation area to display incoming orders in a clear and organized manner, ensuring kitchen staff can easily understand and fulfill each order. Implement color-coding or categorization to differentiate between dine-in, takeout, and delivery orders. Timers or countdowns can be leveraged to ensure that orders are prepared promptly. Additionally, highlight order modifications and special requests so kitchen staff can customize orders accurately. Customer facing screens help keep people apprised of order status and improve their experience.
Advertising Screens
Boost sales by highlighting menu items, new products, promotions, or limited-time offers using vibrant, eye-catching graphics, videos, and animations. Rotate content based on various criteria, including the time of day to promote breakfast, lunch, or dinner specials. Make incremental revenue by allowing suppliers to promote their products by selling advertising space.
Digital Menu Boards
Leverage digital menu boards in your fast food restaurants to engage customers, showcase promotions and offers, and streamline operations. Display visually appealing images of menu items to entice customers and enhance their ordering experience. Connect your digital menu boards to back-end inventory and POS systems to ensure the menu reflects real-time product availability. Organize menu items logically and categorize them for easy visual navigation. Schedule content changes based on meal times to feature breakfast, lunch, or dinner options. Integrate nutritional information and calorie counts to meet regulatory guidelines and help health-conscious customers make informed choices. 
Dayparting
Dayparting on your digital menu board allows your restaurant to cater your offerings to match the preferences and needs of your customers throughout the day. Breakfast, lunch, and dinner menus typically differ, and dayparting enables seamless transitions between these menus, ensuring that the displayed items are relevant and enticing at any given time. This strategy helps boost sales during specific periods, making the most of customer traffic patterns. Additionally, dayparting helps facilitate better inventory management and reduces waste. You can strategically promote items nearing expiration, minimizing the chances of food spoilage and loss. 
Employee Communications
Share news, announcements, policy updates, HR information, and more on internal digital screens. Customize content by location, region, country, and more. In the breakroom, share the status of KPIs, new product information, schedules, training opportunities, and more. Additionally, leverage your internal digital signage screens for employee recognition. Whether by restaurant, team, or individual, digital signage can highlight recent successes and achievements.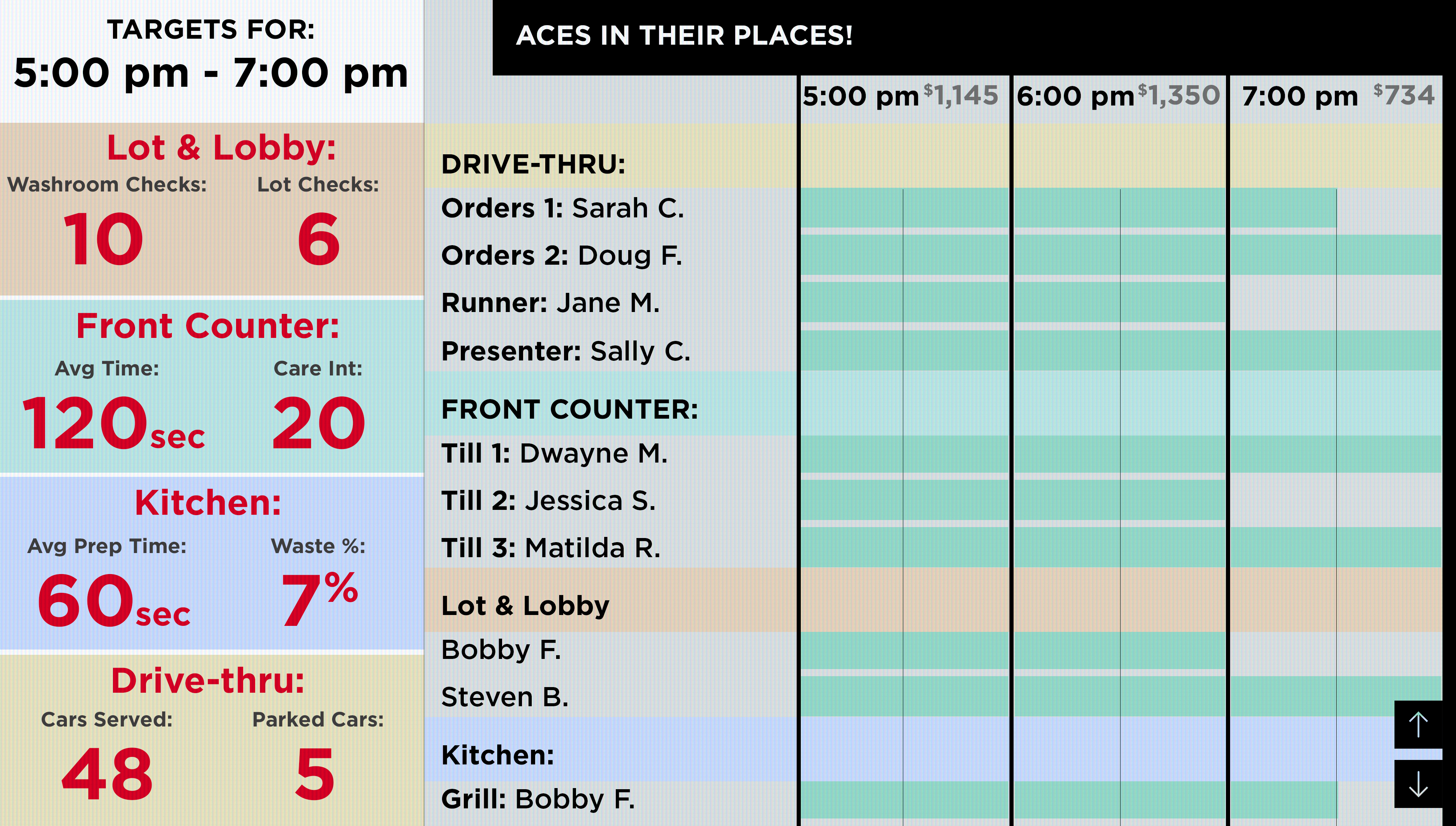 Effective visual communications ensure customers and employees have a positive experience in your restaurant, from drive-thru screens to digital menu boards to order processing screens and everywhere in between. Read our Quick Service Restaurant eBook to learn more.