Digital signage is a powerful tool for capturing attention and communicating with your audience. However, creating visually compelling assets for digital signage can be challenging. Tools like the popular design platforms, Canva or Adobe Creative Cloud offer a wide range of features and tools to help you design stunning content for your digital signage. The graphics and videos can then be easily uploaded to a digital signage platform, like Omnivex Ink, and shared across your network of digital screens. 
Let's explore at a high level how Canva works and some tips and tricks for integrating videos, graphics, or icons you create into your digital signage asset workflow.
Familiarize Yourself with Canva 
Before diving into creating digital signage assets, it's essential to familiarize yourself with Canva's user-friendly interface. Spend time exploring the layout, including the sidebar, toolbar, and canvas area. Experiment with the available options and the intuitive drag-and-drop interface to customize your designs effortlessly. A wealth of tutorials, articles, and video guides are available to assist you in learning the platform. Explore their design school, blog, and YouTube channel for comprehensive learning materials.
Canva offers a vast library of customizable templates to suit most needs. Begin by determining what type of asset you want to create for your digital signage, a background image, video, motion graphic, icon, etc. selecting the appropriate size for your digital signage display. Then, leverage Canva's extensive collection of images, icons, shapes, and fonts to design a visually appealing graphical asset that aligns with your brand identity.
Brand Hub
Canva has a Brand Hub that allows you control over your organization's brand assets. Consistency in branding will help create a strong visual impact and enhance brand recognition among your audience. Account administrators can upload and store your brand assets, such as logos, custom fonts, colors, photos, graphics, and icons, in one easy-to-manage location. Additionally, administrators can set permissions for team members. This ensures that only authorized assets are used, preventing any deviations from the brand identity. 
Brand Hub will save you valuable time and effort by eliminating the need to search for and recreate brand assets for each design project. As you create templates for your digital signage assets, these can be stored in the brand hub and used by your entire team to maintain brand consistency. Leveraging templates, graphics, photos, icons, and more stored in the Brand Hub saves time and effort and allows your organization to focus on other essential aspects of your marketing strategy, ultimately increasing productivity.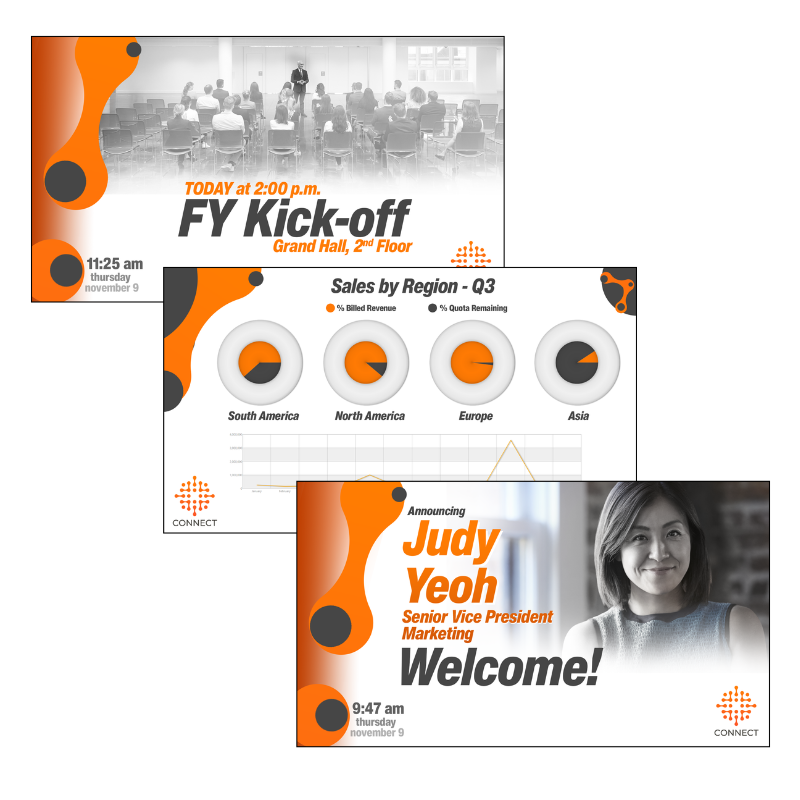 Collaborate 
Canva offers collaboration features that promote teamwork and ensure consistency across your digital signage assets before they appear on the screen. Start by creating a team or organization account. Once you have set up your account, you can invite team members to join. Within Canva, you can assign roles and permissions to team members. Decide who will have editing access, view-only access, or administrative privileges. Canva allows you to share individual designs or entire folders with team members. When collaborating on a specific project, share the design with relevant team members so they can contribute, provide feedback, or make edits. 
One of the most powerful features of Canva is its real-time collaboration functionality. You can work on a design with multiple team members simultaneously, seeing each other's changes in real time. This fosters effective communication, minimizes delays, and allows for a dynamic and efficient workflow. Leverage Canva's commenting feature to provide feedback or suggestions directly on specific elements or sections of a design. Team members can reply to comments, facilitating a productive dialogue and ensuring clarity in communication. Canva keeps track of changes made to a design, allowing you to access the revision history. This feature is invaluable when collaborating with team members, as it enables you to review previous versions, revert changes if necessary, and see the progression of the design.
Enhance Images and Videos
Compelling visuals play a crucial role in digital signage. Canva provides robust image editing tools to enhance your graphics. Easily crop and resize your images to your desired dimensions. Consider your screen resolution and orientation for digital signage to ensure your images are optimized for your specific use case. Fine-tune the appearance of your images by adjusting brightness and contrast or applying filters and effects to add a unique touch. You can enhance your image by overlaying text, graphics, or branding elements using Canva or digital signage software like that provided by Omnivex. 
Canva supports video editing, allowing you to trim, merge, and add text or effects to your videos before integrating them into your digital signage campaigns. You can use Canva's video editing tools to trim or cut your video to the desired length, combine multiple video clips seamlessly by merging them, arrange the clips in the desired order, and use Canva's editing tools to create a cohesive and engaging video. 
Optimize and Export
Once you've crafted your digital signage assets in Canva, optimizing them for the intended display is essential. Consider the resolution and format requirements of your digital signage. Canva offers various export options, allowing you to download your designs as high-quality images or PDFs. Select the appropriate file format and resolution to ensure your assets look impeccable on the digital displays. Remember to follow corporate standard naming conventions for your assets. Download your assets from Canva and upload them to your digital signage platform. Incorporate your graphical assets into your digital signage layouts and schedule them to be displayed.
By leveraging Canva's powerful features and functionalities, you can create visually stunning assets for your digital signage campaigns. Familiarize yourself with Canva's interface to craft attention-grabbing templates, enhance images and videos, foster collaboration, incorporate branding elements, and optimize for display; you can create compelling digital signage assets that effectively communicate your message and captivate your target audience. Embrace the potential of Canva and take your digital signage to new heights of engagement and success.