In any food service environment, increasing sales is of the utmost importance for business owners. However, with recent FDA changes food service organizations must also be concerned about government compliance. With the use of digital menu boards comes the ability to segment on-screen content to allow for space to list menu items and pricing, as well as in-house promotions and external advertising, and nutritional information. 
In the past, static signage was used to feature menu items and promotional specials, but keeping this information up to date was an issue. With pricing and in-store specials changing regularly, it was nearly impossible to constantly ensure static displays were relevant. With the introduction of digital signage menu boards comes the ability to integrate real-time data, and use it to drive the content on the screen. By tying into companies existing data systems, such as a POS system, digital signage can reflect these changes instantaneously. The same functionality comes into play when dealing with quick service restaurants that have varying menus depending on the time of day. Digital menu boards can dynamically alter to showcase either a breakfast, lunch or dinner menu depending on the time of day. Gone are the days when staff would need to manually replace traditional signage; now they can focus on their key job function: servicing customers.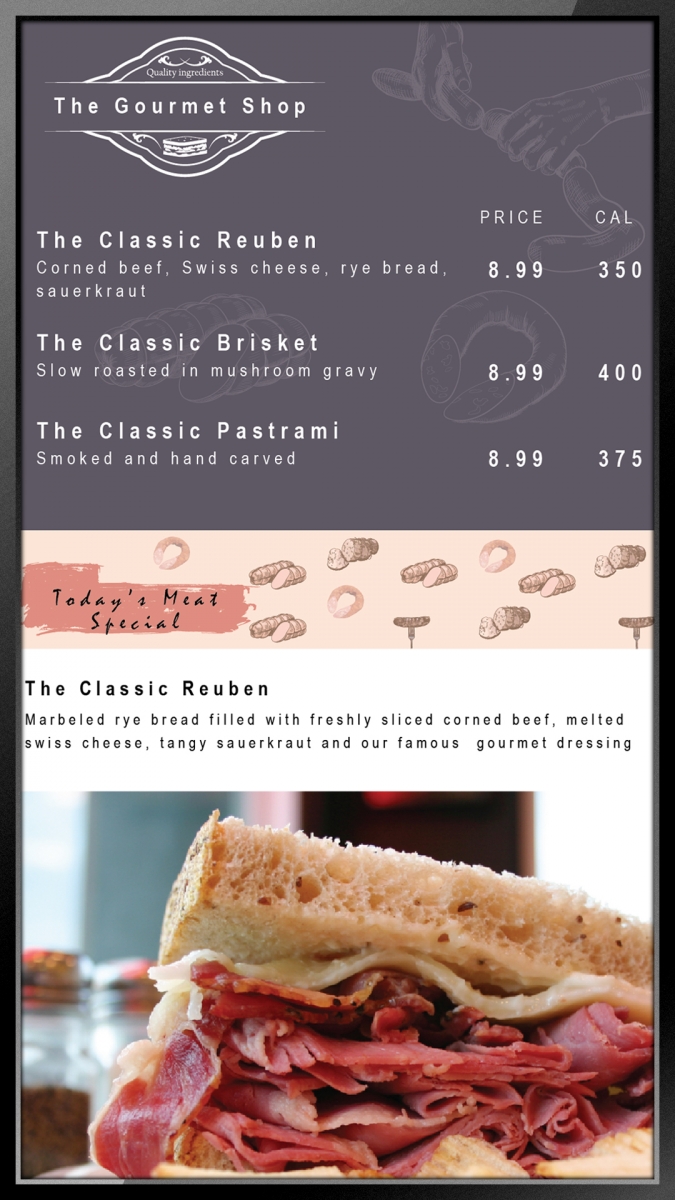 Good Looking and Intelligent
Aesthetic appeal and creating compelling brand messaging are always important factors when creating customer facing content. In the case of menu boards, there's only a short window to catch the viewer's attention and entice them to make a purchase. Digital menu boards allow food service providers to customize their on-screen content in order to create rich, compelling graphics  yet still provide nutritional guidelines without having to sacrifice visual appeal.
It is often difficult for food service providers to maintain consistent brand imagery across multiple store locations, such as in the case of a franchise. It is critical for these retailers to adhere to companywide brand standards while still retaining the flexibility to make changes to local content such as business hours and in-store specials and ingredient changes. By utilizing digital signage and its user permissioning capabilities, individual franchisees can have the ability to make changes to certain content on the screens while corporate maintains control of key brand elements. With this functionality, businesses can maintain a consistent brand message while still allowing franchise locations to provide the local information relevant to a customer's needs. 
Get Engaged
Digital menu boards provide the ability to create a more interactive experience for viewers. Food services providers are now able to use their displays as a way to engage with their customers through the use of dynamic, real-time content. Unlike with static displays, digital signage will never look tired or old. While posters may fade or yellow, digital content is always vibrant and fresh. Having an interactive self-serve kiosk is another way to allow consumers to make their selections based on nutritional information that is important to them, for a personalized experience.
Video content is a much more appealing way to showcase signature items and specials. With digital signage you can easily cycle through video content to ensure that customers in line are seeing as much advertising content as possible, while simultaneously reducing their perceived wait time. The promotions being showcased are always timely and relevant because the data driving the content is being updated in real-time, taking the burden off staff who no longer need to manually update it themselves.
It's All About Data
A key differentiator between the use of traditional static signage and digital signage is the ability to incorporate data. By using data to drive content you can ensure that your message is delivered to the right people at the right time, which helps drive the customer to the desired outcome: making a purchase. Time is money in the food service industry, and creating clear and impactful content is a key success factor in driving up sales. At the same time, businesses are working with tight budgets , tight timelines, and now even tighter regulations, so increasing productivity and improving efficiency represents another top priority. Digital menu boards satisfy all of these criteria by enabling companies to eliminate nearly all of the redundancies and manual effort required to maintain static displays. Digital signage is changing the way businesses manage content and communicate with customers, allowing them to make informed choices for themselves and their families.