Top 10 Ways Digital Signage Helps Create A Smart Campus
Do you need to enhance the student, staff, and visitor experience while running your campus smoothly?
From student-facing digital screens featuring real-time scheduling, news, and events information to wayfinding screens to behind-the-scenes monitoring and operations screens, there's no limit to how digital signage can help manage every aspect of your campus.
Whether a student, staff, or visitor, a positive and stress-free experience is essential. Effective visual communications go a long way in ensuring a smart campus and creating a positive environment.
WELCOME SCREENS
What do you want students and visitors to see when they arrive on campus? Welcome students and visitors to your campus with timely, relevant information.
Communicating the right information at the right time with high-quality digital signage and communications are crucial for a positive campus experience.
Timely & Relevant Information on Campus Events
Provide real-time updates on on-campus events. Highlight upcoming events and games, class location changes, campus news, and other important information. Incorporate student testimonials and achievements to foster a sense of community.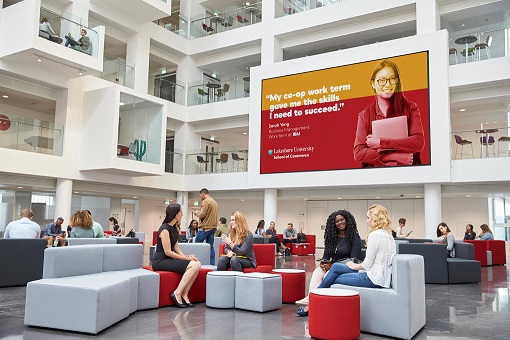 WAYFINDING
Campuses are large, multi-building affairs that can be difficult to navigate. New students, visitors, and even existing students may need help finding the building or room they are looking for. Digital signage is your best, most flexible option for wayfinding. Quickly change a route or direct people to another part of your campus with digital signage.
Wait Times
No one likes waiting, but waiting is inevitable. Whether it is picking up a welcome kit, attending a game, or writing an exam, line-ups are likely. Digital signs can help alleviate frustration by displaying wait times. In addition, when connected with a mobile phone, you can allow people to wait in less congested areas allowing for better crowd control.
Interactive Wayfinding
Interactive digital wayfinding contributes to a positive campus experience for visitors and new students and ensures people find their way. Kiosks set up strategically around campus will make navigating their post-secondary education easy and stress-free. Animated paths highlight the route to the selected destination. Add information about the room and provide options for directions to read. In addition, digital signs offer flexibility to adapt to scenarios in your facility, whether due to crowd control, facility repair or maintenance, or security.
STUDENT COMMUNICATIONS
Keep students engaged and informed throughout the school year. Digital signage is an easy and flexible way to keep students informed of what's going on around campus. Include information on program or schedule changes, school news, student programs, employment opportunities, and student events.
Categorize information and design layouts for each category. 
Orientation week
Starting a new school is always stressful. Orientation Week provides students with the resources to transition smoothly to campus life. Sharing Orientation Week content on digital screens across campus is a great way to use technology to guide students through their first week. Highlight events, social gatherings, student programs, campus information, etc.
DONOR WALLS
It takes a community of individuals and companies to ensure the success of your school. Recognize their contributions with a digital donor wall in a central location on campus. Run a real-time fundraising campaign, highlight progress towards your goal and show a live list of donors.
Incorporate eye-catching videos to highlight the results of donations - new facilities, equipment, scholarship recipients, and more.
Faculty-specific
Run faculty-specific fundraising campaigns on digital signage in your departmental buildings. Highlight individual or corporate donations to a specific faculty on screens only in their space.
Visual Markers
Highlight donation size with markers for categories - for example, less than $5,000; $5,000 - $15,000; etc. Make each category visually distinct.
TRANSIT SCHEDULES
Many students, staff, and visitors will use public transit to commute back and forth from campus. Integrate real-time transit schedule data into your digital signs, highlighting stops on your campus. Then, trigger the data to appear when classes finish.
Advertising
Signs at transit stops are another opportunity for ad revenue. Schedule advertising to display at peak traffic times. Display branded content at transit stops and immerse students in the campus experience.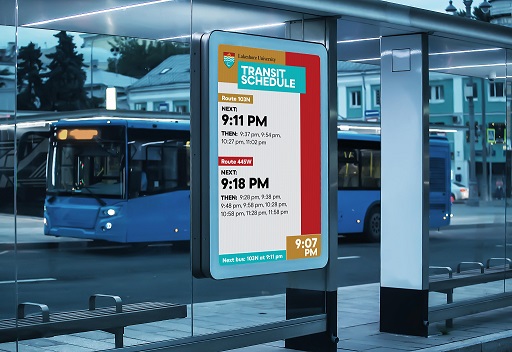 MENU BOARDS
From menu boards in campus cafeterias to concession stands in your stadiums and recreation facilities, digital signage offers several advantages. Share nutritional information, promote new menu items, and more. Incorporate a live feed of campus information into your menu boards to ensure essential information is getting shared no matter where someone is on campus.
Nutritional Information
Easily share nutritional information on your digital menu boards and meet government compliance regulations. Create dynamic menus that rotate through nutritional information, pricing, and options.
Automate Scheduling
Automate the scheduling of your menu boards and associated content. Set menus to automatically change based on various factors, including time of day, inventory availability, weather conditions, etc.
Integrate With Backend Systems
Connect your digital menu boards with your inventory and POS systems to ensure what is on-screen reflects what is available. Promote items where you have large quantities or offer limited-time promotions.
CAMPUS STORES
Digital signs allow you to easily promote and highlight new and exclusive products for sale at your campus stores. Highlight multiple products through a playlist, or schedule specific products to appear before, during, and after game time.
Experiential Design
Use digital signage to foster school spirit - highlight school history, accomplishments and awards, athletic teams, and faculties. Incorporate digital signs, video walls, and kiosks into your store design, and students or visitors will love being there.
Digital Associates
Create digital associates with interactive kiosks. Adding an interactive kiosk to your campus store enables students and visitors to search for desired items, browse your store's inventory, check for sizes and colors, and even pay for their items.
LOCKER ROOMS
Digital signs improve the aesthetic of locker rooms and are a great way to energize players for the game and help manage the logistics of running a team.
Locker Signs
Identify each player's locker with a digital sign. Display a photo of the player, their name, position, and number. Include player stats that can update as the season progresses. Group special teams and positions together with targeted messaging. Make changes on the fly as needed.
Schedules 
Use digital signs to display schedules for practices, team meetings, the next game, future games, and messages from administrative and coaching staff.
ROOM SCHEDULES
From study space in the library to meeting rooms to classrooms, digital signage can help you manage room bookings and capacity limits in areas across campus. Integrate digital screens with calendar and resource systems, such as Microsoft Outlook, to automate the flow of information and ensure room usage updates in real-time.
Meeting Room Screens
Digital screens outside of meeting rooms, classrooms, and other shared spaces make it quick and easy to see who is using the space and when it will be available.
Manage Desk Hoteling
Use digital signage to quickly and easily share information about desks and workspaces available. Use a touchscreen kiosk or mobile app to enable students and staff to book space. Log usage information of desks and conference rooms for contact tracing and governance.
SECURITY AND EMERGENCY NOTIFICATIONS
Most campuses cover a large geographic space, with multiple buildings, facilities, and outdoor spaces. Therefore, you must ensure the safety and security of all students, staff, and visitors on campus. Digital signage and mobile phones are great tools for sharing critical real-time information.
Visual Emergency Notifications
Audio alarms are still necessary, but integrating digital signage with your audio alarms allows you to share crucial supplemental information. Highlight which exit to use, the status of an emergency situation, and provide visual direction and cues.
Mobile Phones
Push real-time emergency information to mobile phones and ensure everyone knows what is happening regardless of where they are on campus. Enable students to use a mobile app to request a walk home, help, or other assistance.
Line Queue Management
Game day is exciting, but security is critical! Security lines can be lengthy and busier at different times. Digital signage allows you to easily change line queue entry points and the capacity to match the physical queues set up.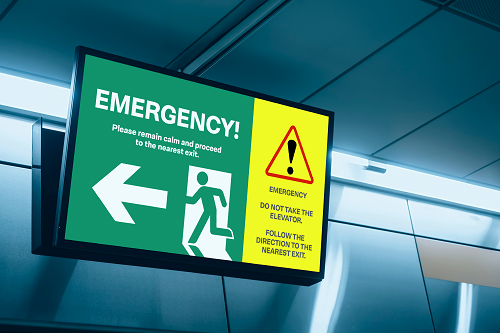 From welcome screens to wayfinding to the book store to emergency notifications and everywhere in between, effective visual communications ensure student, staff and visitors have positive experience on your campus.