Create a digital canvas across your hospital
Enhance patient, staff, and visitor experience with solutions created on the Omnivex platform. From informational screens featuring wait times, news, and information to wayfinding screens to behind-the-scenes monitoring and operations screens, there's no limit to what you can create to help manage every aspect of your hospital. 
Reducing the stress associated with a hospital visit is essential for patients, staff, or visitors. Effective visual communications go a long way in ensuring a positive environment.
Parking and Exterior Signage

Digital parking signs integrated with IoT sensors can help patients, and visitors navigate parking. In addition, use external digital signage to highlight fundraising campaigns and important community information.
Welcome Screens
Digital signage in lobbies and public areas is crucial to creating a welcoming environment. Highlight popular areas like diagnostic imaging or cafeteria, recent achievements, upcoming clinics or programs, and more.
Wayfinding Screens
Integrate wayfinding on your general information screens by highlighting popular departments or service locations. Set up interactive wayfinding kiosks around the facility to make navigation easier and reduce stress.
Donor Walls
Highlight the individuals and organizations that have contributed to an organization's success. For example, run a real-time fundraising campaign highlighting progress towards your goal and showing a live list of donors. 
Employee Communications Screens
Ensure doctors, nurses, and all hospital staff can access the critical real-time information they need to do their job. Eliminate whiteboards and paper schedules with a digital schedule screen and KPI dashboard.
Digital GEMBA Boards
Use an interactive digital Gemba Board to quickly and easily share goals, measures, and performance, as well as enable staff to submit ideas and see the status of their recommendations. 
Digital Menu Boards
Easily share nutritional information on your digital menu boards and meet government compliance regulations. Create dynamic menus that rotate through nutritional information, pricing, and options.
Emergency Notifications
Integrating digital signage with your audio alarms allows you to share crucial supplemental information. For example, highlight the type of emergency and location, and provide visual directions and cues.
Wait Time Screens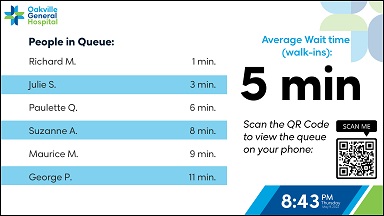 Use digital signage to share real-time updates on wait times. Protect patient privacy by using a code assigned at arrival/check-in. Additionally, localize wait times to screens in a specific area or department.
Patient Room Screens
Digital screens outside patient rooms provide a way to communicate important information about the patient before entering. Use text or icons to highlight essential information such as allergies or language.
From welcome screens to wayfinding to emergency notifications and everywhere in between, effective visual communications ensure patients, staff, and visitors have a positive experience in your facility.