About Blue Mountain
Blue Mountain, Ontario's largest mountain village resort, is nestled on the shores of Southern Georgian Bay and spans across the beautiful Niagara Escarpment. Blue Mountain has evolved into a true four-season destination, and continually ranks among the top family-friendly resorts in Canada. 
The Scope
In 2010, Blue Mountain needed to find a platform to replace their existing conference signage solution. Initially, they were looking for a digital communications platform that would automate the process of pulling data and updating the signs for conference delegates on resort. The project morphed into finding a platform that would enable Blue Mountain to communicate with guests across the resort in a cost effective and easily updateable way. Blue Mountain had previously used traditional media, posters, and signage, to get their messaging across. However, there were times that guest facing signage stayed up longer than desired or pricing was updated and signage reprints were required. There was also a desire to manage and schedule information regarding upcoming events, resort specific advertising (both videos and static content) and adopt interactive wayfinding as a modern way of directing guests to the right locations. With the resort spanning such a large geographic area, the interactive wayfinding displays would allow guests/delegates to easily locate their final destination; whether it be lodging, retail, restaurants or conference rooms.
The Solution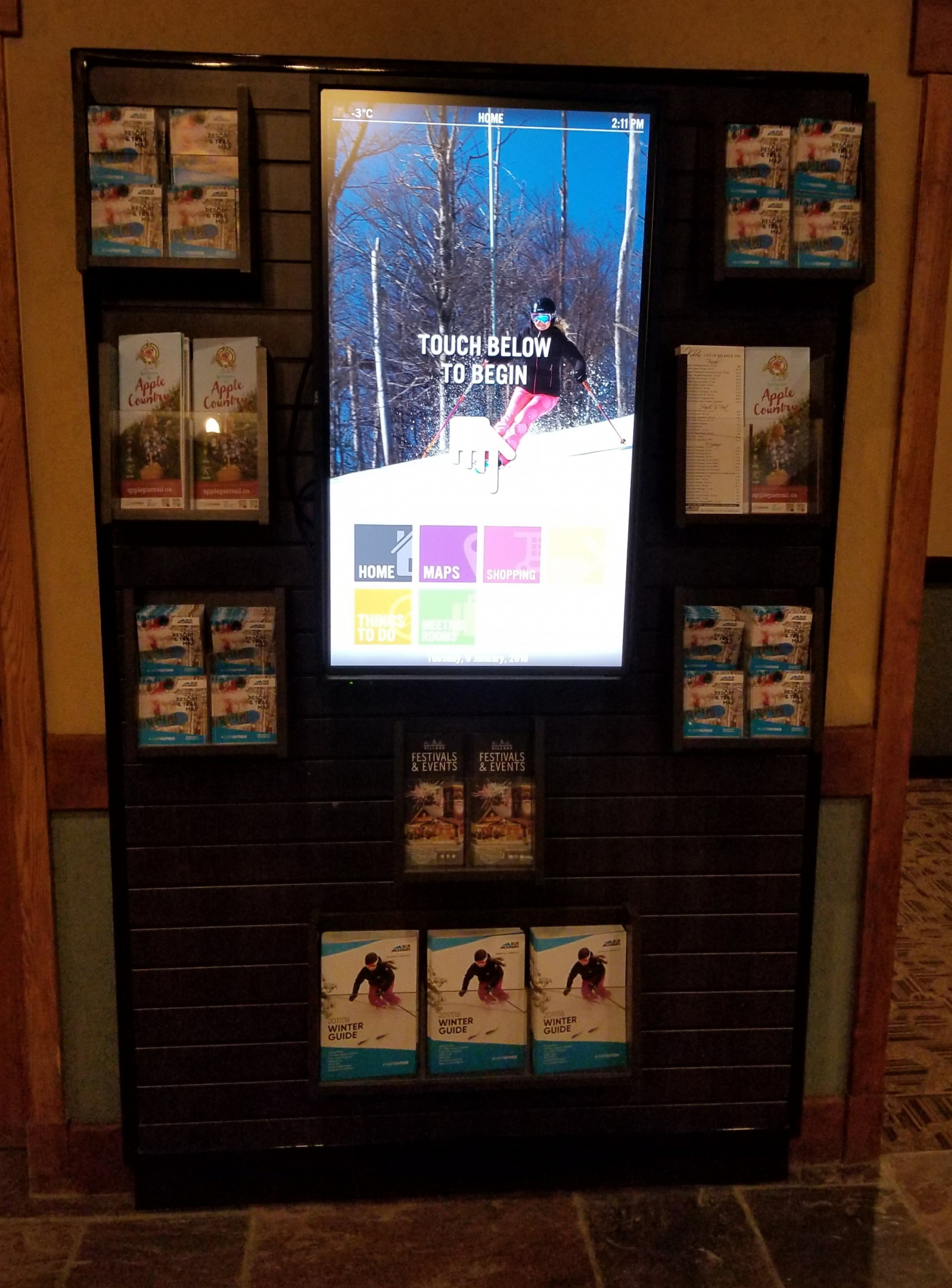 Blue Mountain selected the Omnivex Moxie digital communications platform in 2010. Today Blue Mountain uses Omnivex Moxie to drive 143 screens across the resort. The platform is used in a number of different ways including:
Conference Facilities – Blue Mountain has 3 conference centers made up of 29 rooms that can be divided into 49 venues. With the Omnivex Moxie digital communications platform, Blue Mountain is able to integrate with internal data and easily inform delegates of event details and room/building information, as well as provide wayfinding information. Displays outside individual conference rooms detail room specific event information and rotate advertising when rooms aren't in use.
Base Lodges – There are 3 base lodges and 3 restaurants using the Omnivex Moxie digital communications platform for digital menu boards and advertising. Previously Blue Mountain purchased menu signage multiple times a year. With Omnivex Moxie the signs can be updated and changed on the go, and mistakes can be corrected without the need to reprint. For advertising, Omnivex Moxie enables Blue Mountain to have multiple layouts depending on location allowing for full screen video and still ads. Advertising

can be updated easily on the fly, and deployed on a schedule. Multiple playlists combined with metadata targeting allow Blue Mountain to display content in multiple scenarios depending on location. Base lodges play the biggest range of ads (retail, sponsors events), while the retail locations play specific ads for each store with sponsors (if related to the product in store) and/or events.
Guest Services / Retail – These displays are laid out in what Blue Mountain refers to as a "3 box layout".  Information included on these screens ranges from current weather, to welcome messages, to events, to static and video advertising.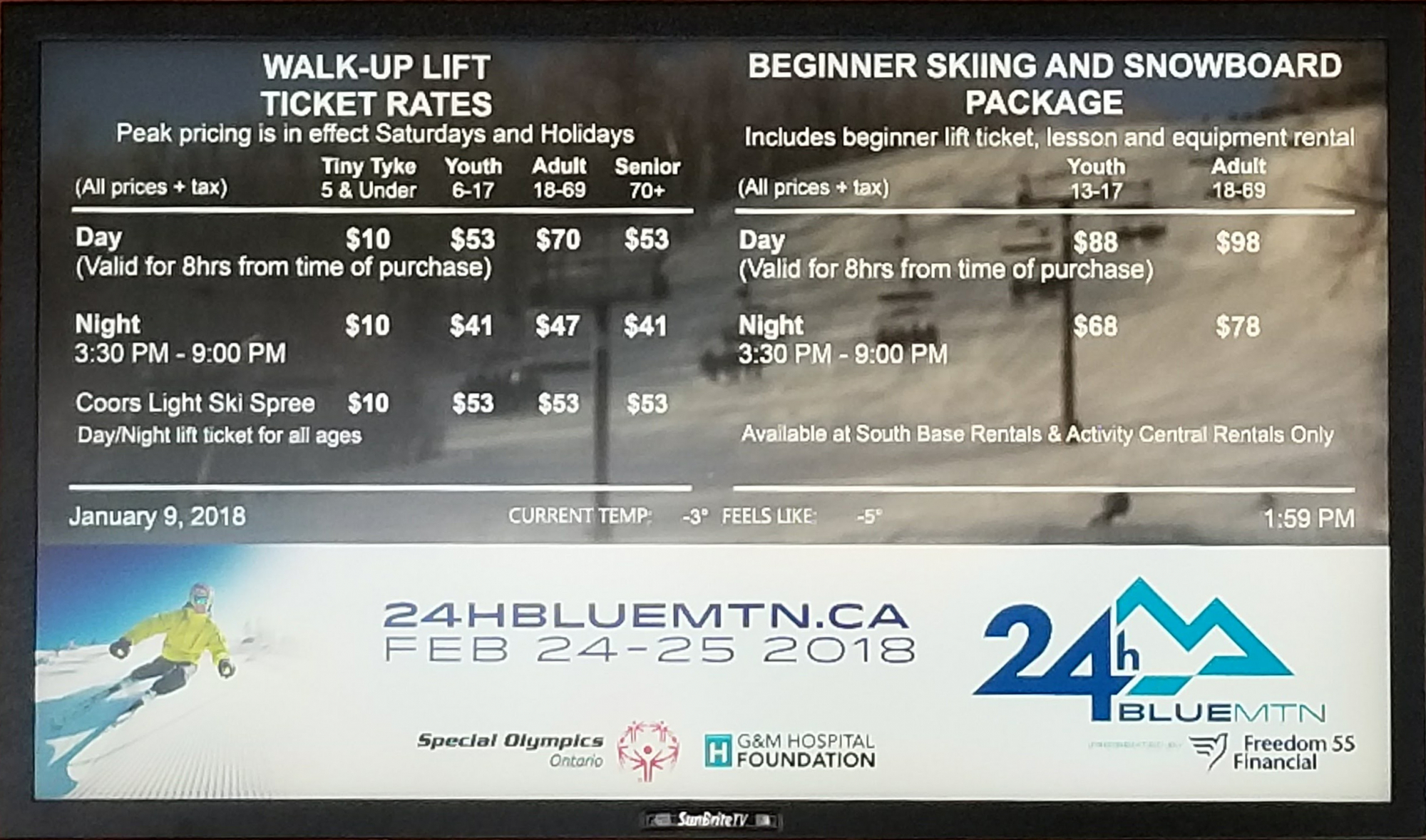 Lodging – Blue Mountain has 6 check-in locations servicing over 1000 accommodation units across the resort. Each check-in location has 1 interactive touchscreen and 1 information display. The interactive touchscreen provides guests with wayfinding information, retail/restaurant director, weather, attraction status, and mountain conditions. While the information display will vary depending whether there is a conference on resort, changing from conference information to advertising of sponsors and events across the resort.
The Results
The Omnivex Moxie digital communications platform has enabled Blue Mountain to plug into many different data sources and have control over everything. While ROI is hard to calculate, there have been many advantages from no longer printing menus and signage year over year, time savings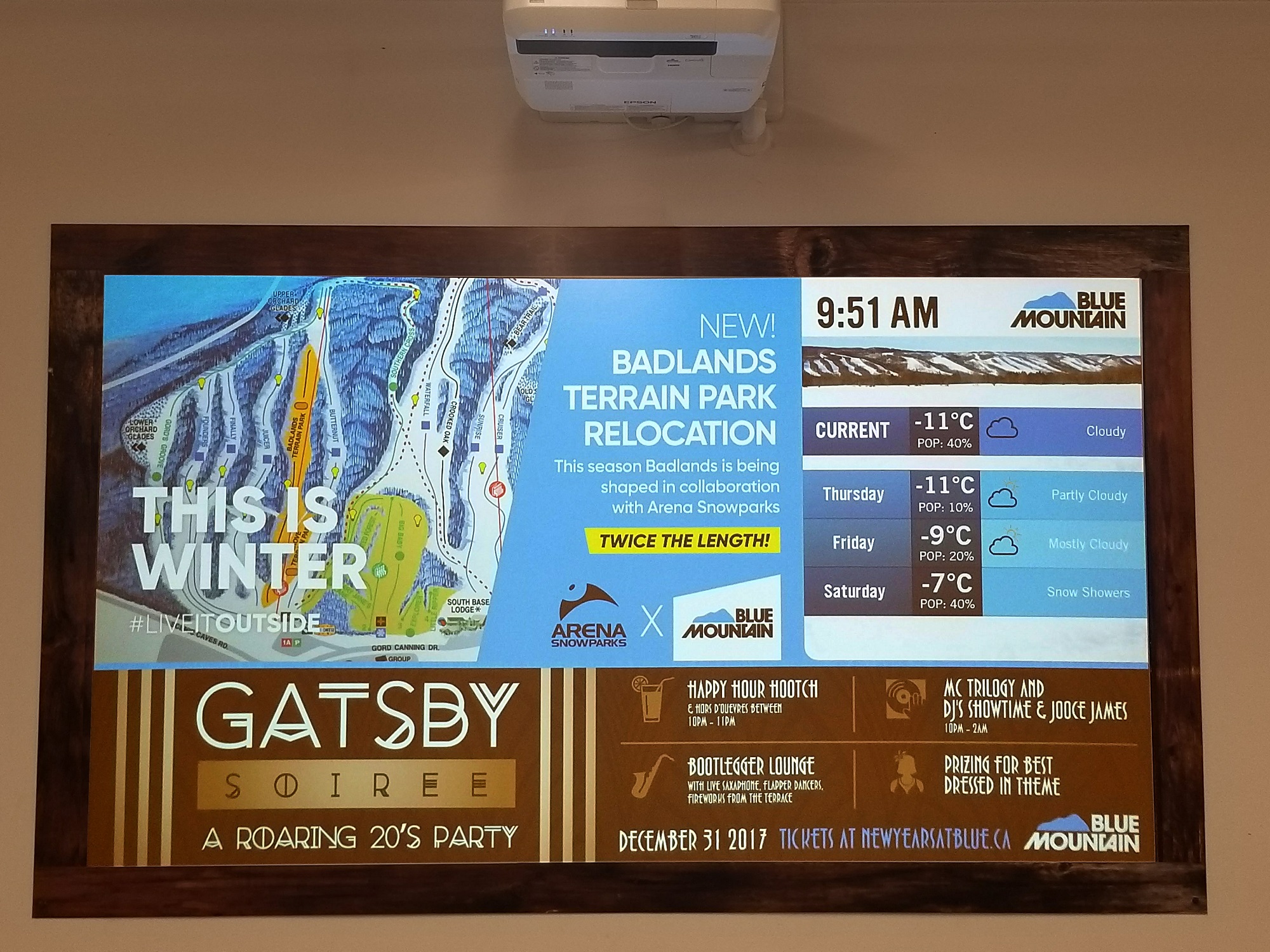 in the speed of updating and correcting signage, and most importantly the confidence the correct content is being shown to guests at the right time. Overall the move to digital communications has been a very positive and worthwhile experience for Blue Mountain.
In the future Blue Mountain will continue to grow and expand their network; new this year is an interactive data projector.  While guests can't manipulate this wall on their own, there is an Activities Concierge who is able to change the display and show the guests videos of the attractions on resort when requested.