About Calgary Stampede
The Calgary Stampede is a world-class, year-round gathering place in the heart of downtown Calgary. They are a not-for-profit community organization that preserves and celebrates western heritage, cultures and community.
Stampede Park welcomes millions of people year round as a business and entertainment focal point. Stampede Park visitors spend roughly $345 million within the province, in hotels, restaurants, and local businesses. The Stampede also generates millions of dollars in economic value during its full slate of consumer and trade shows. From global conventions in Calgary's largest venue, BMO Centre, to intimate family weddings in their rustic log cabin, Rotary House, their wide assortment of award-winning facilities means they have the right venue for any event.
Every year during the Calgary Stampede they host hundreds of events, welcoming more than 1,000,000 guests to experience their own special brand of western hospitality.
The Scope
The primary reason behind Calgary Stampede's digital signage deployment was to provide real-time digital displays in their rental space for meeting and event locations. They also wanted a system that would help improve wayfinding across the facility, enhance brand awareness, and provide ticketing and flight information as a value add to customers.
The Solution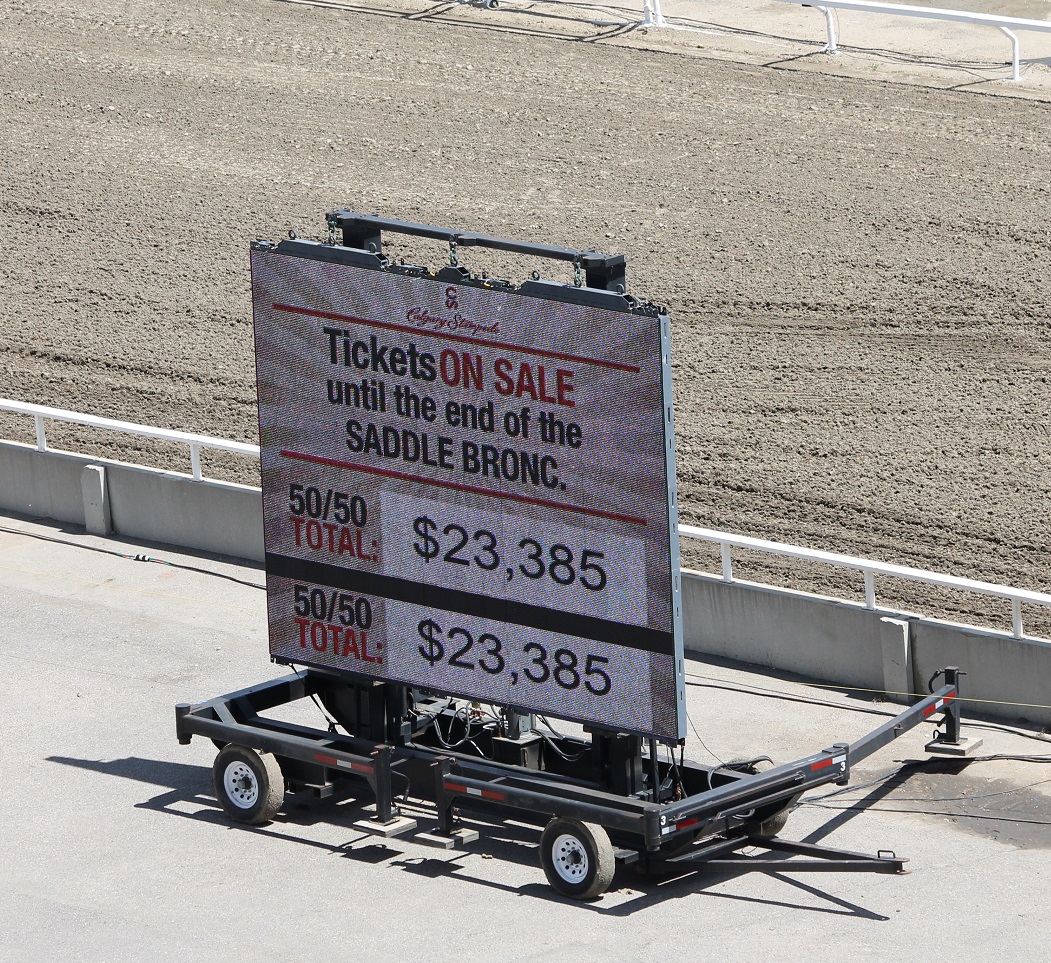 The Calgary Stampede started their digital signage journey by using local computers to power room signs for their events. As interest increased in digital signage, they partnered with Sharps Audio Visual to deploy Omnivex Moxie for their digital signage software platform. This allowed for central control of the screens and enabled them to extend their deployment to ticketing.  With Omnivex Moxie as their platform, the Calgary Stampede realized there were a number of possible directions they could go with their digital signage, so Mark Muench their Event Services Manager spent some time researching how they could extend their usage and innovate. The Calgary Stampede uses Omnivex Moxie for event based advertising, wayfinding, portable kiosk rental, live data displays, and specialty programming such as integrated video with event information and ticket sales for Stampede 50/50 draw. The Calgary Stampede also provides custom signs for events based on requirements including signage with live video, advertising, wayfinding, safety and show information.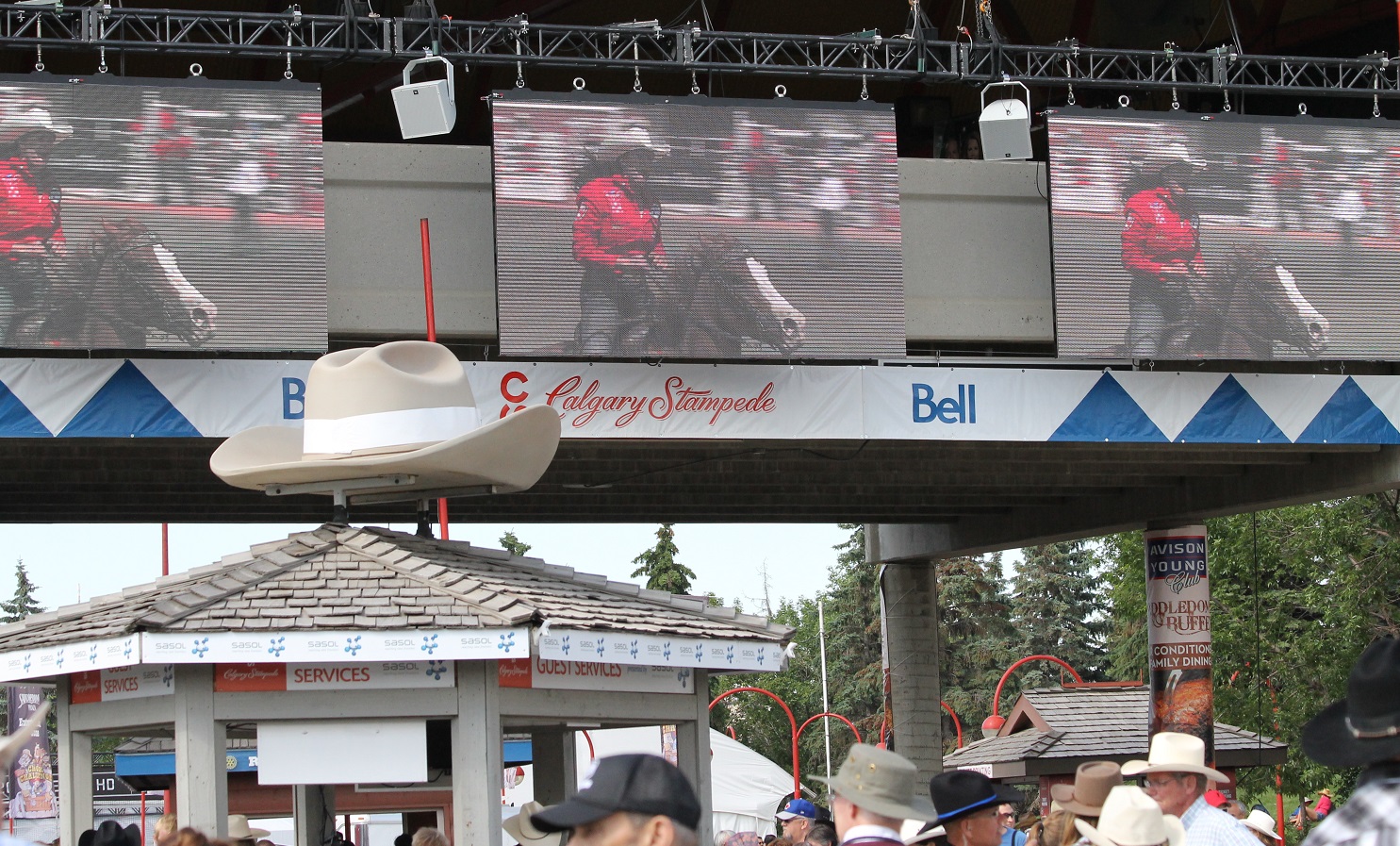 In total the Calgary Stampede Park has about 50 stationary screens within the BMO Centre and Big Four Building which are used for concession menu boards, sponsorship, event information and advertising.  The screens range from 21 inch room identifiers to 42 inch – 65 inch ticketing/advertising event screens, as well as three video walls. On the side of the Big Four Building, which faces a major road into downtown Calgary, there is a very large permanent LED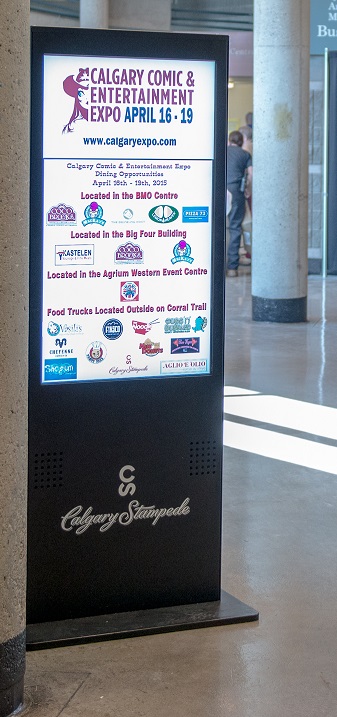 which allows for sponsorship of coming events and internal advertising.  Additionally, the Calgary Stampede also has two large 16 inch by 9 inch portable video LED walls powered by Omnivex Moxie and one outdoor portable LED screen. As well, they have up to 10 portable kiosks that include event information that can be rented to customers for private advertising and product content as well as wayfinding.
The team at the Calgary Stampede is deploying signage on a daily basis.  They have a primary programmer as well as a backup when needed.  As most of their signage is event based, they are in constant change and it is necessary to utilize staffing to allow for that.  With Omnivex Moxie the Calgary Stampede has a system that allows flexibility in programming either from a single location or from any location based on the staff's needs.
The Results
The use of digital signage at Stampede Park has grown and expanded as interest increased. With Omnivex Moxie the Calgary Stampede has a platform that will grow with them as their needs change and evolve. While initially, a lot of the signage was a "value add" to our customers, it has also provided an overall cost savings and a reflective "LOOK" for their brand.  Cleaner ticketing kiosks as well as better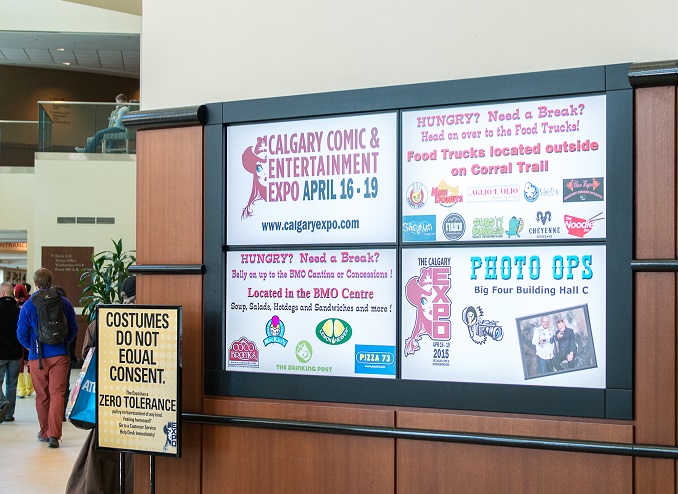 room identifiers have helped save time in programming and identified the event brands in a better light.  Digital signage has also enhanced experiences by providing flight information during conferences and producing 50/50 ticket sales during Stampede events. The Calgary Stampede has also seen an improvement in wayfinding, which is important given the size of the facility, and continues to work with wayfinding on an ongoing basis to ensure coverage for events for large scale events such as the 10-day Stampede and other events year round.
They recently launched digital advertising to event promoters and display groups and are now experimenting with interactive displays and a large wayfinding kiosk that will change based on the event.