About Humber College
Humber College is focused on its students' future. As a global leader in polytechnic education. Students receive in-depth theoretical learning and hands-on experience with applied research and extensive industry connections. Humber provides career-focused education to more than 33,000 full-time and 23,000 part-time and continuing education students across three campuses. A comprehensive range of credentials including honours undergraduate degrees, Ontario graduate certificates, diplomas, apprenticeships and certificates, prepare career-ready global citizens to move seamlessly from education to employment. More than 86 per cent of Humber graduates are employed within six months of completing their studies.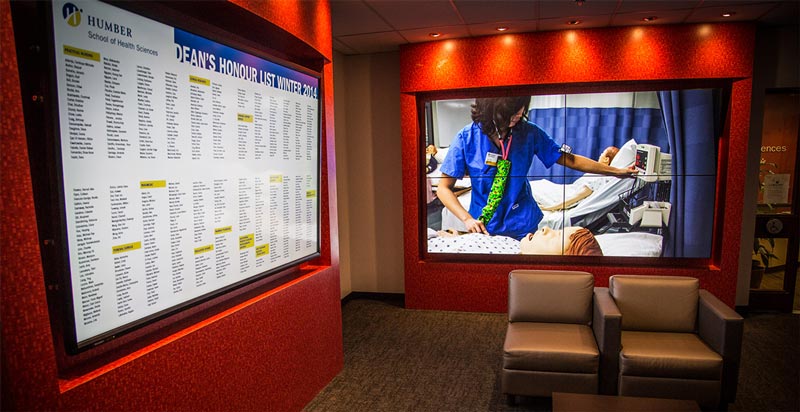 The Scope
Founded in 1967 and recognized as an Institute of Technology & Advanced Learning (ITAL) in 2003, Humber is celebrated for its innovative and collaborative approach to teaching and learning. Humber offers over 200 full-time programs, 28 honours degree programs, and 200 part-time certificates. There are 6 academic faculties and 3 campuses in Ontario.
In 2005, given the large number of students attending the school, the administration determined that they needed to improve communication with students and staff while creating a sense of community on campus through successful sharing of information. In an effort to reach their students and staff in a more innovative and engaging way, Humber decided to reduce the amount of traditional print-and-paper communications used on campus. Digital signage offered a solution to this challenge by addressing the need for both customizable and timely content.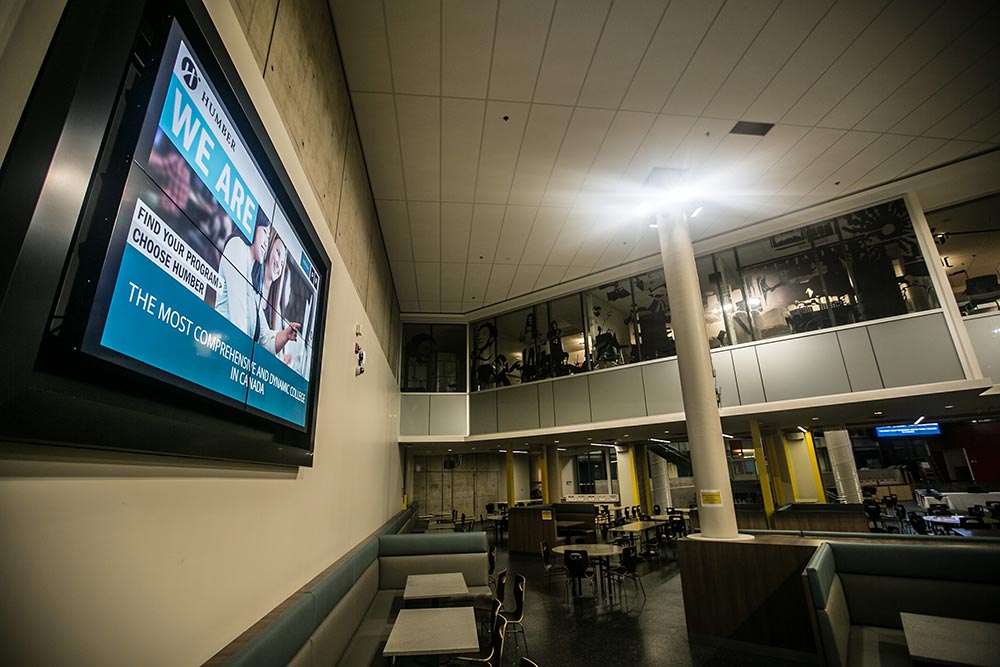 Humber needed a system that would need to be user-friendly and efficient, so that information was easy to manage and distribute. It was also important to have a software platform that would allow for livestreaming of campus events, relay important emergency alerts, function in real-time and deliver visually compelling graphics all managed from one central location.
The Solution
The partnership between Humber and Omnivex began in 2005 with the Omnivex Display solution being used to power a videowall in the student concourse and 8 additional screens. Humber believed Omnivex software offered the best solution for addressing their specific needs. The day-to-day management, performance and the final output that would be displayed on the screens were key factors, while from an IT standpoint, network security was essential. With the Omnivex solution, all of the display devices could be managed from one central location, increasing the stability of the network while subsequently reducing the demand on staff member's time. In the initial phase of the project the Digital Signage Team created all of the content and did their own video production. The screens were setup with a multi-zone layout that was visible all the time and allowed for a variety of information to be shown.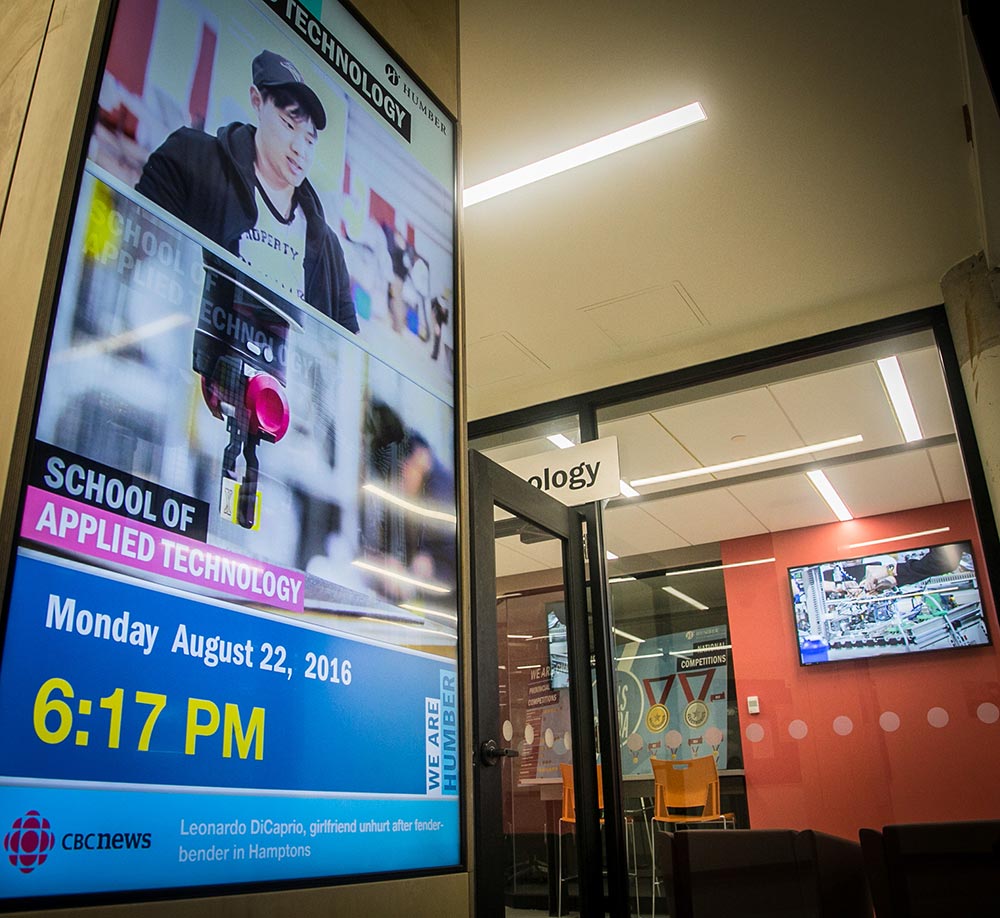 Over the years digital signage became an integral part of the school's communication strategy. In addition to Humber branding and promotion of the school's many academic programs, information related to on campus activities, clubs, resources and events is displayed to increase participation and keep students informed. To keep students engaged with the digital signage, Humber only shows school-related messages and content. HumberTV, the name Humber gave its digital signage network, was designed to deliver relevant content to students and provide on-campus groups with an engaging medium for conveying their message.
Humber's use of digital signage grew and in 2011 they moved over to Omnivex Moxie to power their digital signage network. It became standard for all new buildings being built to have digital screens and videowalls. By 2015 Humber had over 80 locations and a number of client areas running digital signage. The client areas include a mixture of departments and schools, where these groups control the content on their screens themselves.
In 2020, Humber's digital signage network has grown to over 105 locations.  Humber is using their digital signage network for a variety of applications including video walls, transit scheduling, general information screens, and advertising from internal schools, departments, groups and associations. Advertisements can be easily submitted through an electronic form and after it is vetted by marketing are added onto the digital signage.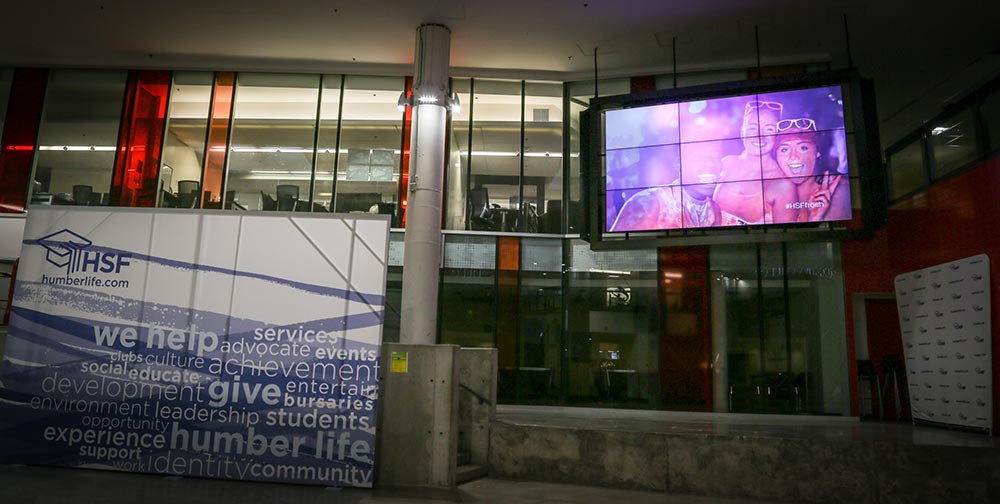 The Results
Since deploying the Omnivex digital signage platform, Humber students feel like part of a unified educational community. With multiple campuses digital signage has provided a way for all students to be connected and kept informed about what is taking place within Humber's greater academic community. The Omnivex platform has also enabled Humber to grow their digital signage network and support their ever-expanding requirements.
Looking towards the future Humber is investigating how to integrate interactivity into their digital signage screens. Additionally, they are looking at casting information to screens and also moving their network to the cloud in order to create efficiencies.