About San Francisco International Airport
San Francisco International Airport (SFO) is a world-class airport servicing more than 45 million domestic and international passengers annually. The airport is one of the largest in the United States and features 4 terminals with 7 boarding areas. San Francisco International Airport (SFO) offers non-stop flights to more than 34 international cities on 29 international carriers. It is the Bay Area's largest airport and connects non-stop with 78 cities in the U.S. on 15 domestic airlines.
The Scope
Given its size, navigating SFO, particularly when going from terminal to terminal, has been complex for travelers. Historically the airport has used over 270 paper maps airport wide to help travellers get to where they need to go. These paper maps while effective have not been ideal. The paper maps can't be immediately updated when there is a change and the cost of reprinting and the staff time involvement is high. In 2012, SFO launched a project to renovate Boarding Area E. As a part of this project SFO implemented an interactive wayfinding system in this newly renovated area that would eliminate the need for paper maps, assist in navigating from terminal to terminal, and provide travelers with the best route to get where they need to go.
The Solution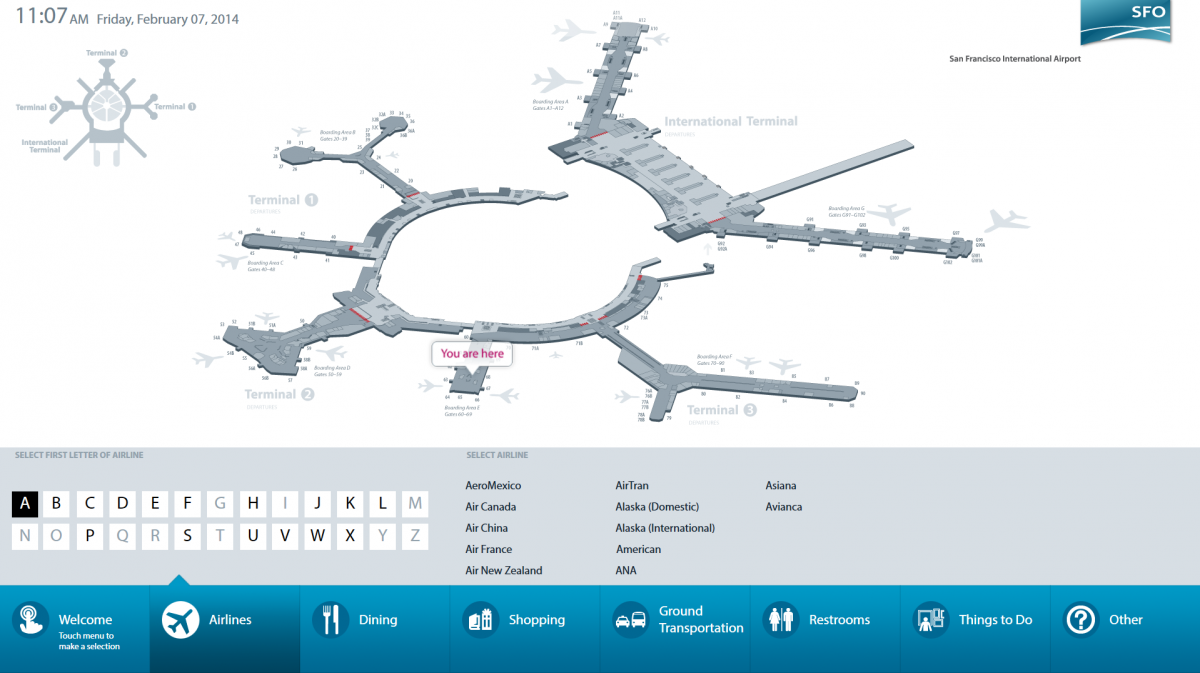 San Francisco International Airport (SFO) had been using the Omnivex solution for a number of years. They originally used Omnivex Display but prior to the interactive wayfinding project they upgraded to Omnivex Moxie and decided to standardize on that as their digital signage platform across the entire airport. With the renovation of Boarding Area E in Terminal 3, SFO decided to take the opportunity to start migrating the airport to an interactive wayfinding solution using Omnivex Moxie. Boarding Area E opened in January 2014 with two interactive wayfinding screens in the remodelled boarding area. The screens enable travelers to easily find where they need to go anywhere in the airport and the best route to get there, whether by walking or by taking the airport's automated AirTrain. They also allow passengers to explore their options for dining, shopping and things to do, giving them a more rewarding airport experience. The touchscreens are location-smart and thereby predetermine appropriate destinations based on the passenger's pre- or post-security location.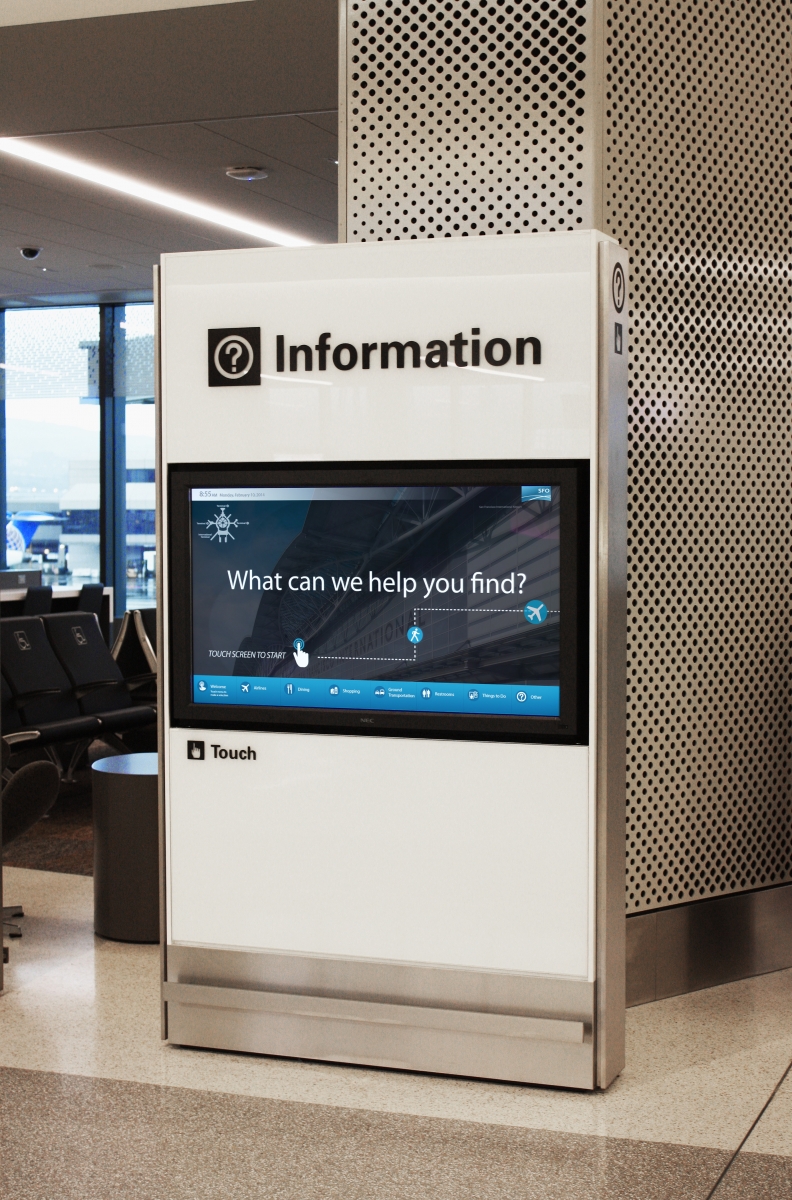 Omnivex Moxie can tie data in from various source systems (maintenance, elevators, emergency alarms, etc.) and devices (RFID, barcode scanners, etc.), to the interactive maps & floor plans so what users are seeing reflects the current environment in the facility and takes into consideration things such as construction closures or other things that might impact a particular route. As well through the use of conditional formatting Omnivex Moxie factors information like elevator operation times and route lighting when determining the best route for getting from point A to B at a particular time of day. By interfacing with a variety of source systems Omnivex Moxie can also handle multi-floor and multi-region wayfinding, thus providing users with maps covering multiple areas, such as buildings or terminals, and multiple transfer points such as stairs, elevators, tunnels or bridges. The connections into real-time data and devices also ensure that the system is kept current and there is no need for reprinting maps or replacing signs each time something changes.
During the initial deployment SFO will be surveying users of the interactive wayfinding screens to see what they like about the new system and what they are using it for. Plans are already in place to add more interactive wayfinding screens across the airport and to add more features. Content, user experience and user interface design was developed by Ilium Associates.
The Results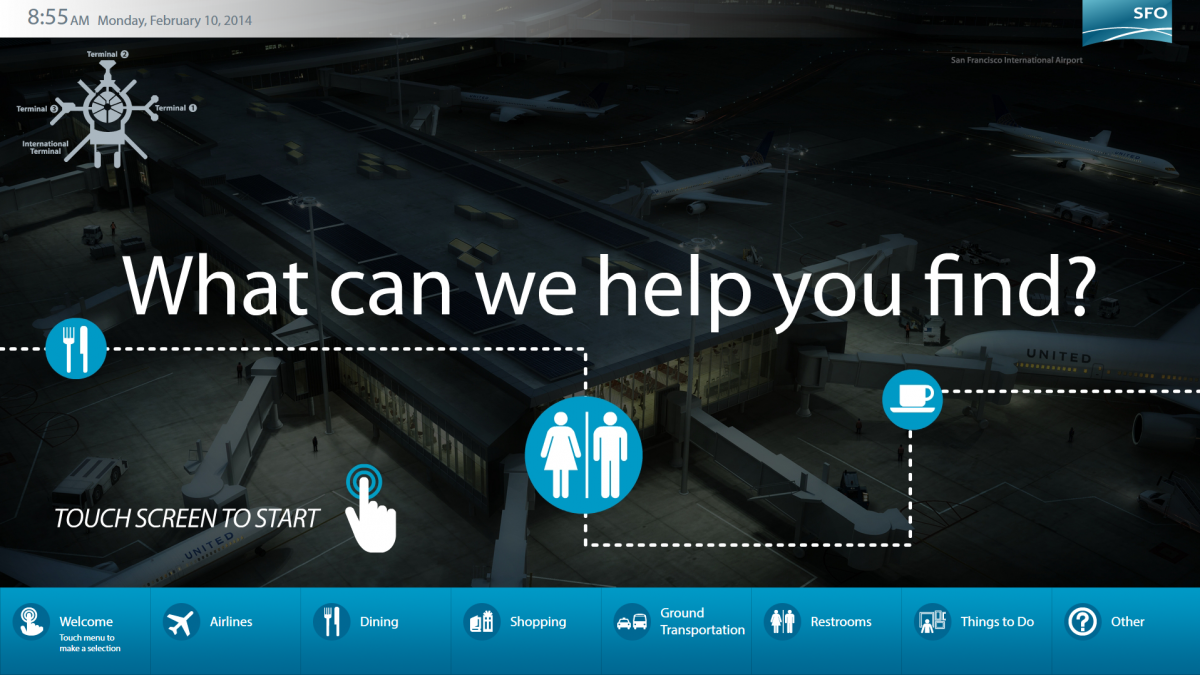 San Francisco International Airport (SFO) has been using the Omnivex solution for a number of years and has seen numerous benefits. With the deployment of the interactive wayfinding screens in the newly renovated Boarding Area E, SFO has been able to enhance the experience of the travelers passing through the airport each day. This digital approach to providing directions and maps will also help reduce costs such as map printing and labor.