There has been a lot of discussion in the media over the last year regarding the "Great Resignation." This term was coined by Anthony Klotz, an associate professor of management at Texas A&M University. Whether it was because of the pandemic or came to the surface during the pandemic, it highlights a dramatic increase in employee burnout and a desire to reevaluate life and work environments. Research found that almost half (49%) of Americans looked for a new job during the pandemic. While they are many reasons causing employees to look for a new job, such as career advancement and compensation, company culture is also a significant reason.
What is the difference between employee experience and employee engagement?
Gallup notes employee experience constitutes the entire journey an employee takes with an organization. Everything in the employee life cycle from the interview process to the day-to-day job to post-exit interactions. By contrast, Gallup defines employee engagement as the involvement and enthusiasm of employees in both their work and workplace.
Why does employee engagement matter?
An organization's success is very dependent on its employees and their level of engagement. When employees are enthusiastic and committed to their jobs, they are more productive, quality is better, and absenteeism decreases. In addition, they understand the goals and objectives of the organization and are committed to its overall success. According to Smarp, companies having a thriving culture experience a revenue boost of 4X.
How can digital signage help?
Information is the fuel that powers organizations. Traditional channels like paper memos, emails, and company newsletters are long gone and often harm employee engagement. Instead, digital communications on digital signage, tablets, mobile phones, and more provide employees with relevant real-time information and empower them to make faster and better business decisions.
Here are 3 ways digital signage fuels employee engagement:
Real-time information
Leverage digital signage to provide employees with relevant real-time information on screens throughout your organization. Empower employees to make faster and better business decisions by putting KPIs and other important information at their fingertips. Ensure adjustments and course corrections can be made before a small problem becomes a big issue.
Additionally, tie digital signage into back-office systems for facility or resource availability (i.e., rooms & equipment) and alarm systems to provide critical emergency information.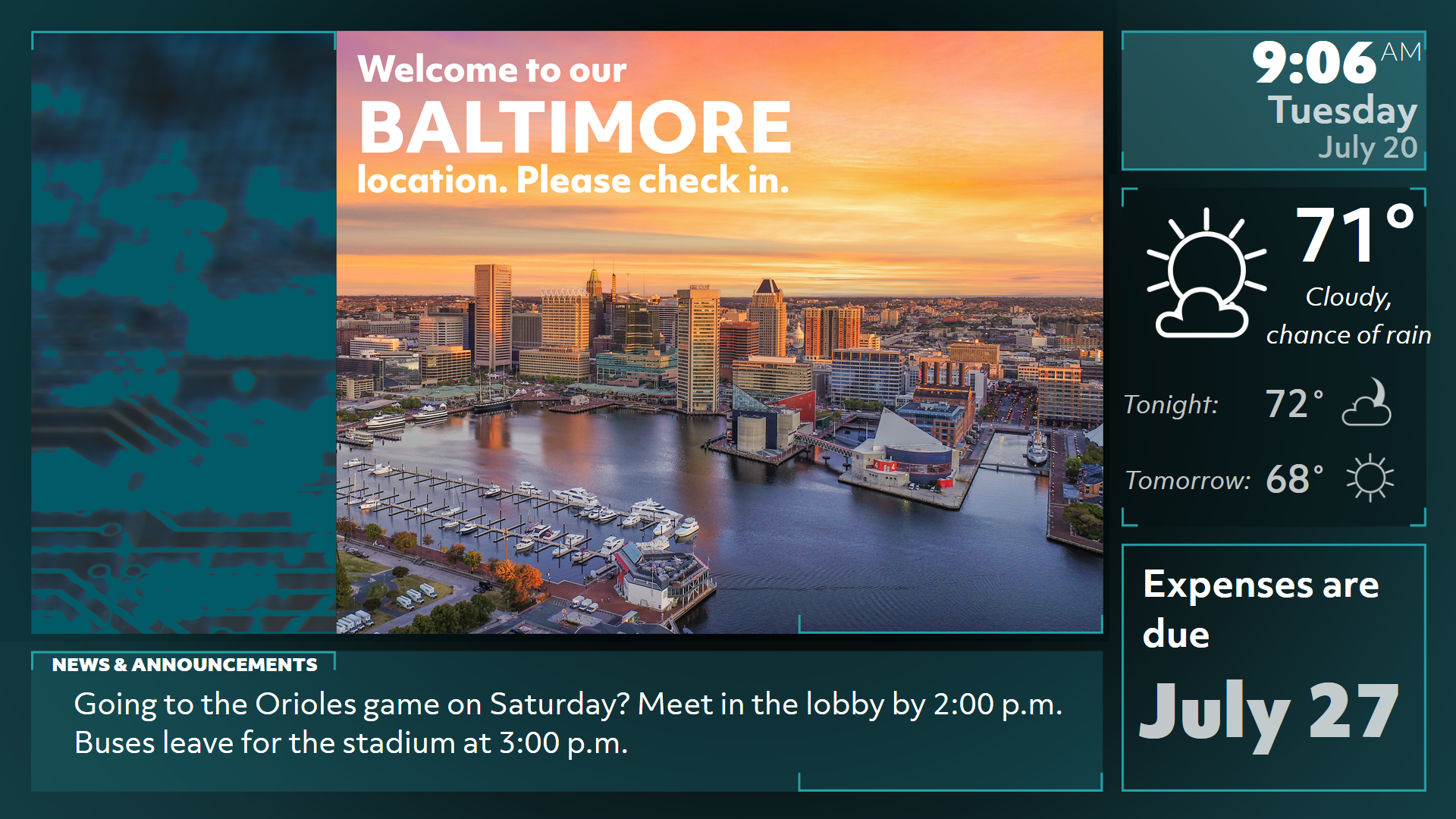 Awareness
User your digital signs to tailor content to specific audiences or individuals. Consider a digital screen in a warehouse - a message welcomes the morning shift to work and reminds them to finish their safety training by the deadline. At their work station, personalized information about the orders for the day and key statistics from the previous shift can be pushed to their mobile phone or screen in the area. Digital signage in the locker room could thank the departing shift for their work, showcase KPIs from their group, and provide real-time updates on weather and traffic for their drive home.
Additionally, digital signage can increase awareness of corporate policies, procedures, values, and competitive positioning.
Recognition
Employees want to feel valued. They want their work to be appreciated. A study found that 37% of employees consider recognition the most important in boosting productivity.
Employee recognition is a terrific way to use digital signage. Whether by division, department, or individual, digital signage can highlight recent success and achievements. Additionally, content could include customer accolades or other praise from company social media networks. Also, consider giving employees a way to submit positive information about their peers.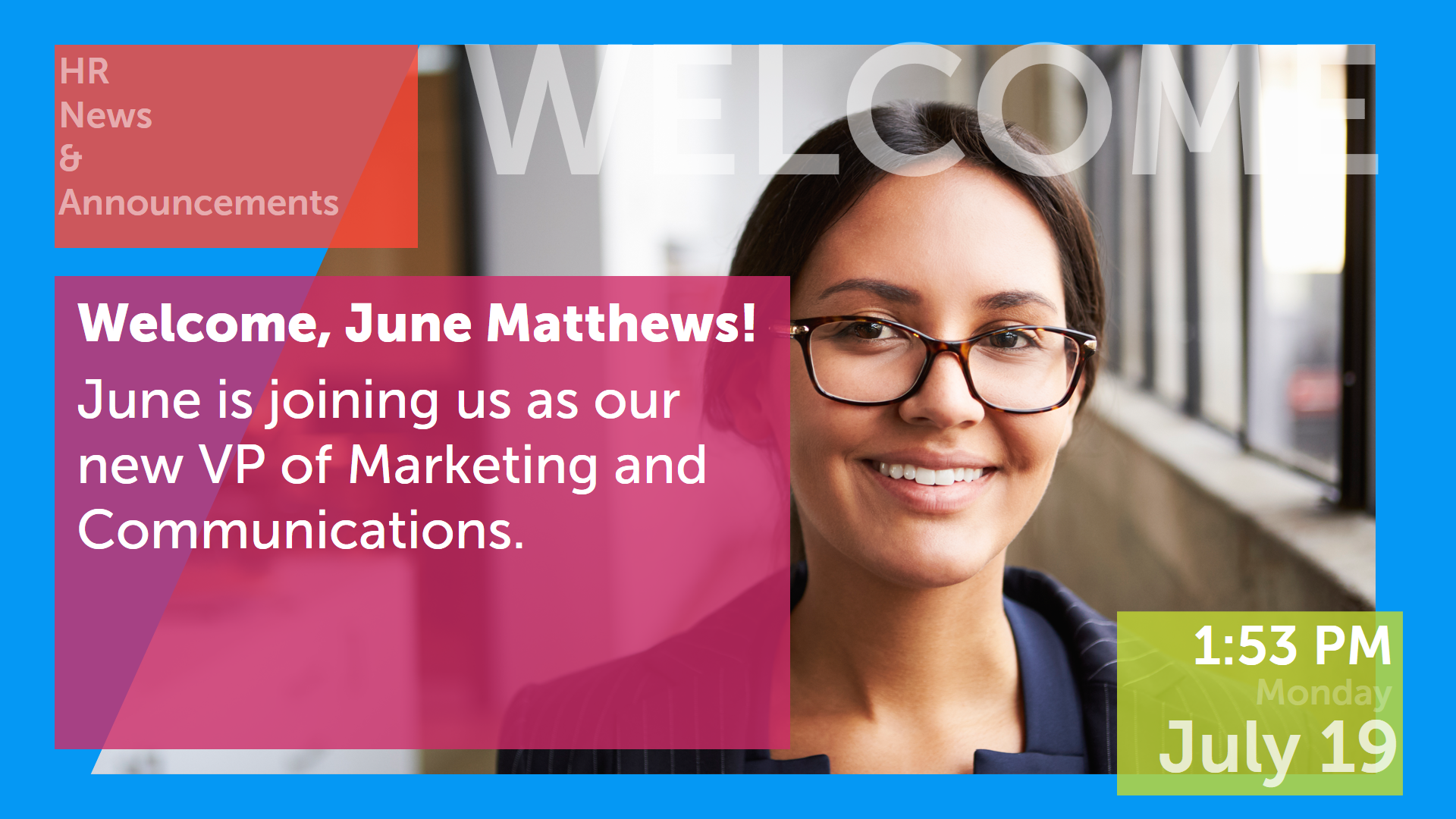 Learn more about using digital signage to fuel employee engagement!