Powerful role of digital signage in stadiums and arenas
Live events and sports are back, and most fans are eager to return. A recent survey found that over half of respondents polled are ready to return to stadiums within the first few months of reopening.
However, there are some caveats, and apprehension persists. Many polled still want social distancing in place and safer experiences. They also want an elevated fan experience. There are technology solutions for these challenges, and the role of digital signage will be significant. 
Digital signage will have both existing and new applications as stadiums and arenas welcome fans back. For example, they can offer real-time guidance to support crowd control and long queuing, facilitate food and beverage orders, and engage attendees in new ways.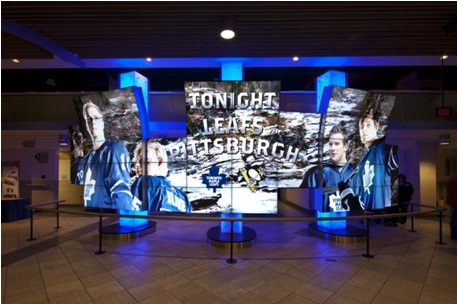 Wayfinding, crowd control, and managing queues
Stadiums have adopted digital signage for wayfinding, but new opportunities can make this more valuable. When you integrate it with IoT (Internet of Things) devices, you have more context. It's real-time information that supports more effective crowd control.
Some applications include:
Wait times at restrooms, concessions, or team stores
Least-congested exit path identification to help disperse crowds in a more organized manner
Seat availability notices for events that open seating
Path optimization for guests depending on where they enter and their seat assignment
All these things make getting where you need to do more efficient. It also helps alleviate worries about social distancing, providing alternative routes.
Ordering food and beverage
One big complaint many stadium attendees have is how long it takes to get food and drinks. Digital signage can help with this.
First, as noted above, they can communicate wait times. Second, it can act as a menu and showcase all the food vendors available and how close they are to that person's seat. Third, you can integrate ordering apps with digital signage, so visitors can order and pay for their food from their phone. Then when it's ready, they'll view it on the screen and in the app. 
This process is convenient for attendees and could boost revenues for concessions, as well. 
Engaging fans with interactivity 
Digital screens are a means to engage. The content can be rich in animation and movement to get their attention, but fans returning to stadiums are ready and expecting immersive experiences. They can act as screens for replays or close-ups of performers but in new ways that show unique angles that you'd never see at home.  
They are a vehicle for involvement. Use them for games and giveaways during breaks in the action. Another option is interactive screens throughout the venue that can allow fans to check out the merchandise, look at upcoming games or events, or view facts about the team. While these have traditionally been touchscreens, some visitors may be hesitant to do this due to germ concerns. Instead, integrate it with their smartphone and let it be the controller. 
Stadiums can welcome back fans with new and improved digital signage applications
The world of live events looks much different now, but there are many opportunities to make fan experiences even better. By using digital signage to manage crowds, simplify food and beverage ordering, and create immersive moments, your visitors will be elated to be back in their seats. Find out how Omnivex can help your stadium optimize digital signage.